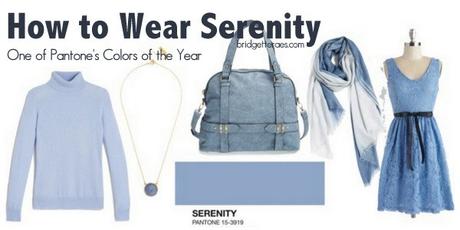 As a followup post to yesterday's about Rose Quartz, Pantone's co-color of the year, today's post is about how to wear Serenity, the other color making up this pastel duo for 2016.
I have a strange relationship to blue. When people put colors in front of me and ask me which ones I am drawn to, nine times out of ten I will choose blue, no matter what shade it is. However, when it comes to wearing blue and incorporating the color into my wardrobe and life, it basically doesn't exist anywhere unless it is navy or a more yellow based blue, like teal, aqua or turquoise. Blue shades I am attracted to are much clearer, less dusty, less pastel and richer. Colors that fall into the family of Pantone's Serenity are definitely not my favorites...at all. I have a feeling I am not alone as very few people have told me they really don't like it. What was Pantone thinking?
Is there a way to embrace serenity this upcoming year and wear it in a way that works for your personal coloring, style and lifestyle? Let's take a look. Here are some tips on how to wear Serenity, one of Pantone's colors of the year for 2016.
How to Wear Serenity
Outfit #1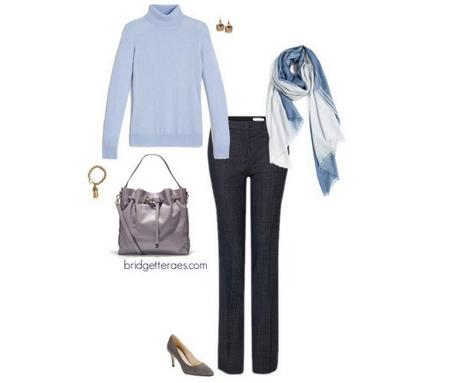 An easy way to wear this color, while also grounding the lightness of it, is to pair it with navy, especially for work when you might want to add some seriousness to such a soft color. In this outfit, I styled this Serenity
Ann Taylor sweater
with a pair of
tweed trousers in shades of blue from BOSS Hugo Boss
. The look is finished with shades of grey using these suede pumps from Coach and a Cole Haan hobo bag. For jewelry, I used a tassel bracelet with Serenity stones from Elizabeth Cole and crystal drop earrings from LOFT. Lastly, I finished the outfit with this beautiful scarf from Nordstrom in shades of blue, which includes serenity, for a little punch.
Outfit #2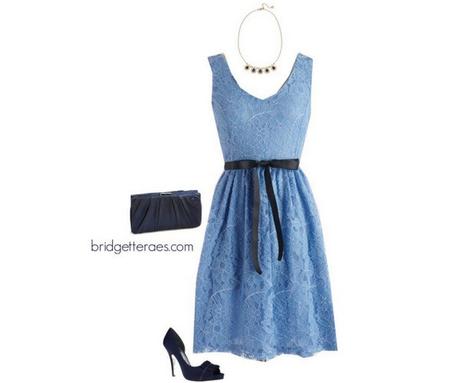 Serenity is a color that can work for evening. However, you have to be careful. In the wrong fabrics, like cheap polyester crepes and chiffon, can look really bad. Fabrics with texture, like lace or better quality evening fabrics can look much more elegant.
This dress, from Modcloth, has a ribbon in navy attached, making it super easy to bring in accessories in the same color. In this outfit, I added a pair of evening pumps and clutch, both from Nina and filled in the neckline with a necklace from Anna Beck.
Outfit #3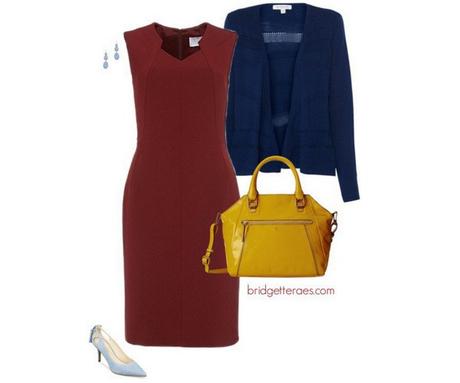 If you read yesterday's post on how to wear Pantone's other color of the year, Rose Quartz, then you may recognize that I used this dress in that post. What I wanted to show by using it again today is that introducing new colors to your wardrobe can easily give what you already own a variety of looks.
In this version of the dress, I used these serenity suede pumps from Marc Fisher to complement the burgundy sheath dress. Next, I added this blue cardigan from Theory and finished the outfit with Serenity drop earrings and a yellow handbag from Elliott Lucca. Soft blue and burgundy is one of my favorite color combinations.
Outfit #4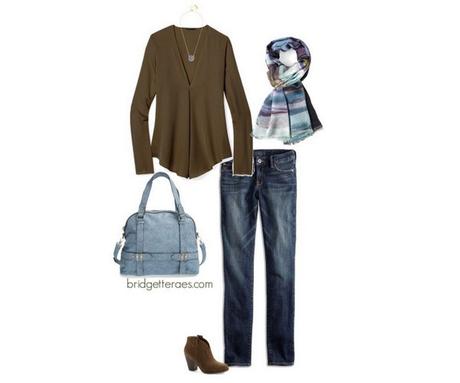 If you love earth tones and things pastels are off limits, this outfit proves otherwise. Here, a Serenity bag from Sole Society looks great with an olive colored top from Theory, a pair of jeans from Lucky Brand and booties from Vince Camuto. To add in more pops of Serenity, I finished the outfit with a pendant from Bauble Bar and printed scarf from Echo Design.
Outfit #5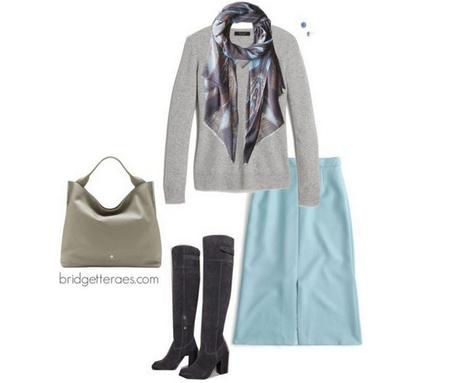 This last look is definitely for pastel blue lovers. I will admit, I found realistically styling this Serenity skirt quite challenging. The best I could come up with, and tolerate, was pairing it with grey using this v-neck sweater from Ann Taylor. This particular shade of grey with this skirt still seemed a bit light, so I anchored the outfit with suede boots in a deeper grey and added this printed scarf from Zappos.com. Lastly, I used this grey handbag from Vince Camuto and earrings from Kate Spade.
Regardless of your personal feelings of this color, I hope you enjoyed looking at some suggestions on how to wear Serenity. What do you think? Is this a color for you?