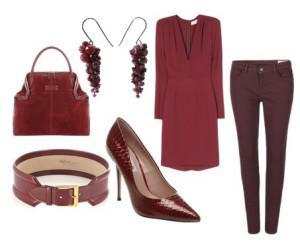 After a summer of fruity brights, soft pastels and "gotta wear sunglasses" neons, the trend of oxblood as one of the hottest fall colors is a welcome change.  Oxblood, a deep bronish-red, is an earthy, deep, carnivorous color that works perfectly for the season and  we're ready for things to be a bit richer in look.
Love the color and want to incorporate it into your wardrobe?  Well, you're in luck.  Oxblood is very easy to assimilate in with what you already own in big amounts or small doses.  Personally, I love oxblood for leather goods, in shoes and as an accent to neutral colors like grey, navy and tans.  However, feel free to incorporate this color in a stronger way.  A coat in oxblood would be gorgeous for fall as would some great sweaters or even a pair of oxblood jeans.
Here are some looks using this trendy color to give you a little inspiration.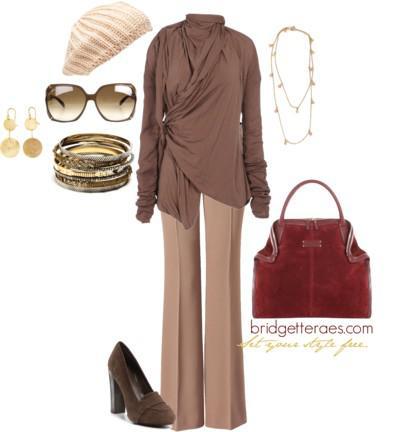 Oxblood and Camel by
bridgetteraes
featuring a chain necklace
There is no combination more lovely than camel and oxblood.  If you're looking to add some depth or a pop to a sophisticated camel or tan ensemble, an splash of oxblood does it beautifully.  An oxblood purse is a great versatile fall purchase that will work with just about anything you pair with it.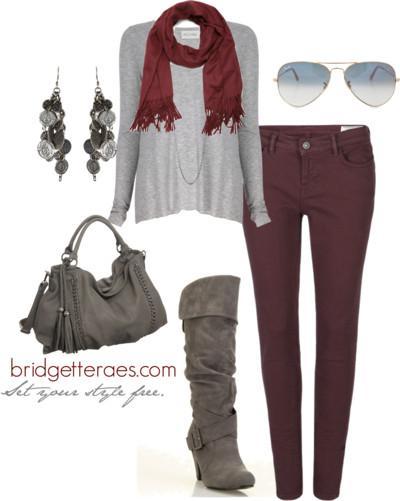 Grey and Oxblood by
bridgetteraes
featuring wool scarves
Oxblood and gray is another favorite color combination of mine.  Grey was so popular last fall.  If you want to update your gray pieces from last year, oxblood is a great color to pair with these gray pieces to bring fall and winter pieces up to speed this year.  To continue with the colored jeans trend that was so popular this summer, an oxblood pair of colored jeans is a great fall version.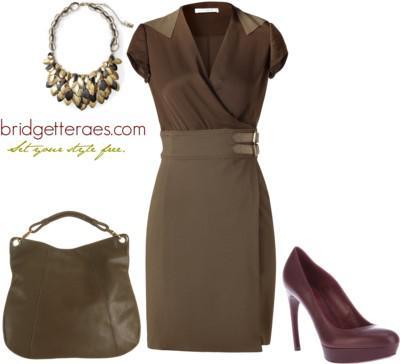 Olive & Oxblood by bridgetteraes featuring a bib necklace
Olive may be a color that you want to wear more of but you may be having a hard time figuring out how to make this traditional color more feminine.  Try an oxblood shoe with olive for feminine fall look.   An oxblood shoe, like an oxblood purse, is a great shoe color that can get you a lot wear.  You can wear it with just about any color in your wardrobe and is a great alternative to the boring black shoe!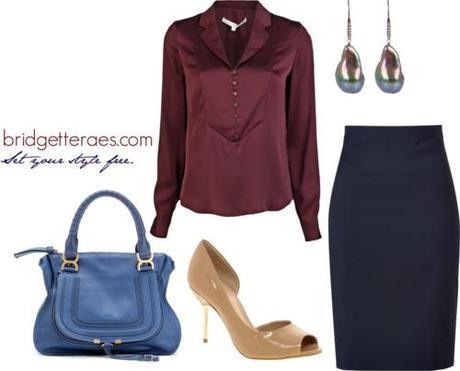 Oxblood & Navy by bridgetteraes featuring nude pumps
Oxblood and navy, another gorgeous combination.  In this case, a lighter blue was brought in to feminize the look even further.  For work, an oxblood blouse can update your stalwart office basics, like your pencil skirts and basic pants.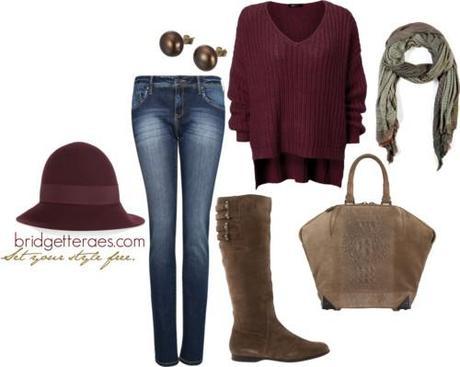 Rugged Oxblood by bridgetteraes featuring kitten heel boots
Oxblood and denim; can a color combination be any more perfect for fall?  Here, a casual oxblood sweater and an oxblood cloche hat looks perfect for the weekend when paired with a basic tan suede boot and bag along with a complementary scarf.  This look has early fall written all over it.
Need help finding the perfect hat for the shape of your face?  Check out my advice here.