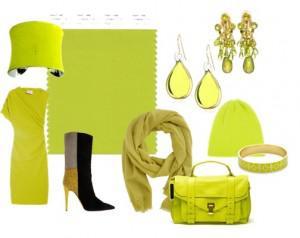 Pantone announced their Fall 2012 colors and while spring/summer's wildly popular Tangerine Tango is still on the list for fall, chartreuse has been introduced as a color that we'll be seeing a lot of as we prepare for the cooler season.
I love chartreuse.  Not only is the word fun to say…(try it, it's fun), but the color is this acidic yellowy green that Panton says "creates a bridge into the cooling days of fall. Reminiscent of bright green foliage, it provides a perfect accent to every color in the palette."
Personally, with my coloring, I can wear head-to-toe chartreuse and not only get away with it but have it look pretty incredible on me.  Yes, my coloring (even if it is partly manufactured through way of my hairstylist), is made for girls like me.  Yet, for others, this color can make them look sick, pallid and like they have a bad case of jaundice.  The nice thing about chartreuse is that you can do a little or you can do a lot.  Chartreuse is not only a great color in large doses but the brightness  of the shade is a great pop or accent with any color you are wearing.
Let's take a look at some of the outfits I put together using this color.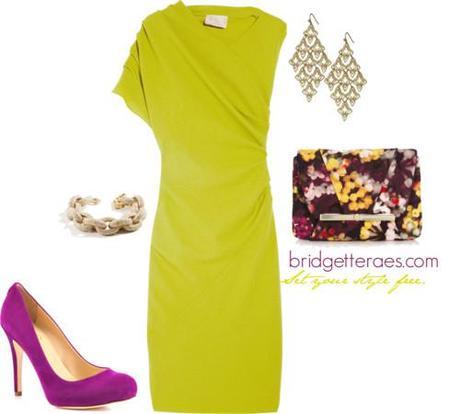 Chartreuse Dress by
bridgetteraes
featuring an envelope clutch
This is a dress that I would own and find plenty of reasons and places to wear it.  The nice thing about chartreuse is that it not only is a pop shade, but it can be complemented with just about any color you choose.  In this case, I chose a bright purple.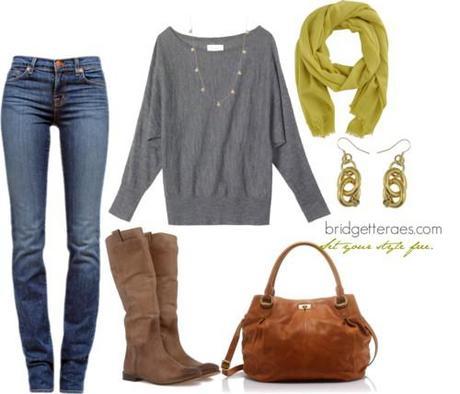 Chartreuse Scarf by
bridgetteraes
featuring frye boots
If chartreuse is a color that works near your face, but you don't want to wear it in such large doses.  Simply winding it around a basic fall look can give it a bright update.  In fact, I have a bright chartreuse scarf that I've been using for well over five years and it never disappoints when I add it to an outfit.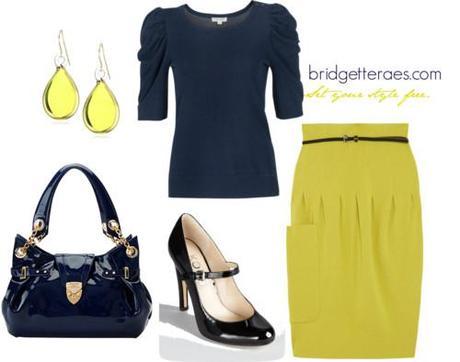 Chartreuse Skirt by bridgetteraes featuring navy blue tops
A chartreuse skirt is a great way to embrace the color more fully without it being anywhere near your face.  in this case, I partnered it with navy, which is not as stark as black.  However, black would work perfectly fine in this case too.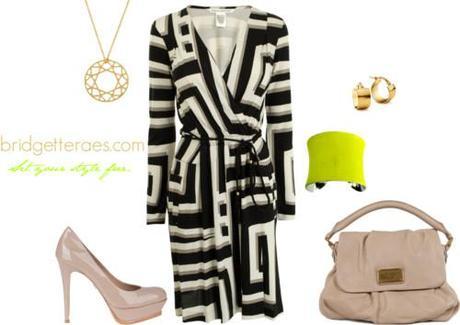 Chartreuse Bangle by bridgetteraes featuring a deep v neck dress
If you're someone who wants to embrace this color in very small doses, simply adding a chartreuse piece of jewelry, like this bangle, is a great way to add a pop.   People who can wear a dress that is as optic and bold as this would probably look better in a clearer, more vibrant shade of chartreuse, whereas people who prefer more autumnal shades near their face would look better with a more muted and mustardy chartreuse.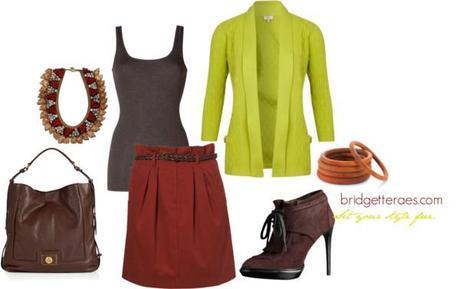 Chartreuse Cardigan by bridgetteraes featuring a wool skirt
A chartreuse cardigan is a great, versatile piece that can get you a lot of mileage, regardless of its trendy color.  Here, partnered with rust, another popular fall color, chartreuse is being used exactly as Pantone explained it: "Reminiscent of bright green foliage."  It's rich and autumnal, yet still crisp and bright.