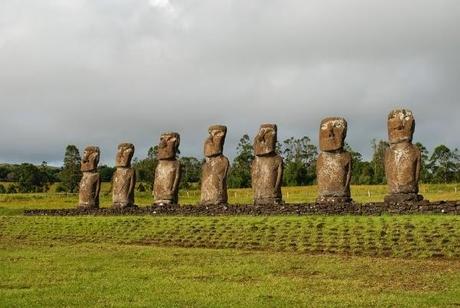 "Is it possible to do Easter Island without spending a lot of money?" 
This is a question we've been asked quite frequently since our trip to the island in March 2014.
To answer this question in a single statement, the best we can say this: 
It depends on what you define as "a lot
".
If you are looking at spending under $50/day, Easter Island will not be the place to visit unless you happen to fall within a very unique circumstance that we'll talk about later on.  For those who have a slightly higher budget, there are still many ways to get to this remote and mysterious destination without breaking the bank
too much
.
The Most Expensive Item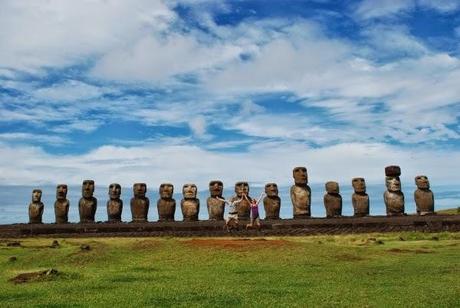 It should go without saying that getting to a destination that is home to the most remote airport in the world will cost a pretty penny.  But as it turns out, the price you'll spend for airfare is entirely linked to
when
you buy your ticket.  
Generally speaking, a round-trip ticket from Santiago in
economy
class starts at around $580.  This is the price for the least flexible ticket, booked as early as possible.  Prices rise rapidly as the date of travel draws closer as these flights always sell out, making this is one flight where waiting for a deal is a bad idea. 
They just don't happen.
We purchased our ticket about 5 weeks out for $725 per-person round-trip.  For departures just a few days before this, prices were as high as $1,400 and only got higher as you get closer to the departure date!  
The only way to avoid this charge is by purchasing an around the world plane ticket from the oneworld alliance that includes the South Pacific and South America.  If you time it right, you can jump on the LAN Airlines' weekly flight from Tahiti and continue on to Santiago without any extra spending!  (This is the only way that those with a $50/day budget
may get close
).
Hotels and Camp Sites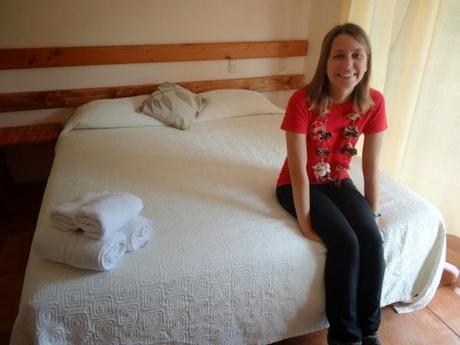 As Hanga Roa is one of the smallest "cities" you'll ever see, and the flights in are always full, you can imagine that hotels are quite expensive. 
Most budget hotels begin pricing at about $80/night and rise quite rapidly to $100/night or more.  We stayed at Hotel Tea Nui, a very nice budget hotel with free breakfast for about $90/night.   Compared to some of the reviews we read for the $80/night properties, this one was a significant upgrade for a very small spending increase. 
For those looking to save more money, Camping Mihinoa is located on the outskirts of Hanga Roa about 10-15 minutes from town and is a very affordable option with a stellar view of the ocean.  If you have your own camping gear, prices begin at around $10 per person.  For just $1-$2 more they will provide you with tents and sleeping pads. 
This property does have basic dorms and private rooms for quite affordable rates (much cheaper than other hotels), but be prepared to book early as they are the first to fill up.   Their rooms were fully booked when we were looking for hotels!
Note:  We visited Easter Island during the shoulder season in late March.  Prices may be higher earlier in the year during peak travel when LAN Airlines has two daily flights from Santiago instead of one.
Food on Easter Island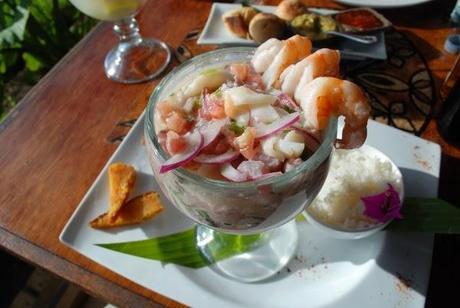 Eating on Easter Island is the most talked about and, to be quite honest, also the most overblown.  We were thoroughly prepared for everything to be outside of our budget such that we had to cook every night, but found that this was not the case.
Pre-packaged food items that are brought in from Chile only have a small premium of roughly 10-25%.  The real issue with buying foods on Easter Island is due to the 300% mark-up on perishable foods like fruits, bread, and other fresh items.  These are the foods you need to watch out for because they all come from the mainland and are rushed to the island before they go bad!
It is because of this that it is recommended to bring as much fresh snack items as you can from Santiago in your checked luggage as the airport custom staff really do not seem to care (now if you return to Chile with that same fruit, that is another story).  If you do not bring your own food to Easter Island, you might as well go out to eat because cooking your own meals with fresh ingredients will not save you very much money.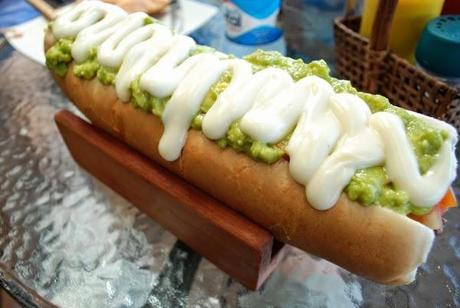 So how much are restaurants?
Restaurants on Easter Island typically range from $15 to $30 per entree, with most seafood starting at around $22 per plate with very generous serving sizes.  These prices aren't too bad, especially considering where you are at, but definitely add up fast compared to mainland Chile.   We highly recommend the seafood if you do go out for a splurge because it will be the freshest of all the ingredients on your plate thanks to the local fishermen!
There are also a few "fast food" shacks located near the soccer/football field in town that serve giant hot dogs (with real meat), sandwiches, and empanadas for around $6 to $10 per item.  The latter price is for one "As" sandwich that is large enough for two people!  These are truly great values for Easter Island which we visited several times during our stay.
Rental Cars, Admission Fees, and Excursions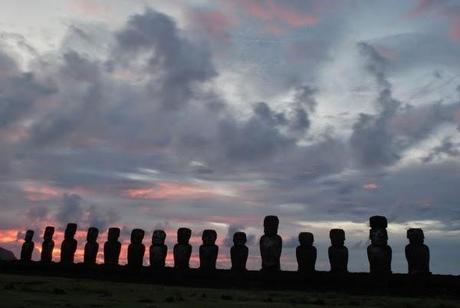 Upon arrival to Easter Island, you must purchase a $60 ticket to enter the national park which also covers entry into the quarry and Orongo village (both must sees).  This ticket is obligatory if you want to leave Hanga Roa as the entire island is considered to be the national park.  Although no one stopped to look at our ticket outside of the two attractions it gains entry to, we're told rangers can stop anyone at anytime and ask for it.
From here, the two options you have to explore the island and see the beautiful moai are to either take a full-day guided tour (~$80 per person) or rent a car. 
We rented a car from Insular Rent-a-Car which has rates that typically start from $70/day for a manual transmission and just over $110/day for an automatic.  For us, we can easily say that renting a car is the only way to go as the guided tours give you very little time at the attractions as they shuttle you around the island.  If you're already spending $600+ just to get to the island, only having 15-25 minutes at each of the famous spots is not worth it!
Although we spent 6 days on Easter Island, we only rented a car for three of those days as a means to keep our spending down (the remaining days we explored on foot outside of Hanga Roa and never ran out of things to do).  For those on an even tighter budget, two days would be the minimum you need to rent a car for although would not cover you if it rains, which happens quite often, or if you wish to return to any of the moai for a second time. 
But lets look at the cost of that, shall we?
For three days in an automatic car, that will cost $330 plus gas (which is actually very affordable at $5.50 per gallon- we only spent about $50!).  A guided tour for two on the island will cost $160, or about half of the car's price.
So what can you do to get the cost of your car rental down? 
Split it with some new friends! 
We were lucky in that a few friends were visiting Easter Island over the same dates and split the car with us.  Although timing worked out great for us, they were staying at the campsite we mentioned above and said there were no shortage of other couples looking to go in on a car with travelers to explore the island.
If you can make friends while on Easter Island to share your car rental with, the cost of a three day rental may end up being no more expensive than an ultra-rushed one day tour.
Tally of the Costs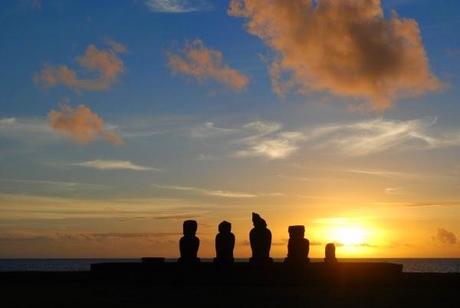 In previous updates we've said that our spending on Easter Island for 6 days was around $3,000 for the two of us.  We did not go entirely on the cheap and had a few splurges that increased our out-of-pocket cost over the ways we discussed in this article.
So if you are looking to go on the cheap, how low can you get your price?  Lets find out what a 6-night stay would cost at a minimum:
Airfare: $580 (Assuming you do not have a RTW ticket)
Camping: $72 (Assuming you do not have camping gear)
Food: $100 (Assuming you bring food from Chile and eat at the fast food stalls once a day).
Car: $95-$190 (Assuming you find friends to split the cost to at least half)
Park Fee: $60
Souvenirs: $50 (You will buy something, for sure)
Total Cost: $957-$1,052
A six-day stay on Easter Island will likely cost around $1,000 per person at the cheapest of travel options
, unless you have an RTW ticket that gets you there for free in which case the price will be around $500.
When we share our splurges, you can see the differences immediately.  Our airfare was around $125 per person more expensive, we spent about $480 more on a proper hotel, and spent an extra $250 on food by eating at nice restaurants three times plus a few snack splurges here and there as we did not bring much from Santiago. 
Those minor difference are all it takes to increase your Easter Island spending by 50%!
For those who plan accordingly, and are willing to downgrade the accommodation choice during a stay on the island, a lower price will be your reward.
You Must Go
If you are on the fence about traveling to Easter Island due to the cost, all we have to say is this:
it is worth it
. Easter Island is truly a magical place that seems almost untouched by tourism at times.  If you head out with a rental car and let the guided tours pass by, you'll likely find yourself alone with the moai at every single stop.
Can you say the same for any other destination in the world?
We don't think so.
We'd like to thank our friends at Insular Rent-a-Car for the discounted car rental during our stay on Easter Island.  We had a great time exploring the island in our car and highly recommend checking them out!