The following blog post has a quick workaround on how to try original dark theme for WhatsApp for Web client.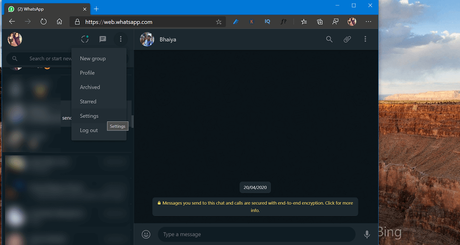 The company releasing dark mode for its WhatsApp app for Android and iOS device, is working on brining dark mode for its Web client. The feature is still under development, but it seems like Dark theme for WhatsApp web client is near to launch. Whenever it is rolled out officially, we will update about the feature in the blog post.
In the meantime, if you want to try Dark theme for WhatsApp web client before its officially released by the company, then here's how you can do that:
1. Launch your default web browser, then visit web.whatsapp.com
2. Log in to WhatsApp account by scanning QR Code, if you didn't do it yet.
3. Next, you need to right click anywhere on the WhatsApp web interface and select Inspect to launch Developer tools.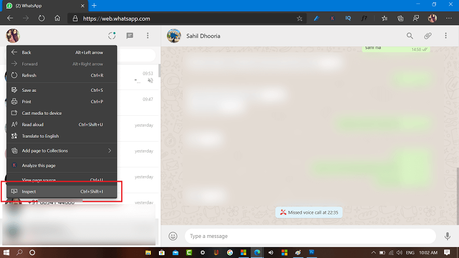 In the Element tab of Developer tool, you will see you code of the page (on the right pane). Here, scroll up to top until you start seeing the section shown in the following screenshot: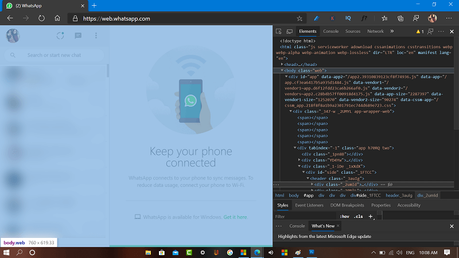 Look for <body class="web">, "web" is class for original theme. Here, you need to double-click to bring cursor and add "web dark" in place of "web" and hit enter.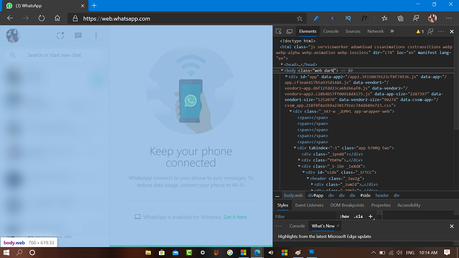 Doing this will instantly bring the dark theme for WhatsApp web. You can, click on the X icon.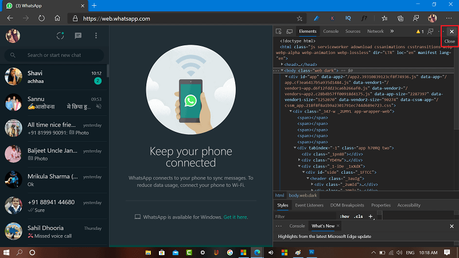 You can check following screenshot to get idea, how dark mode for WhatsApp Web looks like:
There is one problem with this method, whenever you reload browser dark theme will go away and you have to repeat the same workaround again to bring it back.
As of writing this blog post, the Dark theme for WhatsApp is not available, but with this workaround you have enable it magically.
Are you going to use this workaround to enable Dark theme in WhatsApp for Web or wait for official update to hit the app. Let us know your opinion in the comments.
Thanks, Wabetainfo for the tip!