The blog post will guide you how to you can try Microsoft's new Chromium-based Edge browser, right now.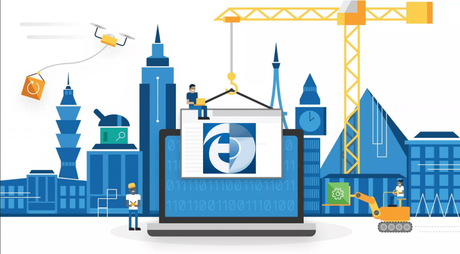 From last few days, rumors were coming from different sources that Edge browser, the Windows 10 default web browser will be moved to Google's open-source Chromium software in the desktop version. Microsoft's VP Joe Belfiore already confirmed the rumor in this blog post.
If you're excited about using Microsoft's own Chrome browser, then there is good news coming from company end, as they taking applicant. The company has introduced a new Microsoft Edge program. Under this program, interested users get the opportunity to become the first one to the upcoming version of the Edge browser.
For your knowledge, Chromium is an open-source web browser project started by Google, that does not carry several proprietary components. Its rendering engine, blink accompanied by various technologies, generally used by the popular modern browser like Opera and Vivaldi as a base.
Currently, Microsoft will keep using Chakra and EdgeHTML, the software giants own engines for content rendering and JS since both are highly used by UWP and Store apps. But in the upcoming days, the company will switch to Google's Chromium engine.
Join Microsoft Edge Insider Program
Microsoft is planning to release preview build of Chromum based Edge browser in first or maybe second month of 2019. In case, you're interested in trying Microsoft's Chromium-based Edge browser, then you need to enroll for Edge Insider Program. By doing this, you will become part of new Edge browser development, it means you will become the first one tohand-ons new browser.
Here's what you need to do:
First of all you need to visit official Edge browser Insider page. Here, you need to fill a quick form.
In the form, you will be asked to enter your name, email address, and country.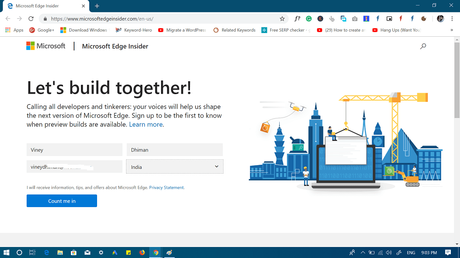 After entering the details click on Count me in button. That's it!
Once the comapny will release latest preview build of its Chromium based Edge browser you will be notified by email.
What are your thoughts about Microsoft's Chromium based Edge browser? Are you going to try this new Edge browser? What are your thoughts, feel free to share it in the comments.