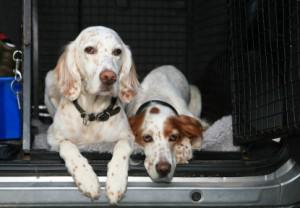 Do you love to travel but feel guilty leaving your pet in a kennel or cattery while you're having all the fun? Does your pet give you the cold shoulder when you return home from trips?
Don't despair – bring your pet along for the fun! You'll just need to do some important research and preparation before you hit the road.
Safety First
Since your pet will be traveling far from home, a few safety measures are essential. What if your pet is startled by something and runs off while you're on vacation? Ideally, your pet should be microchipped, because all lost animals that are brought into shelters are scanned for microchips. If your pet is found – even weeks later and thousands of miles from home – your contact information will come up and they'll call you so you can be reunited. At a minimum, your pet should wear a sturdy collar with an ID tag containing their name and your contact information, including area code.
If traveling by car, be sure your pet has a secure safety harness that attaches to the seatbelt. This will keep them from jumping around in the car so you can concentrate on driving in unfamiliar locations. If traveling by air, your pet will need an airline certified kennel that is big enough for them to stand up, lie down and turn around in comfortably.
Travel Documents
If your travel will take you across state lines – or into a new country – check with your vet to make sure your pet is up to date on all the required vaccinations. Many foreign countries have inoculation requirements completely different from the US. Vaccinations will need to be done a certain number of days before your pet is due to arrive, so you'll really need to research this well in advance of your trip. If your pet does not have the correct vaccinations and supporting documentation, they could be shipped back at your expense, or even euthanized, so it's imperative to have the right information and follow it precisely.
Home Away from Home
Research where you'll be staying in advance and make sure you read the fine print. While many hotels say they're "pet friendly," there are varying degrees of friendship. Many hotels only allow small breed dogs or have breed restrictions in place. Some require an up-front deposit, and some may charge an additional room-cleaning fee regardless of whether your pet does any damage or not. Find out if your pet will be allowed at the hotel's pool and on-site restaurants. It won't be much fun for your buddy to get there and then have to stay in the room the entire time!
Pack Your Bags
If it's your pet's first trip – and they've seen you pack those suitcases before and get stressed out at the sight of them – they might be a little uptight out about their new adventure. Pack plenty of things from home that will put them at ease, including their familiar bed, toys, treats and food. Not only will this help them feel more relaxed, but it will prevent them from getting diarrhea after eating new types of food.
Heather Johnson is a writer for the leading online honeymoon planning resource. Learn all about the best honeymoon destinations today!