How to teach fruits to kindergarten kids?
How to make a child learn about colors?
Today's show and tell will be a perfect method to introduce colors and fruits to kindergarten kids.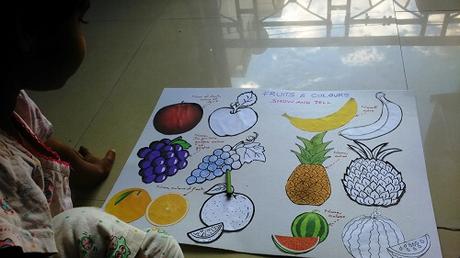 This post is dedicated to all the munchkins out there starting school in the year 2016. I love doing these 'show and tell' for my child as I feel she enjoys the whole process of learning - experiencing it and enjoying it throughout.
If you have a toddler, I am definitely sure he or she spells almost all the words - thanks to the rhymes and songs they are exposed to.
This show and tell takes the whole process of show and tell to another level. Let kids learn about fruits - their name - along with that - the color too.
Materials required: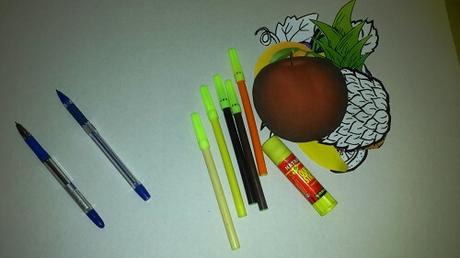 Cardboard - 1
Crayons
Glue
Printouts of various fruits and their outlines
Sketch pens
Cut out the fruits and their outlines from the printouts.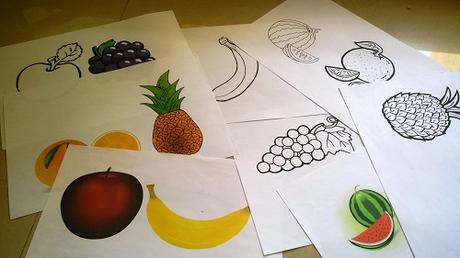 Make a mindmap on how you want to arrange the fruits.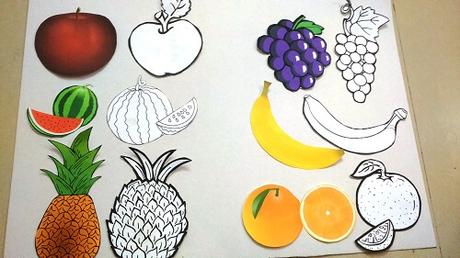 Paste the fruits and outline against each other.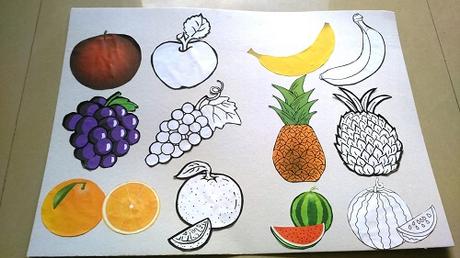 Description of the fruit in terms of whether the child loves the fruit, the color of the fruit can be added with the help of sketch lines.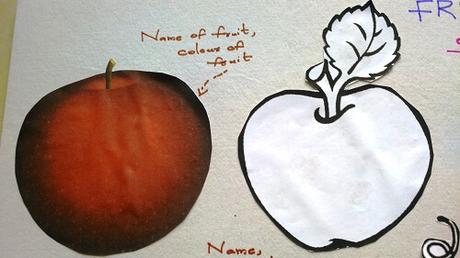 How to teach fruits and colors to preschoolers with show and tell?
Show the completed chart to your kid- I am sure he or she will be excited to tell the names of fruits.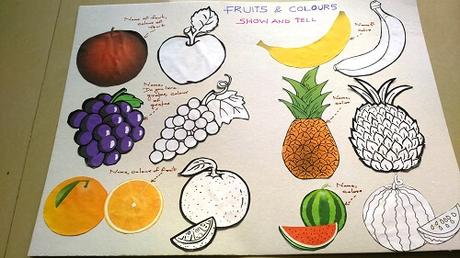 Now point at the picture of a fruit and ask its name.
When the child answers it correctly, ask the color of the fruit. You can tell the color and ask the kid to pick up the mentioned colored crayon from his crayon set.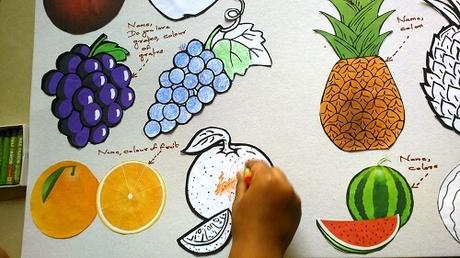 Here is the fun part - ask him or her to color in the outline of fruit against each picture. Follow the same for each and every fruit.
If you have real fruits at home, place it before the child and ask to place each fruit against the picture uttering its name.
I am sure that this show and tell can help a child to learn about fruits and its colors too.
Anshika uttered 'apple' the moment she saw the chart, but was not interested to color it first - though she said its red in color and picked up the correct crayon.
Instead she made her mind to go along with the grapes, mentioned its color as 'purple' and colored herself in the outline of the grapes, asking me to help her too. I asked her what's the color of the leaves of the grapes. She said 'green'.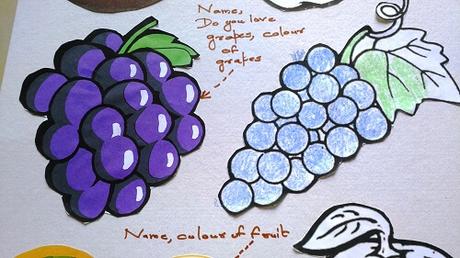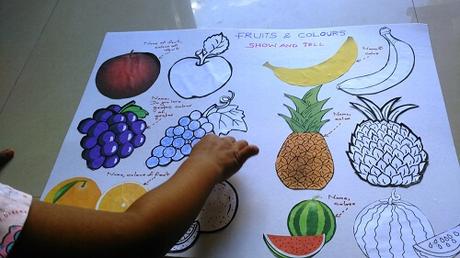 My child enjoyed the whole show and tell, I am sure your kid would too.
Has your toddler started observing and learning things around him? How do you introduce the colors and fruits to him/her?
Do share with me in comments.
Happy learning!