Ah ha me hearties - 'tis been bad sailin' this last tday or two.  Foul squalling winds have scuppered me land-lubbin' rose bushes.  There's petals strewn from here to Lands End. Not the best sea-fairin' weather. Me and the crew were mighty glad to be tucked up safe on shore.
Now hang on a moment - I am getting ahead of myself.   This weeks theme is 'Pirates' but unfortunately 'International Talk like a Pirate Day' isn't until 19th September but practice makes perfect, so I thought we might get cracking.  Here are some stock phrases. Perhaps you will recognize some of them from your childhood.
"Dolloping doubloons/dolphins!"
"Coddling catfish!"
"Lolloping landlubbers!"
"Suffering seagulls!"
"Staggering stalactites!"
"Nautical nitwits!"
"Plundering porpoises!"
"Kipper me capstans!"
"Tottering turtles!"
"Dithering dogfish!"
"Scuttling cuttlefish!"
"Stuttering starfish!"
"Shuddering sharks!"
"Blistering barnacles!"
If you are too young, (or too old), to remember Captain Pugwash then let me introduce you.
Captain Pugwash
is a fictional pirate in a series of British children's comic strips and books created by John Ryan. The character's adventures were adapted into a TV series, using cardboard cut-outs filmed in live-action, also called
Captain Pugwash
, first shown on the BBC in 1957. A later color series, first shown in 1974–75 and a traditional animation series,
The Adventures of Captain Pugwash
, first aired in 1998.
The eponymous hero – Captain Horatio Pugwash – sails the high seas in his ship called the
Black Pig
, ably assisted by cabin boy Tom, pirates Willy and Barnabas, and Master Mate. His mortal enemy is Cut-Throat Jake, captain of the
Flying Dustman.
 Captain Horatio Pugwash made his debut in a comic-strip format in the first issue of
The Eagle
in 1950, then appeared regularly as a strip in
Radio Times
. In 1957 the BBC commissioned a series of short cartoon films produced by Gordon Murray. Jack  Ryan produced a total of 86 five-minute-long episodes for the BBC, shot in black-and-white film, but later transferring to color. Ryan used a real-time technique of animation in which cardboard cutouts of the characters were laid on painted backgrounds and moved with levers. The characters' voices were provided by Peter Hawkins. The last series of Pugwash shorts by Ryan was produced in 1975.
OK now.  There were other characters but I think you get the idea.
Captain Pugwash is t
he pompous but likeable captain of the
Black Pig
. Although he boasts of being the "bravest buccaneer", he is actually quite cowardly and stupid. His greed often gets him into trouble. Nevertheless, he usually wins the day – either with the help of Tom the Cabin Boy or by sheer luck. Despite being a pirate, he is rarely seen committing any acts of piracy.
Master Mate has a tendency to use malapropisms and to mispronounce common words. He has a teddy bear in his bunk and is quite mild-mannered. He was present in the first ever Pugwash story, in which he was depicted as being constantly sleepy.
Barnabas is the most aggressive of the pirates but in reality is harmless. He is quite rebellious and grumpy, and is perhaps marginally more intelligent than Willy, the Mate or the Captain.
Willy is a simple sailor from Wigan.  He is a gentle soul, and is against using violence. He does, however, have the occasional brainwave and has been the crew's savior (admittedly sometimes more by luck than by design).
Tom the Cabin Boy is the real hero. Without 
Tom, Pugwash would have been sunk long ago. He is the most intelligent and resourceful member of the crew, the only one who can cook and the only one who can actually sail a ship. Although Pugwash would never admit it, Tom's ability to think up schemes is probably the only thing that prevents him from being a total failure as a pirate. The rest of the crew also found they were unable to operate without Tom, after he left with the captain when the crew mutinied. Tom is an expert concertina player and part of his repertoire is
The Trumpet Hornpipe
(the
Captain Pugwash
theme).
Lastly, the villain, Cut Throat Jake,  Captain Pugwash's fearsome arch-enemy, captain of the
Flying Dustman.
When he is not scheming to bring about Pugwash's downfall, he is a rather more competent pirate than his enemy, and always seems to have plenty of treasure. He speaks with a stereotypical West Country accent, and is easily recognisable by his eye patch and enormous black beard. Cut-Throat Jake has occasionally been known to utter the exclamation, "Scupper me skull-and-crossbones!"
Unfortunately, this rather lovely children's programme became corrupted by an urban myth. Rumour says that the problem began because the narrator used an anenoidal vocal tone and this changed the intonation of the name 'Master Mates'. There soon followed a popular culture, with rather rude names being interposed for most of the characters. Eventually the very mention of the name Captain Pugwash would reduce grown men (and women) to uncontrollable fits of laughter.
John Ryan successfully sued both the
Sunday Correspondent
and
The Guardian
newspapers in 1991 for printing this legend as fact.  So there you are. Keep it clean and get practicing for 19th September - only 89 days to go landlubbers! I didn't have a suitable poem until yesterday afternoon. My sister and I were joined by her two Grand-daughters for tea. Lilly, who is now six told me that she likes Pirate poems, so the one below is just for her. Today I have to finalise party arrangements for my Mum who is having a week of birthday celebrations. I will leave you with a picture of our eponymous hero at his own birthday party.  I expect almost as many dodgy characters around the table as we help Mum blow out her candles...96 takes a lot of puff!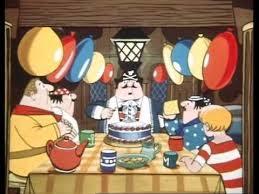 High Tea
I was a pirate,
I'd rather be
a captain's mate
than a scurvy knave,
I wouldn't drink rum,
I would only drink tea
from a china cup,
when I sailed the sea.
I wouldn't catch fish,
I would only eat cake,
especially if the ship's
cook could bake.
What a wonderful
view
there would be,
up the crow's nest,
taking tea.
Thanks for reading shipmates.  Adele
       
Email This
BlogThis!
Share to Twitter
Share to Facebook
Reactions: