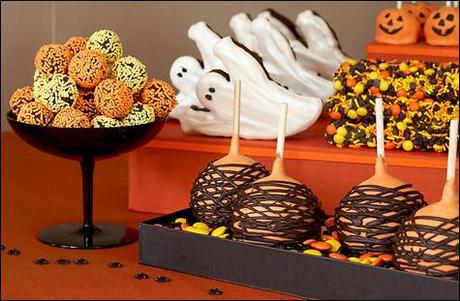 It's getting to be that time of year in which candies line the shelves of all your favorite stores, holiday parties centered around junk food start happening every weekend, and sugary "treats" begin to make their way into your kitchen.  However, you don't have to gain weight along with the rest of the people you know this holiday season.  You can be the one who says "no" to the junk food and sets a good example for everyone else.
The way I resist the temptation to eat "just one" piece of candy (you know what happens when you get started with "just one" don't you?) is that I just imagine how I feel during and after eating the candy — headaches, fatigue, moodiness, water retention caused by carb loading, and a vague nauseated sensation.  This is enough for me to easily say "no" to junk foods.  I'd rather just eat a salad and actually feel ENERGIZED after eating.
But if resisting Halloween treat temptations is a little more difficult for you, there's also a great supplement called CarbCrave Complex:.  Many of my health coaching clients swear by this formula to help them resist the urge to eat the cake, cookies, candy corns, and other waistline wreckers that tend to creep into the home and office.
Did you remember to stock up on Jade Windscreen as well as the ingredients for Julia Child's Simple Beef Stock Recipe?  Guard yourself from seasonal sniffles and sneezes by making this warm, soothing beef stock and taking one dosage of Jade Windscreen daily throughout the Winter season.  The adaptogenic herbs in Jade Windscreen work to balance your endocrine glands and strengthen your immune system so you'll have more energy, get more restful sleep, and be less susceptible to catching cold & flu viruses.
Get $10 off your next order at Holistic Chinese Herbs or our sister site Herbs For Weight Loss.  Use coupon code "Halloween" at checkout.