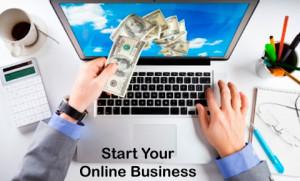 Critical situation of physical jobs due to the recession and other issues, making money online is one of the most popular and tremendous way to spend your dream life. Advantages of working online include the time flexibility, your own business and you are the boss with no limitations of place etc.
Making money is the most favorite hobby or job of all human being because at all the steps you need money to do anything. Some people are teaching the easy steps for working online and earning money, but you should remember that it's not as easy as it is being described. Whenever anyone start business, individual need to focus, work hard with dedication and face the challenges to achieve the success. You are going to start your own business online, so you should be ready to face all these challenges.
Which business you should start:   
People usually get stuck at this point that what they should do or which business they should start. I would suggest you to do the things you love or you do most. For example if you are a good writer, you can become a freelance writer or blogger. If you are good in music start teaching others or selling your own music online easily. If you are good in any type of services, start selling your services online.
How to start your business:
If you are not confident or didn't manage any business in your life, I would suggest that you should start it as a part time job. Switch to your online business as a fulltime when you are confident enough.
Show responsibilities:
Taking responsibility is very important in the success of your business. If something goes wrong don't blame the luck or others, take the responsibility because you are the sole owner of your business and your own boss. Give proper time to your business even an hour a day or two initially. Time which you will spend on your business is your investment and you are going to be benefited very soon from it.
Your business a bright future and career:
Turn your part time business into your career and entire source of income when you are confident enough. Many people are working online and generating their entire income through working online or managing the website or blogs.
"Slow and steady wins the race". Don't forget this and never give up. Do all your work slowly and carefully. Think twice before taking the decisions and once taken don't step backward.
One day your online business will become your sole property and source of income with your dedication and practice.