Virtual keynotes are NOT going away, so don't be boring! If you've been just hanging out doing the keynotes in front of your computer with a bookshelf in the background, or worse, a FAKE background, you need to step it up.
You probably already have of this stuff, like a computer and video camera, so here's some other stuff to add it to make it a production. I've been doing them for 9 months now, and I'm getting GREAT feedback . . . because my videos look great and I'm bringing some flare to the event. My virtual keynotes and my emcee events look like productions. Sure you can book a virtual stage for about $400 or $500 an hour to go someplace and tape it, but you can also save your money by buying these tools. And they don't break the bank!
Here's the tools you need for a fun virtual keynote that looks great.
For broadcasting/recording your keynote or master of ceremonies event: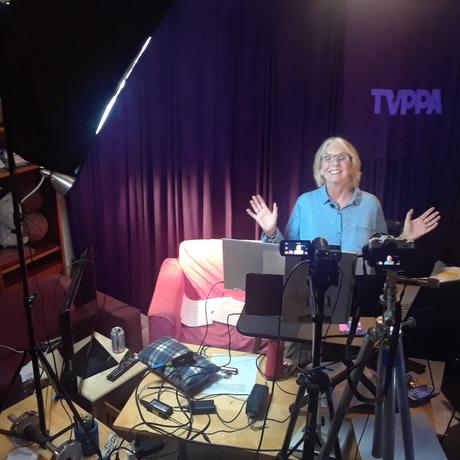 I used this set up to be the Master of Ceremonies for TWO multi-day events working between 3 time zones!
For the background of your keynote or master of ceremonies event:
PVC pipe - forget expensive stands, just use lightweight pvc pipe to frame your "stage."
Material - go to JoAnn's fabrics and get some fabric to drape over the pvc pipe.
Projector - I bought a used, old one for $40 and I project the client's logo behind me from a powerpoint slide. I have the slide on a (very) old computer. I'm sure you have one laying around somewhere. They have all the ports you need.
Additional stuff you may want for your keynote or master of ceremonies event:
Standup desk - okay, it's a half standup desk that sits on top of your desk. Very cool. https://www.amazon.com/gp/product/B07KFWJFVH/ref=ppx_yo_dt_b_asin_title_o06_s00?ie=UTF8&psc=1
Separate Monitor - any monitor you have laying around will work . just so you can see the chat box better and aren't trying to find it on your computer screen.
Bar stool AND small couch. When I'm the master of ceremonies, I usually have lots of time between keynote sessions, so I can sit on the couch and make notes, or sit on the barstool when I'm about to go on "stage."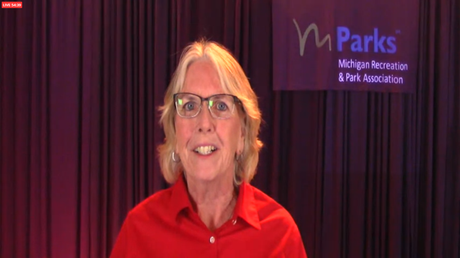 Virtual Keynote Speaker - Here's what the audience sees. Much better than a bookshelf!
These seems like a lot of stuff, but you probably already a lot of it already, and most of the things you will buy are pretty cheap. So put a few bucks into this set up and you'll look great. I've made that money back many, many times over with my virtual keynotes and virtual master of ceremony events. You can too.
And as always, I'm happy to chat with anyone who would like some more clarification.
Jan
Click here to reach me:
Funny Keynote Speaker