Printable Valentines Day Cards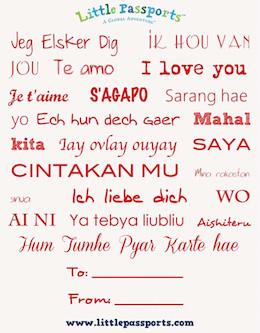 Learn how to say "I love you" thanks to Little Passports! 

This post contains affiliate links, which help to support this blog. Thanks! 

Little Passports has Valentines Day Cards for everyone!Think it's too early? It's not! Valentines day will be here before you know it and I have several Little Passports Valentines Day Card Printables that your child can give to their friends. These are perfect for homeschool groups too! 

Have you ever wondered how to say 'I love you' in German? How about in Tagalog? Our Little Passports Valentine's Day cards include 'Love' and 'I love you' in languages from around the world! To share the love, simply download, print, and pass one to your valentine!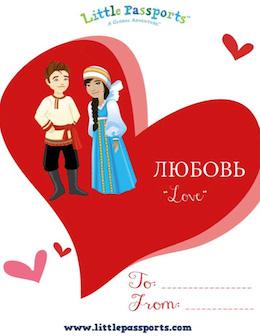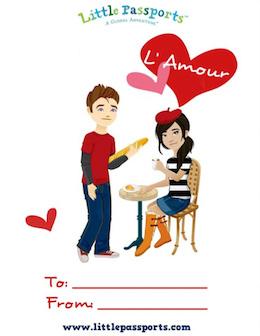 How to Say "I Love You" in Other Languages
Here are some Little Passports "I Love You" Translations From Around The World!:

Jeg elsker dig: Danish
Ik hou van jou: Dutch
Te amo: Spanish
I love you: English
Je t'aime: French
S'agapo: Greek
Sarang hae yo : Korean
Ech hun dech gaer: Luxembourgish
Mahal kita: Tagalog
Iay Ovlay Ouyay: Pig Latin
Saya cinta kamu: Indonesian
Minä rakastan sinua: Finnish
Ich liebe dich: German
Wo ai ni: Chinese
Ya tebya liubliu: Russian
Aishiteru: Japanese
Hum tumhe pyar karte hae: Hindi

Little Passports enables you to teach your child about the hundreds of different cultures around our world and around the USA! Each month, a package addressed to your kids (which they LOVE) arrives full of little goodies like stickers for their own passport, activity sheets that teach them about major landmarks around the world and gets their brain going with fun word scrambles! 
Little Passports even shares fun recipes that you can cook up with your kids to turn them into little chefs who know all about foods from different cultures. Subscriptions start at just $10.95/month which is another bonus! This is also the perfect resource for anyone who homeschools out there.
 Let me know what you think after you get set up with your own Little Passports subscription! 



This post contains affiliate links, which help to support this blog. Thanks! 

Marissa is a stay-at-home mom who writes pregnancy and parenting articles on HubPages as ThePracticalMommy, as well as shares her motherly escapades on Mommy Knows What's Best.