From last few months, Windows 10 users have been resetting UWP apps from the app settings. To check the method, you can check our previous post on how to reset settings app in Windows 10. The steps are same for all UWP apps or the apps that comes our of the box in Windows 10.
You might be interested in reading – How to Fix – Error Code: DLG_FLAGS_INVALID_CA
Reset UWP Apps in Windows 10 using PowerShell
To give users alternate method, Microsoft added a new ability to reset UWP apps via Windows PowerShell in Windows 10 v2004 OS build 20175 in Dev Channel. If you want to try this method, then here's what you need to do:
Launch Elevated Windows PowerShell. For that, right-click on the Start button and select Windows PowerShell (Admin)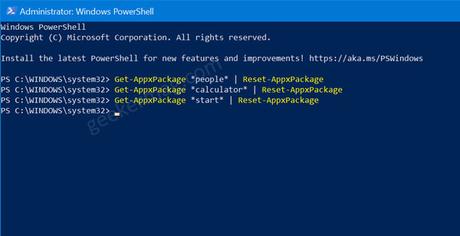 In case, you want to reset People or Calculator, then you need to execute following command:
Get-AppxPackage *people* | Reset-AppxPackage
Get-AppxPackage *calculator* | Reset-AppxPackage
In above command, people, and calculator, is appx package name. Every time you execute the command, you need to wait for until deployment completes.
One of the main benefit of this method is that you can reset certain system components that are not listed as available to reset in Settings app.
For example, if you want to reset Start menu in Windows 10, then there's no option available to do so. But you can reset Start by executing this command: Get-AppxPackage *start* | Reset-AppxPackage
Resetting UWP app via PowerShell command method will reset particular app to default settings and you will lose all the data associated with app.
What are your thoughts about Microsoft introducing a new method to Reset UWP apps in Windows 10? Let us know in the comments.