The decision of having a baby is pivotal. At the stage when a child is born, the child's mother is also born. A female exists before, but not as a mother. This feeling is something new and different. With this new experience, new problems are also felt and one of the problem is swelling of ankles, feet and sometimes of other parts. This problem of swelling can be reduced through natural and ayurvedic ways. These ways include the combination of home remedies and herbal remedies. But before this you should know about the conditions and reasons of this problem during pregnancy.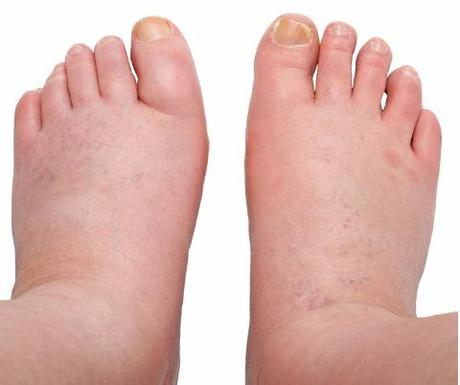 What exactly the pregnancy swelling is?
During pregnancy, you get a mild swelling all over your body but especially around your feet and ankles. The range of swelling can fluctuate according to the different conditions.
Why this swelling occurs?
This swelling is due to accumulation of body fluids in both, baby and mother. The body fluids increase to accumulate in the tissues which results in increase blood flow and pressure on the uterus, pelvic veins and vena cava, the large vein. This flow and pressure cause swelling of body parts, particularly of feet and ankles due to gravity. The hands also get swollen.
At what time you feel this condition of swelling?
This problem of swelling arises between the weeks of 22 to 27 of pregnancy. This condition remains as it is until a women gives birth to a child.
Risks that can be associated with this swelling
The mild swelling of feet and ankles is normal. But with this swelling, your hands and face also experience swelling and your face just looks like a puffy bean with other symptoms such as high weight, high blood pressure and high protein in urine, are a thing of concern.
The problem of swelling can be treated through natural ways and some lifestyle changes. Now, what do you mean by natural ways. The natural ways includes the things of nature. These are herbs, trees, natural minerals and nutrients. Plants play major role on earth, not only in providing oxygen but also to cure for various diseases. A medicinal system that uses these herbs as a remedy to treat ailments is known as Ayurveda.
AYURVEDA is an ancient medicinal form of India that treats the disorders by using the combination of herbs, body type and the disease type. This form is the treatment that provides relief in all aspects, body and mind. The basis on which this works is the five elements e.g.air, space, earth, fire and water. These elements combine to form three doshas that control body functioning.
Air and space - vata doshas, this controls nerve impulses, respiration and elimination.
Fire - pitta doshas, controls growth and protection.
Earth and water - kapha doshas, controls the metabolism.
Ayurvedic view of Swelling during pregnancy
In Ayurveda human conception is compared with germination and sprouting of a seed and its transformation into a plant. Same as a seed form and sprout, human's male and female seeds unite and garbha ( embryo) is created. In Ayurveda, there are around total nine diseases that originate in pregnancy. One of them is swelling of feet and ankles it develops in the eighth and ninth month of pregnancy. This should be treated with mild herbal formulations that don't harm fetus and mother.
Planet ayurveda has herbal formulations for swelling during pregnancy.
Planet Ayurveda provides following formulations that consists of fruitful herbs which has significant effect in pregnancy swelling.
Amla saar
Shatavari capsules
Spirulina capsules
Coral calcium complex capsules
Amla saar is made up from a magnificent herb, amla that consists of properties like anti-inflammatory and anti-oxidant etc. These properties help amla to cure the problem of swelling.
Regular consumption of amla saar reduces the swelling of hands and feet.
Dose - 3 teaspoon two times a day with equal quantity of water.
Shatavari is known to treat the problems related to reproductive system. This helps to boost up the immunity, tones uterus and helps to increase the flow of vaginal fluids. These overall functions helps to remove extra fluid from the tissues and lowers the swelling during pregnancy.
Dose - 2 capsules two times a day.
Spirulina is enriched with various properties like anti-oxidant, anti-inflammatory, vitamins and minerals that helps to lower down the swelling, fights with free radicals and stress ( mental and physical).
So these are given in the case of pregnancy swelling.
Dose - 2 capsules two times a day.
It is a natural formulation hat is rich with calcium component that helps to maintain body health, immunity and muscle health during pregnancy. This provides way to fight against infections and inflammation or swelling problems. So this is very beneficial in case of pregnancy swelling.
Dose - one capsule two times a day after meal with plain water.
Expect these, there are some home remedies that can be acquired to treat the problem of pregnancy swelling.
1. Use contrast hydrotherapy
Fill two to three foot tubs, one with cold and other with hot.
Soak the feet in warm for 3-4 minutes.
Then immediately after in cold for one minute.
Continue the process for 15 minutes, two times a day.
2. Do massage regularly with ginger oil, mustard or olive oil.
3. Consume some ginger tea every day.
4. Take coriander seeds. Soak them in one glass of water and then boil. Drain and cool it down. Consume this once in a day.
5. Relax yourself and put your legs and feet slightly elevated in an anti-gravity mode. This helps to provide relief from swelling in the pregnancy.