Engagement, Interesting Content Marketing Cases
You have probably already acknowledged that social media presence is what every business needs. Businesses of all sizes are focusing their efforts on social media networks. Investing in this marketing channel is popular for a reason.

Social media can help you build a community that will support you and promote your business's worth. The toughest part of social media marketing is to think of ideas that will engage the followers and enhance your reputation. Check out the following tips, ideas, and examples that can inspire your social media campaign.

Conduct a takeover

Give someone the power to reign your social media profile. It can be an influencer or an important figure related to your niche.
Takeovers can give your account a new voice and motivate your followers to engage.

Just imagine how enthusiastic will your followers be to communicate with someone influential from your branch. The takeover usually lasts for a day, which urges the followers to get active.
FoodRepublic, a foodie site, cooperates with popular chefs and lets them rule their Instagram account for a day.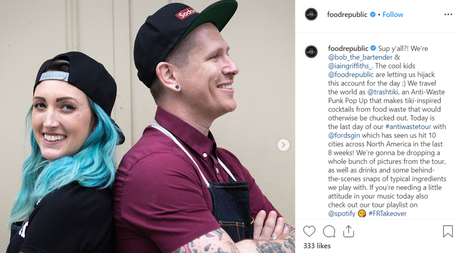 Source: FoodRepublic Instagram
They use a #RPTakeover so that users can follow up on all of them.
By doing takeovers, you'll add a fresh look to your account and attract more followers with such engaging posts.

Tackle important issues

Raising awareness on relevant matters in your industry will get people commenting and sharing.
Do some research on current trending and even controversial topics in your industry and share some facts.
If you could even conduct your own research that raises awareness on a certain matter, that would be amazing! This is exactly what Superdrug did.

The beauty retailer from the UK decided to raise awareness of body image. They contacted 18 graphic designers from various countries in the world and asked them to photoshop a model's picture to match the beauty standard in their country. The results were astonishing and the attention they got was even more shocking. This case study got over 1 million shares on social media.

Jessica Perry, a social media expert at GrabMyEssay said that she was amazed by this campaign. "Superdrug found the perfect way to increase engagement on social media and raise awareness about important issues. They provided marketers with something to look up to," says Jessica.
Have a giveaway

People just can't resist free stuff. So, use this to your advantage. Organize a giveaway or a contest to get your followers' attention.
Tailwind reported that 91% of Instagram posts with more than 1,000 likes or comments are related to a contest. Additionally, accounts that run contests regularly are noted to grow 70% faster than those that don't.

Ideally, the prize should be one of your products, your service, or at least something related to your business. Depending on what is applicable.
This is how Birchbox does it:

Source: Birchbox Instagram
They got their audience to interact and share ideas, and they also gifted a few of them with their products. The post got amazing feedback! It has over 2,700 likes and over 1,600 comments.
"Who would say no to a gift from their favorite brand? If you want to show your generosity and reward your followers for their loyalty, organize a little giveaway. You will get your audience to get active on your posts and raise brand awareness," advises Gregory Stratford who has over a decade of experience as a digital marketer and currently works at Studicus.

Get users to be co-creators

User-generated content is always a good idea. There is no better way to get them engaged and show them how important they are to you.
Social media can connect you and your users through user-generated content. You will be surprised how this type of content improves your relationship with your customers.

Not to mention that your customers will create content for you, so when you run out of ideas, here's your solution.
When people think that the brand might see their photo with the product, they will be enthusiastic to share.

Cupshe, a swimsuit brand, knows this very well so their content mostly consists of user-generated posts. Considering that they have almost 900k followers on Instagram they must be onto something

Source: Cupshe Instagram
Encourage the users to use either a specific hashtag or to tag you on a post.
Create a series

Have a regular series every week or month and get your audience a reason to keep coming back.
A series is a perfect way to have planned content which gives the audience a chance to share their opinion.
It is best if you focus the series on the users. This should be their chance to open up and discuss a certain topic.

Take Sprout Social as an example. They used to have a #SproutChat Twitter chat every week on Twitter. The series got their audience to share their thoughts on topics and challenges related to social media. They pre-planned the topics and shared them with their audience on the website so that they know what to look forward to. In this way, they directed their users on the website to their social media profile.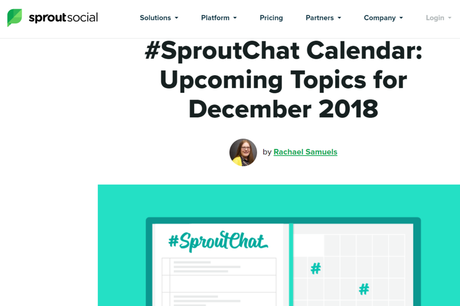 Source: SproutSocial
Twitter is a really good option for series because you can simply use a hashtag with the series name and make it easier for people to follow up and engage.

Those who need some help to write an inviting giveaway post can turn to writing services like Trust My Paper or Best Essay Education. To save some time, organize and plan the series topics ahead with social media automation tools. Services like Hootsuite or Buffer will help you schedule the posts. This will ensure that you don't forget about it.

If you can't come up with an idea, you can always start an AMA (ask me anything) series. Get your audience to ask anything that comes to their mind and offer them your insight into the subject. Such series cans start some exciting discussions.

Some final thoughts
Social media has proven to be the best way to increase audience engagement and promote your business. With some clever decisions and interesting posts, you'll have your followers liking, commenting, and sharing your content. Use these examples as a motivation to start creating some great and attractive social media content that your audience will love.
---
Author Bio
Angela Baker is a freelance writer at TrustMyPaper and digital marketer at BestEssayEducation. She is an expert in social media branding and customer services. She likes blogging because it allows her to share her professional knowledge with her colleagues as well as newbies in the field. Also, Angela writes for LiveInspiredMagazine.