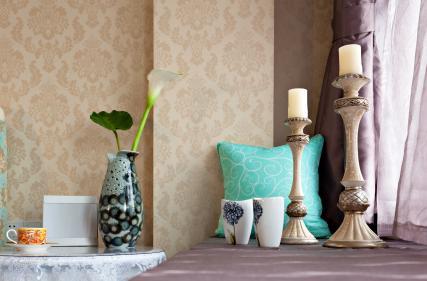 The living room is a place where you should feel you can rid yourself of the stresses and strains of everyday life. To be able to achieve this, you need it to have an ambience of pure relaxation. So here are a few helpful tips on how to achieve this by simply styling your room with the addition of some home decorations.
Tones and Texture
You can create a heavenly atmosphere by adding subtle, neutral tones such as cream, beige, lavender and pale green to your living room. But don't worry – this doesn't mean that you have to redecorate the whole of your living area to achieve this. It just means that you have to style it and there are some simple tricks you can use to create a real tranquil sensation.
Step one is to add soft sumptuous homeware such as cushions, throws and blankets. There are thousands of colours and tones of these items available so you can really follow any theme you like. Create a fabulous room for relaxation by adding luxurious duck feather cushions so that when you sit down you can feel like royalty – it is your castle after all!
Relax. Recline and Unwind
After a hard day, all you really want to do is curl up on your comfortable couch in front of the TV with a cup of tea (or a glass of wine) and forget about it all. To bring your relaxation area together you need the perfect coffee table – choose a light style of wood to fit in with your heavenly theme where you can rest your glass, mug or cup without the worry of knocking it over. Fortunately, you should be able to find a choice of coffee tables with the right style and look to blend into your living room perfectly.
Tranquillity and Peace
For a spa-like feel of unrivalled tranquillity and peace, candles really are the perfect (and essential) addition. Not only are candles manufactured in a wide range of colours but they also come in many different scents, so you can enhance your senses and feel your troubles just melt away when lit. Beautiful rugs made from wool can really add a touch of warmth and comfort to evoke a general feeling of calm. Again, choose neutral or natural colours and mix with traditionally calming scented candles such as lavender to add a dash of color with a sense of pure relaxation.
Unwinding will be so much easier if you have the perfect décor and it really needn't cost the earth to create a room which allows you to leave your troubles behind. So start relaxing in your perfect living room today!
Jamie Leigh is a seasoned writer on the subjects of homeware and interior design. She is dedicated to finding home decor products of the highest quality and enjoys looking at a choice of coffee tables, rugs and cushions to find the best products around.