YouTube is certainly a source of entertainment, but it's also an incredible platform for marketers, especially since it's the second largest search engine in the world. People take action based on the videos they watch as 70% of them say they bought from a brand after seeing their content on YouTube.
In addition to buying products, how do you keep viewers interested in your channel and watching more videos? End screens. In this post, we'll explain what an end screen is, outline how to create an end screen, share high quality examples from existing channels, and recommend template options that you can use to create your own.

These items will appear in the last few seconds of your videos' playing time. They are different from YouTube's auto-generated annotations in that you can choose the content yourself.
How to create a YouTube end screen
You can create YouTube end screens right from your YouTube account. Here's how to add end screen elements to your videos.
1. Sign in to your YouTube account.
2. Then select your account icon in the upper right corner YouTube Studio.
3. Select from the left menu content.
4. If you want to add an end screen to an existing video, select the video, click the pencil icon (shown below) and skip the next step.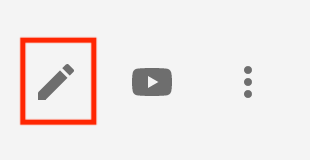 5. If you want to add an end screen to a new video, select the option Create Click the button in the top right of the screen to upload the video file.
6. When you have completed step four or five, select the option Video elements Tab as shown below.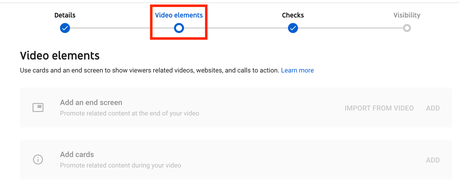 7. You should then see the option to add an end screen by importing from an existing video or adding your own.
8. Select the end screen items you want to add to your video, fill in the required information and click Create element.
9. For further customization, you can adjust the size and placement of each item on the end screen, as well as how long it is displayed.
10. You can preview the ending screen by selecting preview in the upper left corner or just select it save up to complete your final screen.
Examples of the YouTube end screen
Claire Saffitz Dessert Person
The following example is an ending screen from Clare Saffitz's channel Dessert Person. While it might seem simple, it gets the job done through a CTA that directs viewers to other videos on the channel and a subscription button.
New York Times Cooking
The NYT Cooking channel also uses a simple end screen for its videos that has a simple subscribe button. This is the benefit for end screens as they can contain all of the preferred actions you want your viewers to take, from subscribing to your channel to watching your other videos.
source
Food52
You may have noticed that this list is surprisingly food-themed, but I check this out on YouTube. Food52 goes very well with their outro with links to other videos, one click to subscribe and a link to their webshop. Since their website is not a YouTube approved link, all they have to do is add it as a text element to their final screen template.
History Channel - Old Recipes
The history channel uses all four elements of an end screen: links to playlists, other videos, a subscribe button, and a link to their website. So many options for your viewers!
Vice-Nibbles
Vice uses a unique, animated end screen to grab viewers' attention. The words "See More" will flash on the screen in different languages, as will links to two other videos.
Standard dimensions of the YouTube end screen
The instructions above detail how to create an end screen in YouTube's Creator Studio, but also upload your own. Make absolutely sure that the dimensions are correct.
The standard size is 1280 x 720 pixels and the standard HD aspect ratio is 1920 x 1080 pixels. The following image is a sample end screen template that you can use to create your own. We recommend further templates below.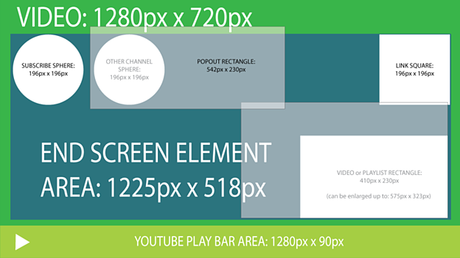 source
YouTube ending screen templates
While you can design one on YouTube or from scratch, there are several templates you can use to create a high quality final screen that suits your branding needs. Let's go over some resources below.
Adobe Spark: Contains various templates that you can adapt to your individual branding needs and improve your YouTube reach. The site guides you through the process, so it's simple and easy to use.
Canva: Create a personalized end screen from a pre-made template or from scratch. You can insert illustrations, icons, stickers, and even animated effects.
Snappa: Free and customizable YouTube end screen templates that have been professionally designed. Just choose a template, create an account, and start designing.
YouTube: Many channels have uploaded ready-made templates that are available for download. You can browse videos, choose your preferred template, navigate to the description field, and download your preferred option.
YouTube ending screen length
Ending screens will play in the last five to 20 seconds of your videos. Make sure the items you want to include appear at the right time to maximize the impact of your final screen maps. The goal is to trick users into taking additional action with your channel and generating more views and engagement.
If you want to add CTAs to other parts of your videos, you can do so using YouTube cards. Here is a tutorial on creating cards from YouTube's Creator Academy.
How to turn off the YouTube end screen
If you want to remove an end screen from your YouTube video, do the following:
1. Sign in to your YouTube account.
2. Click your account icon in the upper right corner and select YouTube Studio.
3. Select from the menu on the left side of your page content. You should then see a list of all of your YouTube videos.
4. Select the pencil icon on the video that you want to remove the end screen from.
5. Click on Video elements.
6. Click on the end screen Edit item.
7. Click on Clear.
As the creator, you are the only one who can remove end screens from your videos so you can make sure people see what you want them to see.
Use high quality end screens to get the audience's attention back.
When your audience has seen your videos to the end, you have caught their attention. However, you don't want to lose your attention when the video finishes. You want her to stay engaged.
End screens will help you get the audience's attention back and inspire them to watch another video or convert it to subscribers. If you want to spend more time on the platform, here's how to make money from YouTube and key YouTube stats that marketers need.