Now that you know what furikake is, you may want to try it to see why people never get bored talking about it. As said, there are different varieties of furikake available in the market, you need to choose one that suits your taste buds.
There are plenty of recipes when it comes to making a furikake recipe. As you can see, furikake seasoning is simply a combination of different flavors and ingredients. So, you can personalize your furikake with the ingredients you prefer and like and give it a tasty, salty, sour, or spicy flavor.
Now let's talk about how to make furikake at home. My version of homemade furikake seasoning includes a medley of ingredients, such as leftover bonito flakes (katsuobushi), roasted seaweed, sesame seeds, and more.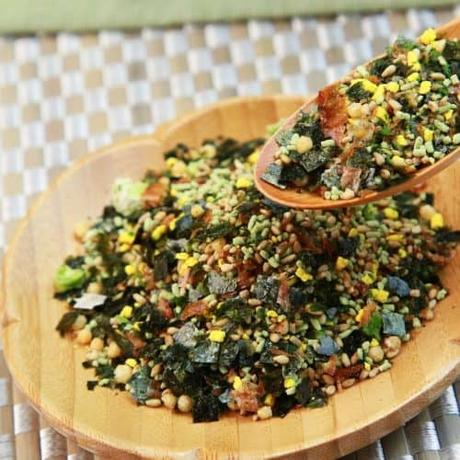 Print
Homemade Furikake recipe
This furikake recipe repurposes the ingredients into a delicious and aromatic seasoning. It will add flavor to your plain rice and can also transform any food into something fun and delicious.
So, without further ado, let's jump right into it.
Course
Side Dish
Cuisine
Japanese
Keyword
Seasoning
Prep Time
5
minutes
Cook Time
15
minutes
Total Time
20
minutes
Servings
4
people
Author
Joost Nusselder
Cost
$6
Ingredients
1

tsp

sugar

1

tsp

sea salt

1

tbsp

dried shrimp

¼

cup

bonito flakes

3

tbsp

sesame seeds

1

tbsp

dried seaweed

1

tbsp

dried salmon or anchovies

soy sauce

optional to taste
Instructions
Take a dry frying pan and put it over high heat

When the pan is properly heated, put the sesame seeds and toast until they produce a bit of smoke and a roasted aroma (say about 1 minute).

Transfer the roasted sesame seeds into a bowl and let them sit aside.

Take the seaweed and crumble it into the bowl of roasted sesame seeds. If your seaweed isn't crusty and crisp, toast it for about 30 seconds over the frying pan. Make sure that you don't burn it.

Now, into the bowl, sprinkle bonito flakes, dried shrimps, and dried salmon (or anchovies – whatever you have or like).

Toss it well so the mixture forms well.

Next, season the mixture with sugar and salt. You can reduce or increase the quantity of both sugar and salt according to your requirements. If you want, you can also add a few drops of soy sauce for an additional tangy flavor.

Transfer the mixture into an airtight jar. This will keep the flavor intact for a month or two. I would recommend that you use it within a month of preparation to avoid any contamination.
Video
</div>
Notes
Note: The quantity of ingredients is only for a few servings. I recommend that you start with the given quantities so that you get the idea of how much you need when you are preparing more quantity.
Also read: these are the best furikake flavors to buy
My favorite ingredient to use is: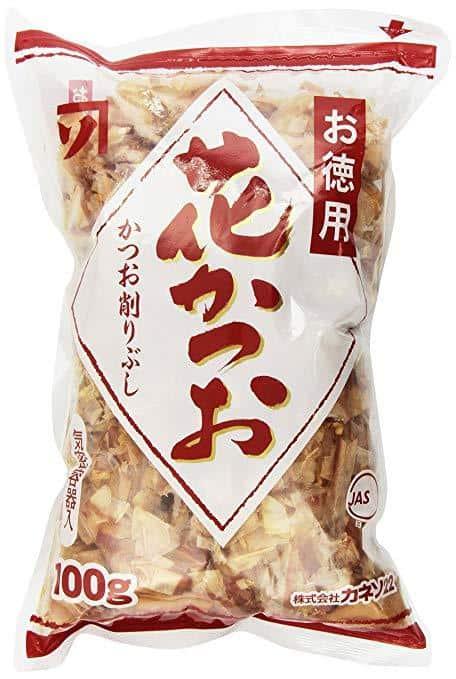 Check out all of my favorite ingredients here
What is Furikake?
Furikake seasoning is traditionally used as a topping for rice, but it tastes great on almost every savory food you can imagine.
Furikake is sprinkled to add crunch and flavor to fish, vegetables, and cooked rice. It's a combination of different varieties of dried ingredients that often include sugar, salt, chopped and dried seaweed, powdered egg, dried fish, sesame seeds, wasabi, monosodium glutamate and bonito flakes.
The best part is that you can create your own mix, controlling what's in it by putting as little or as much of any ingredient as you like.
Furikake seasoning offers a great source of protein and other nutrients like calcium. It was first introduced to address calcium deficiency and malnourishment in the Japanese population, especially among children.
Today, it is sold commercially as a catalyst that improves the taste of the food while giving nutritional value.
Furikake is often flakey and brightly colored. It has slight seafood or fish flavoring with a pinch of spicy tang. It is mostly used in Japanese cuisine for rice balls like these onigiri and pickled foods.
In recent years, furikake has gained major prominence in western countries and across the globe. People use it as a seasoning for fried or baked fish, snack foods, and raw fish and meat salads.
In Japan, you can find furikake in every department store. And outside the country, most Asian supermarkets and grocery stores have an aisle for different flavors of furikake.
However, if you are looking for furikake and it's nowhere to be found even in your local Asian grocery store, your best bet is to look online on sites like Amazon.com.