It is with great pleasure I would like to announce that the publication of 100 paper flowers designs all in one book "How to make 100 Paper Flowers" by Creative Publications International.The book will be sold worldwide.
In this treasury of 100 Designs, Maria Noble shares her lifelong passion for making flowers.Guided by step-by-step directions,templates, and stunning photos,you can easily learn this cherished art.Included are paper flowers so lifelike you'll do a double-take,quick crafted flowers easy enough for kids to master,origami models,and quilled flowers,too.To make these gorgeous flowers,all you need are your two hands,some basic florist supplies,an occasional dab of glue, and paper - crepe paper,tissue,card stock,scrap booking sheets,recycled magazines,or quilling strips.
When the occasion calls for flowers,grab this book and start crafting.You'll never run of ideas for sure!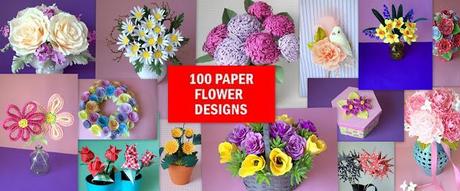 The above give a glimpse of what are the various projects that can be found.
There are many projects that are easy that even kids could do in short this would be a great go to Dictionary of paper crafts that you go to for most common and new craft project. Great to give an gift for a a craft enthusiast and a keeper for you craft shelf.
"There are so many designs and uses yet to be imagined.I hope the ideas in this book can inspire you,the way those childhood crafting sessions inspired me, to design and create new flowers on your own"
Enjoy crafting!
Maria