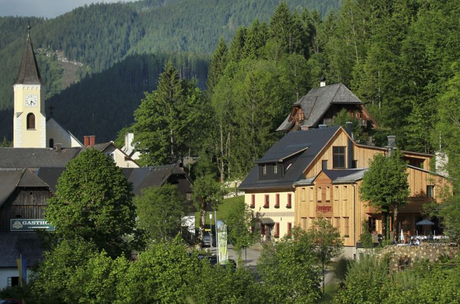 Hotel Fahrnberger
Going local in Mostviertel, Lower Austria involves staying in speciality hotel rooms, eating scrumptious desserts and drinking Schnapps. Ready?
Much to my surprise J.P. (my German husband) even learned a thing or two which fascinated me.  (I'm obsessed with asking every Austrian and German I meet about the differences between Austria and Germany.)
How to Live Like a Local in Mostviertel
It started when we arrived just in time for the Wanderbare Gipfelklaenge Festival, what I refer to as the  Music and Mountains Festival.  It's a unique festival held every June which I can highly recommend. We checked into the Hotel Fahrnberger, a four star hotel in Göstling an der Ybbs. We were shown into our room, a sizeable Genießer Zimmer.  I can't think of a direct translation for  a Genießer Zimmer. It's more of a concept of making the guest feel like s/he is at home through local touches.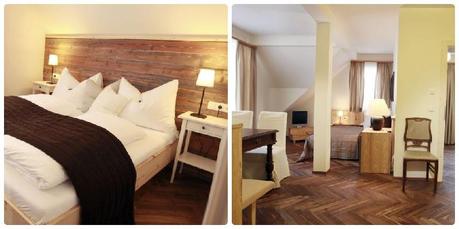 Our Genießerzimmer in Hotel Fahrnberger in Göstling an der Ybbs.
Genießer Zimmer are rooms designed for couples or families.  Our room was huge! In addition to a separate bedroom, there was also another bedroom with two twin beds. In addition there was a full size table, and a large lounging couch that could also have been used for sleeping – not to mention double sinks in the bathroom!
There's also an emphasis on incorporating local touches into the room, so that you get a taste for what's unique about the region. For example, the paintings in the room may be done by a local artist, there could be a fruit basket waiting for you, or you may be served a local speciality at meal time. There are a maximum of five Genießer Zimmer (rooms) in each hotel to ensure that the Genießer Zimmers remain truly special. We really enjoyed our stay and I would highly recommend a Genießer Zimmer for stays of several days or longer.  The extra space and small touches make it feel truly like a home away from home. You can book your own Genießer Zimmer here.  (Site is only in German)
How to Eat and Drink Like a Local in Mostviertel:

Pictured from left to righ: Most, hand-squeezed plum juice and Kaiser beer are local specialities.
Most: Most is a very popular drink in Mostviertel.  It's freshly pressed fruit juice and there are both alcoholic (around 3%) and nonalcoholic versions available in either sweet or sour versions.  I recommend trying the apple or the pear as these are both very popular flavors locally.  I tried the sour pear alcoholic version.  It tasted bitter and I think it's a bit of an acquired taste.  I prefered the pear cider (not pictured), which I enjoyed from the first sip.
Fresh-Squeezed Plum Juice: Fresh-squeed plum juice isn't a regional specialty, but here's an insider travel tip: it's a speciality of  Gasthof Jagersberger located in Hollenstein an der Ybbs.  Michael, a local recommended it to everyone and said he didn't know anywhere else you could get fresh squeezed plum juice.  It was really sweet, but really good! Definitely worth trying.
Beer: Try Kaiser a locally brewed beer in Wieselburg.  I'm allergic to beer (gluten allergy), but J.P. enjoyed it.
Schnapps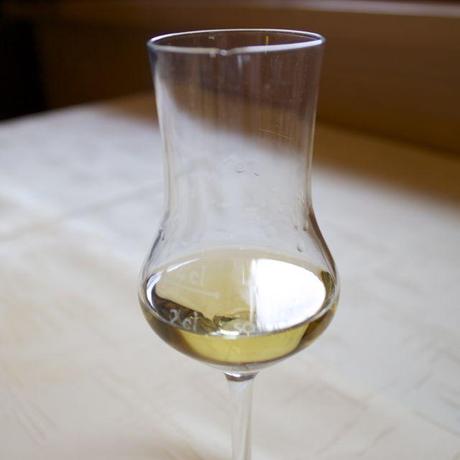 Our local recommend the pear stored in an oak barrel schnapps.
Schnapps are popular all over Austria but Michael recommended the Birne im Eichenfass (pear stored in an oak barrel).  Everyone  at our table commented that it was just right and not too strong, but it was still too strong for me.  I'm a wimp when it comes to drinking Schnapps. Here's another Insider Travel Tip:  Impress the locals with a toast (it's not used in Germany):
It starts with someone saying : Gesund, (to health) to which the response is Sollst du bleiben (you should stay healthy).
Bonus: If you start the toast you only have one word to remember:  Gesund!
Sterz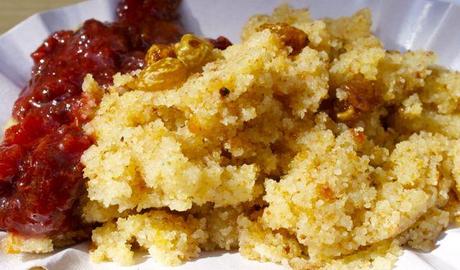 Sterz which translates directly as "mush". This one was made of polenta.
Sterz translates directly as mush.  Sterz refers to the method of preparing simple dishes which can be made from buckwheat polenta, wheat, corn or potatoes depending on the region.  This one was made from buckwheat polenta. J.P. said he enjoyed it, although he wouldn't want to eat it everyday.  Perhaps mush tastes better than it looks.
Finally the best part….Desserts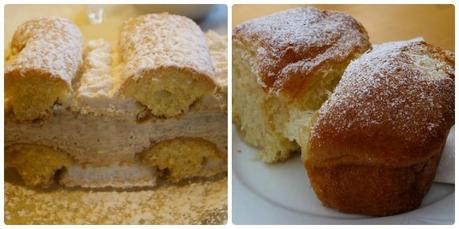 Pictured from left: Topfenstrudel and Buchteln, 2 popular desserts in Mostviertel.
Germans are known for their desserts but so are Austrians.  J.P. was pleased to find two that he had never hear of before Topfenstrudel and Buchteln.
Topfenstrudel is a strudel made with sweet soft quark cheese, while Buchteln are sweet rolls filled with jam, curd or poppy seeds.  My mouth was watering at the sight of both of them, but my gluten allergy meant that it continued to water as J.P. indulged, enjoying every single mouth-watering bite.
And there you have it, now you know how to live and eat like a local in Mostviertel!
How would you go local in Mostviertel?
Thank you to the Mostviertel Tourism Board for showing me how to live and eat like a local. As always all opinions expressed are my own.