The Internet is something that is becoming more important day by day. The companies are charging more for the use of the internet. Thu, there is always a better alternative to that. The best alternative that I have found lately is the Wi-Fi hotspot business.
Wi-Fi hotspot works simply on the fact that you share your Wi-Fi connections with the people around and charge hem for that. Though, the charge for this hotspot is quite low as compared to others. You can really start a Wi-Fi hotspot business from the comfort of your home.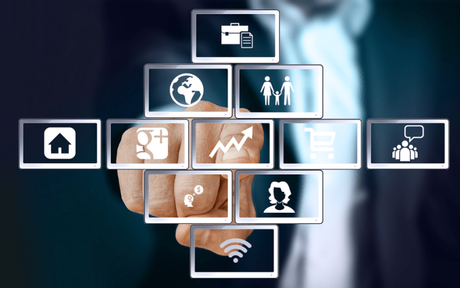 Your home is certainly the best place to start the Wi-Fi business as you don't need to ask for the permissions about the same. Moreover, people prefer to pay at home in residential areas but this seems difficult in commercial areas.
Many commercial/shopping areas now have free WiFi so it is unlikely that people will pay for something that they can get for free. But it doesn't mean that they will not pay you for the same. You can set up your business in your store or coffee shop.
How To Start Your Wi-Fi Business: Step-By-Step Detailed Guide (Wifi Marketing White Label Solutions)
In the past years, the cost of setting up this type of business has fallen due to the reduced cost of equipment and the technical knowledge required. You can charge your customers on an hourly, daily, weekly or monthly basis.
What's more amazing is that if you set up the hotspot to share with your customers, it can help you generate more leads. We will tell about it later.
Let' see at what do we need to set up the Wi-Fi hotspot business!
What do we need to set-up Wi-Fi Hotspot business?
Well!! There is almost no cost of setup and investment for the Wi-Fi hotspot business. You would just need a few devices to begin with. The cost of setting up would be covered within a few months and you can then earn a good profit from that.
The first thing is the Internet Connection and the connection that allows you to resale. Probably, all the networks do not allow the resale or sharing of their networks. Moreover, the internet you use should be a high speed and allow unlimited download allowance.
If you are charging the customers for that, you would certainly need to keep uptime 99.99%. You will not be using the WiFi signal from the router supplied by your ISP so you should base your choice of ISP on cost, speed & standard of the service provided, not on reviews of the router's WiFi performance.
So, the first step is to find a suitable internet connection for you. Just search the best internet connections in your area and find vital information about the connection that you are considering. This will save up a lot of trouble at a later stage and boost your business.
Look for the contention ratio of any internet connection. It is simply the number of properties who will be sharing the advertised bandwidth. Contention ratios are usually 20:1 or 50:1, this means there will be between 20 and 50 people sharing that 'Up To 8Mb download speed' advertised.
This means that 50 people will be sharing an 8 Mb internet connection. Therefore, you should always go for the internet connection that offers high speed downloading and uptime.
Secondly, look for the type of internet connection that you want. There are a number of Internet connections available. Here are some most common types of connection:
ADSL: It makes use of the old telephonic copper wire. It is not considered impactful for long distances. If you are going to be few miles far, then you are going to get poor connections.
Fiber: Maximum speeds can be very good but only if the fiber is used from one end to the other, often the 'last mile' will still use old copper wires so a lot of the speed is lost. Only Fibre to the home (FTTH) or Fibre-to-the-Premises (FTTP) where no copper cabling is used will achieve true Fibre speeds but services are expensive and limited.
Leased Line: This is the best line used for the connection. You can share it with anyone at a far distance too. Though it is expensive it offers the contention ratio of 1:1 which means that 8 Mbps will be shared by one user.
Next thing is you would need a scalable router for the connection. It is fairly easy to find the best router for your needs. For this purpose, I would recommend using the free Open Mesh/ Cloudtrax system.
To set up this network, use the Open-Mesh router which costs $79.99 and the cost of setup is really low. You simply need to purchase the Open-Mesh router, add a few details from the back of the router into the Cloudtrax central WiFi network management dashboard, plug in the Open-Mesh router to your Internet router and the WiFi network is now up and running.
How simple is that!!
The Best Wi-Fi Management Systems In 2019 Launch Your Own White Label Social Wi-Fi Marketing Business
This is a system that will run your Wi-Fi and manage your networks. You can charge your customers hefty fees using this system.
Though there are various free and paid services available I would recommend using the best Wi-Fi management systems that are easily manageable and can prove to be worthy.
Now, that's one of the most amazing platforms to launch your Hotspot business. The company offers the best service for creating a Wi-Fi hotspot and managing and distributing your networks to the clients.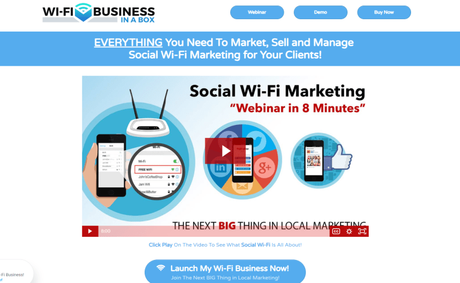 It is a plug and play system where you need to just plug in the system and you will be paid for that. The best part about it is that it helps you gather an enormous amount of data. MyWiFi platform automates everything and you can simply plug into the hardware and analyze the conversions.
Once you have this, you can make clients and charge them for simply plug into the internet modem. Let's have a look at how this plug-and-play hotspot setup works.
Step 1: It is as simple as you know. Guests connect to your open Wi-Fi network without the need for passwords or the login credentials.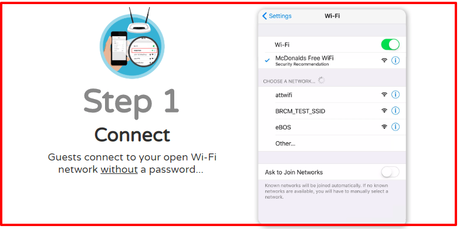 Step 2: After connecting, the customers are asked to log in using their social media or email or by entering the OTP received through the SMS. This step is helpful for generating leads.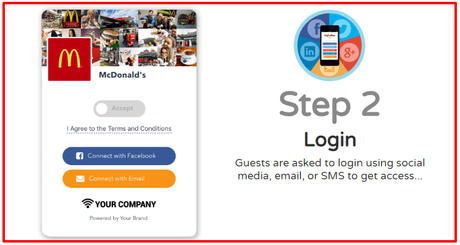 Step 3: Once logged in, your customers can engage in videos and images or you can also put your brand's ad there.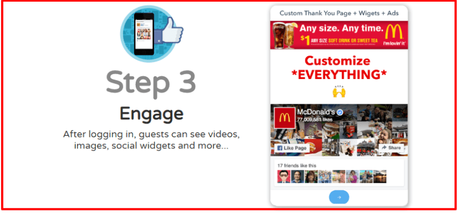 Step 4: Now schedule the guest messages, emails and also the push notifications offering deals and discounts on behalf of your client.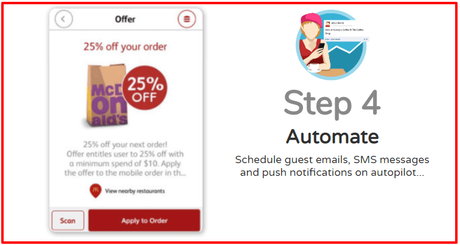 This way, the client gets more leads and you are being paid for running the campaigns and providing your Wi-Fi hotspot business.
How to Setup MyWifi?
Once you log in, creating a campaign is a breeze here. You can create different campaigns for different clients. Firstly, you create the campaign by simply filling out the details such as Campaign name or Title, network name, and various valuable credentials.
Next, choose your guest WiFi login options which depend on the kind of information that you want to capture from your guests. You can ask them to subscribe for your newsletter too.
MyWiFi platform is fully secure and GDPR compliant following all the privacy laws. Similarly, you can create and design the other elements of the page too. It also lets you create a custom Thank You page which can be customized and edited.
This way, you can drive traffic, also recommend the app installs after login. To improve reputation and get better feedback, the platform lets you integrate with the chatbots or Tripadvisor to ask for reviews. TripAdvisor would automatically update your information on their site and automate this process.
The Dashboard
The dashboard is really intuitive and easy one. Once the guests enter the information, their required data is captured. The captured data is clearly visible on the dashboard and you can run automation in a few clicks using this data.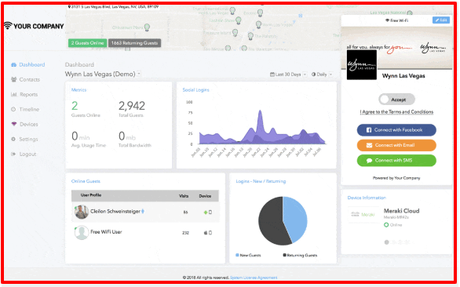 There are a number of features on the right-hand side of the dashboard.
Analytics: The dashboard has a powerful analytics tool that lets you create reports with ease. These reports gather information for a number of customers and analyses the trends. You can then send the reports to your clients.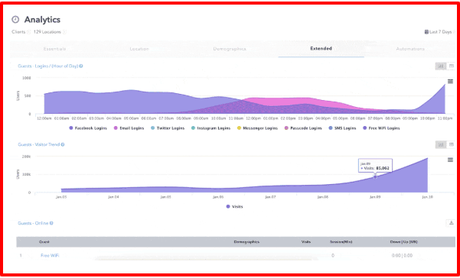 Automation: The best part about this social wifi platform is that it integrates and automates your business while you are away. Just choose the apps that you wish to integrate for your client. These include various social media apps such as Facebook and Twitter or email marketing providers such as Constant Contact, GetResponse, Active Campaign, MailChimp etc.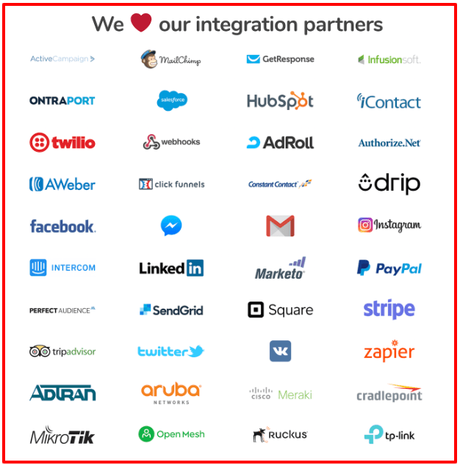 Automate the apps on the basis of user habit or trigger or delay messages with an intuitive dashboard. Moreover, it integrates with the Zapier having over 1,000 3 rd party apps.
Targeting: Your clients can get a number of leads through Facebook. Once the customer logs in, you can capture his data by dropping the retargeting pixel. Later, they will get your clients' ads when they browse.
Besides this, you can set up the locations, set up the device, create Sales CRM to generate leads using the Facebook page. Thus, the dashboard offers you automation and manages everything at one place.
Why Should You Use MyWiFi platform?
If you are still wondering about why MyWiFi is a platform to boost your hotspot business, then just have a clue with the amount of data it gathers. It definitely would use that data to generate leads
Lead Generation: You will be paid by your client for generating more leads. You can automatically generate leads by building the Email lists and sending triggered emails to the list.
Grow Social Media: Boost your social media engagement by integrating it with social media apps or the pages where you want to direct your customers.
Integrate with Wi-Fi networks: It integrates with your WiFi network firmly and you can target hotels, gym, sports and fitness centres or any conferences. It simply needs a router and MyWiFi platform to connect to any of the clients. Above all, it doesn't require any additional hardware or firmware.
Instant Setup: Easily setup the Wi-Fi by using the Plug and Play. If your client doesn't have the hardware, you can order one for just $49.
No Skills Needed: It needs no skills or coding. Just log in to the dashboard and easily navigate to the section. Watch the complete video guide on how to use MyWiFI dashboard and editor.
Integration: It integrates with over 1000 3rd party apps that can also help your customers gather data. It integrates with the Social Apps,Autoresponders,Email Services, CRM Systems,SMS/Text Services, Payment Gateways,Loyalty Platforms, Zapier Integration, Facebook Pixel, Facebook, Messenger Bots, TripAdvisor, Review Express,Webhooks & API.
Cloudtrax is totally free to use. Upon login, you will need to enter the network name (SSID) which will be visible to your customers to connect to the network.
You will also need a PayPal account to accept payments from the customers. Cloudtrax has a PayPal integration which makes it easy to accept payments using the dashboard.
Using this intuitive dashboard, you can use and get monitor, access and control your network from any part of the world. You can even do that with the help of your Smartphone.
Now, it can help you gather the leads. Using your Wi-Fi, the customer will connect to your network and on connecting to the webpage, they will be redirected to the landing page where you can put some information or advertising about your shop.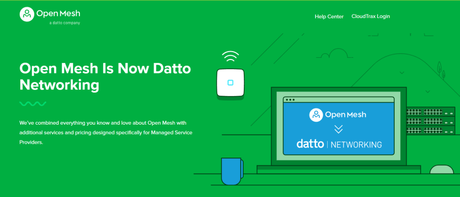 On the landing page, you can also offer them the packages or the amount of time that they want to use your network. After choosing the package, the customer will be redirected to the PayPal here they can pay and set up the services. You can also ask them for the payment using the cash or mobile or even the PayPal card machines.
How to Set Up CloudTrax Network?
Starting with the CloudTrax is really easy and you can just install the Cloudtrax system for free and begin. Once you have set up the router and connected your Open-Mesh router, you can manage your network using the CloudTrax Wi-Fi management systems.
Open the CloudTrax and there will be some secured CloudTrax systems. Look for the CloudTrax network which is open and connects. You are online now.
Next, log in to the CloudTrax Dashboard. First, create a CloudTrax account. You will be asked to enter the details such as Master login, password, email, and name. After the confirmation mail, you can add the nodes or the network locations.
Here in the CloudTrax, we can add the splash page and set up the time zone. Similarly, we can also set the download limit, reduce or increase it. You can now start editing the splash pages too.
Start by choosing the template and then use this template to create a splash page. You can remove the CloudTrax logo and use the logo of our own. We can also change the header text, description or remove things from the splash page.
You can create a section for the login and passcode as well as the option for PayPal payment and the payment gateways. After completing the landing page, click on Continue and your splash page is ready to go live.
You can also improve your network and bandwidth by following some simple rules:
The positioning of Equipment: Wi-Fi signals have a certain maximum range so make sure that you place it where it can get better signals. You can improve it further by placing it in some open space such as the mounted roof or window.
Power Over Ethernet: Now, this is advisable to get a better network. The Open-Mesh router supports 'Power over Ethernet' (PoE) which means the data and power for the unit travels over the same Ethernet cable at just 12 volts so there is no risk of electrical shock from outdoor installations and a qualified electrician is not needed to install outdoor units.
Scalability: The Open Mesh has plug-ins that can be used plug in another unit into a power outlet and it will connect to the other units creating a much larger coverage area and reach even more customers.
Quick Links:
The Bottom Line: How to Launch a Hotspot Wi-Fi Business? Launch Your Own White Label Social Wi-Fi Marketing Business
Creating and setting up a WiFi hotspot business requires no coding. You just need a good connection and few good platforms to set up and run your business. With platforms like MyWiFi Networks, one can easily set up their Wifi Business from home without putting that much of efforts.
I have listed some best equipment and platforms that can help boost your business. Create clients, run campaigns and increase the ROI of your clients while things being fully automated. Google the best internet connections in your area and remember to use MyWiFi platform for a successful and automated business.
MyWifi offers the best deals and discounted prices to the customers. They also provide the hardware which costs $49 with free Dropshipping. This was our detailed guide on How to Set up a Wifi hotspot business in your local area and earn revenue with automation.