Apple's iOS 12 is coming on September 17th; the blog post will show you how to install iOS 12 on iPhone and iPad today.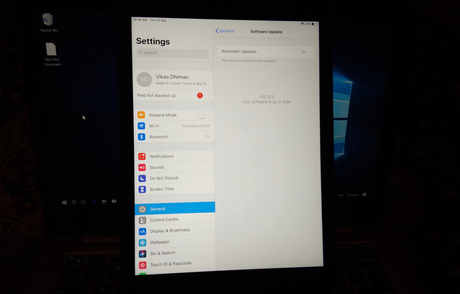 Image: geekermag.com/vineydhiman
Apple recently announced the release date for the iOS 12 update for iPhone and iPad: September 17th. In case, you can't wait for the update to hit your device, then you can install the craved version of iOS 12 on your devices starting today and get access to the new features.
iOS 12 has lots of useful features, but some of the main highlights are Screen Time, Memoji, Siri Shortcuts, refined notifications, and others. The primary goal of releasing the iOS 12 is to offer users improved responsiveness and performance on Apple's devices both new and old ones.
The question is how to get the iOS 12 update? The answer is iOS 12 golden master build which is similar to last iOS 12 version which coming going to release next. The company is going to release the iOS 12 GM update today to all the users who have enrolled in Apple's Beta testing program.
How to Install iOS 12 on iPhone and iPad
So if you want to install iOS 12 on your iPhone and iPad right now, then you need to join the beta program.
Note: Geekermag does not force anyone to install iOS 12, if you're installing the iOS 12 Golden Master update, then you're doing this at your own will.

Keep in mind:

Make sure to back up your device while it running iOS 11. There are two ways to do that, either use iCloud or iTunes methods. But I recommend you to it by iTunes. Its because if you choose the iCloud method, then it will overwrite the past iOS 11 back-ups with a brand-new iOS 12.

I know no one would like to open the iTunes but believe me its convenient and it hardly takes few seconds. You can check this support page for more help.
Here goes the first step for installing the iOS 12 on your iPhone and iPad:
1. On your iPhone or iPad open the Safari browser and visit this page (beta.apple.com).
2. Click on the Signup button available on the page, enter the required information to create an account. Once done, log in using your Apple ID.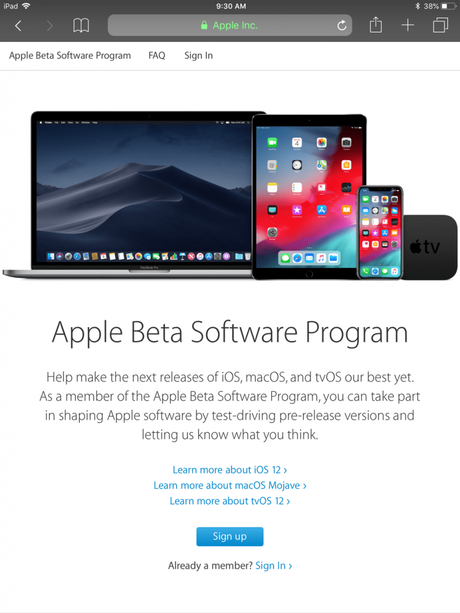 In case, you already have the Apple ID, then skip above steps and log in.
3. You will see the Agreement page, here read all the details if you want and then click on the Accept button.
4. On Next page, head over to Get Started section and click on the link which reads "Enroll your iOS device." Make sure iOS tab is selected.
Warning: At this point, you will be warned again to create a backup of your data and files. If you have not done this already.
5. Next, head over to Download Profile section. Here either click on the link "beta.apple.com/profile" or Download profile button to download the configuration profile.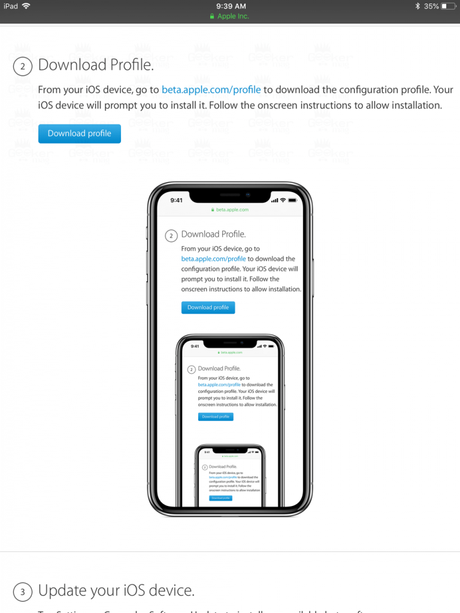 When it asks for your permission, click on the tap on the Allow option.
6. After that a quick iOS 12 Beta Software Profile pop-over will appear, here you need to tap on Install option. In case, you want to know what's inside this update; ta on the More details options.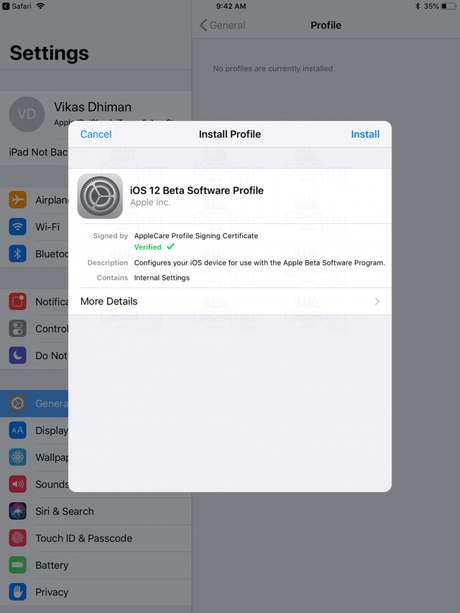 After you tap on the Install option, you will be asked to enter your passcode, enter it.
7. In the 'Consent pop-over' tap on the Install option and then again tap Install. After that, you will be asked to Restart your device. Do that.
8. After your device boots up, launch Settings -> General -> Software Update. Here check for update and you will get the iOS 12 update. Tap on the Download and Install option to download iOS 12 update.
Once done, tap on the Install option to continue the upgrade process. The update will look like shown in the following screenshot: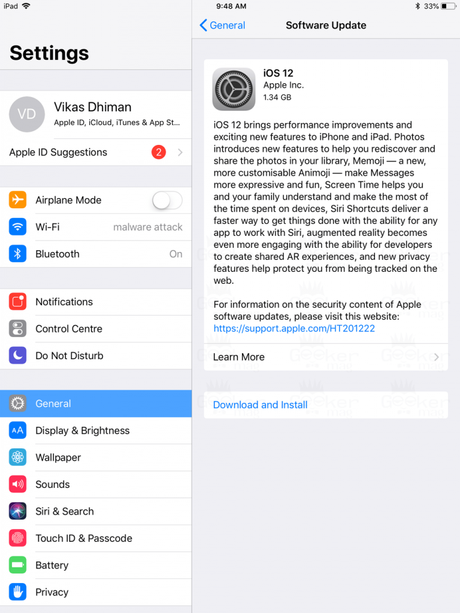 And the good thing is that there is no beta tag on the update, its pure iOS 12.
Once the update process completes, you will get the confirmation. Setup your device and starting checking the latest features available in iOS 12.
The following iOS devices will be getting iOS 12 updates:
iPhone X
iPhone 8 and 8 Plus
iPhone 7 and 7 Plus
iPhone 6S and 6S Plus
iPhone SE
iPhone 6 and 6 Plus
iPhone 5S
iPad Pro (10.5-inch, 9.7-inch, accompanied by the both generations of 12.9-inch)
iPad (2018)
iPad (fifth-gen)
iPad Air and iPad Air 2
iPad mini 2, 3, and 4
iPod Touch (sixth-gen)
What are your thoughts about the new iOS 12 update? What the features which you liked and disliked? Find this blog post on how to install iOS 12 on iPhone and iPad useful? Let me know your thoughts in the comments.