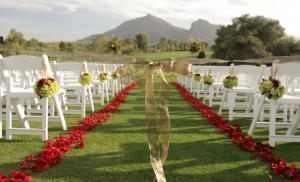 Although "going green" seems to have become the catchphrase of a generation of Prius-driving, politically correct adults, some people take the idea a little more seriously.  It's great that people are willing to change one or two things in order to feel like they're doing their part to reduce some of the damage that the human race has done to the planet; every little bit helps.  But when people purchase hybrid vehicles but then continues to eschew local businesses (opting instead to buy goods that are shipped in, leading to tons of greenhouse gas emissions en route), the impact of their eco-friendly initiative is somewhat lessened.  In short, embracing an environmentally friendly lifestyle is not something that can be achieved in half-measures.  You really have to consider every aspect of how you live your life and the way it affects the Earth.
So when it comes time to plan your wedding you obviously want to do it with the environmental impact in mind.  And there are a lot of ways to incorporate your green sensibilities into every aspect of your big day.  Matrimony does not have to equate to matricide (as in the death of mother Earth) and everything from the dress to the food to the floral arrangements can be made cleaner, greener, and less harmful.
Most couples start with securing a venue.  While some people opt for destination weddings, the amount of travel involved will negate any eco-friendly measures you take, so you'll probably want to stay close to home with the planning process.  Of course, this is not only good for the environment, but also for the local businesses you will contract with.If your guest list is small enough, you might think about having the reception at your home or the home of a loved one.  But if you must rent a hall for the ceremony and reception, consider choosing a location that can be used in an eco-friendly manner.  For example, try to select a location that can be lit naturally (large windows, outdoors, etc.) rather than using electricity.  And see if you can find a place that won't need to be air conditioned (lots of greenery to beat the heat).
When it comes to arranging the food, you should try to hire a catering company that offers green options like a vegetarian or raw food menu (no heat for cooking means less use of electric or gas power), as well as use of local supplies (from area farms, for example).  And the floral arrangements don't have to be cut flowers.  Instead, use potted plants and give them away as table favors.  Or get craftspeople to create a garden of paper flowers (from recycled paper, of course).
But you're probably wondering about the most important aspect of your wedding: the dress.  And here you can go green, as well.  Instead of buying something designer or off the rack, find a photo of the dress you want and bring it to a local seamstress to recreate.  Purchase organic fabric (if you think you can't get gorgeous green textiles, just take a look at peace silk) to make the dress with and you'll end up with an amazing and eco-friendly gown to go with your eco friendly engagement ring for your wedding day.  You don't have to try too hard to find green options for the biggest day of your life; but by putting in a little time an effort you can do a lot to make your blissful event better for the Earth.