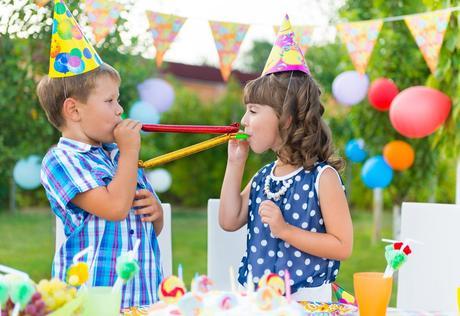 Some parents like to have their child's birthday party as far away from home as possible to avoid stress and mess. However, there are many others who prefer to have the party in their home for a variety of reasons and a garden party is a brilliant way of doing so.
Obviously you need to have a big enough garden in which to hold a party, and if you do then here are some top tips for ensuring it's an amazing party for everyone involved (including you)…
Consider the time of day
The time of day is actually very important when holding a birthday party. Not only do you need to factor in when the children may have eaten, but if you're outside then you need to think about daylight and temperature. If the party is in the summer ( as it probably will be if you're holding it outside) then try not to have it during the middle of the day as it might become too hot for the children and they could get sunburnt. The longer days, however, do mean you can hold the party a little later.
Have a theme
A theme for the party may make the whole thing that little bit more special and memorable, and you could tie the theme in with the fact that you're holding the party in the garden. For instance, if you have a big garden and plan on playing games then you could have a sports party and tailor everything around that. Here are some
really cool children's party themes
for you to consider.
Decorations
A birthday party wouldn't be complete without decorations, and just because you're holding the party in the garden doesn't mean you can't jazz the place up a little.
This birthday bunting
from John Lewis looks fabulous, whilst Lights4Fun has some gorgeous lighting options. Net lights in particular would look brilliant;
click here
to see what they've got available. You can have all sorts of other decorations which, if you've gone for a theme, can all be tied in together.
Outdoor party games
Again, you can't have a party without party games and having the party outside is perfect for having fun and playing games. There's probably a lot more room to run around compared with indoors so you have a little more freedom with what you can play. You can do the usual party games such as pass the parcel, but you can also do plenty of other games. If your child is into football then you can play some football games, whilst you can also do some running races or even a treasure hunt is much easier when you're outdoors.
Section off part of the garden if you need to
This isn't the most exciting point on the list but it's still important. If you just have a big lawn then you can just let the kids run free, but if you have some flower beds with some prize petunias then it might be wise to fence them off somehow beforehand or you might have little footprints across everything.