I have done a lot of episodes about communicating out on court, all about what to talk about, what the benefits are and how to do it so you don't violate the rules. And if you've listened to all of those, you know I am a big advocate of communicating with your partner out on court.
However, there are times when you come up against someone, usually an opponent, who just talks too much on court. And that can be very distracting. So in this episode, I'll give you my best tips for handling the player who talks too much on court. And I'll give you a bonus tip for dealing with your chatty partner when it is bothering you. You can listen to this episode by clicking on the media player above or by listening in with your favorite podcast app. You can also subscribe in iTunes by clicking on this link: tennisfixation.com/itunes.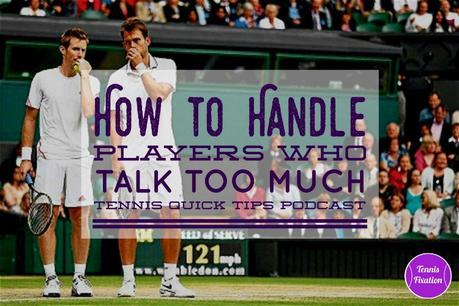 SHOW NOTES
In this episode, I give you these six tips for dealing with players who talk too much on court. I go into detail into how you can put these tips into effect in your next match. My six tips are:
Set up your equipment in the right place.
Control where you look.
Don't engage in small talk.
ay something - tell the player that you don't want to talk so much.
Use short answers.
Use body language.
And my bonus tip for dealing with a partner who talks too much is - just let them know. Tell your partner that their chattiness is distracting and causing you to lose focus.
You can also get the direct RSS feed for your own favorite RSS Podcast Player by clicking here: Tennis Quick Tips Podcast RSS Feed.
And if you'd like to become a friend of the show, please leave an honest review on iTunes by clicking here: Tennis Quick Tips Podcast iTunes Page. It will help the show become more easily discovered by like-minded, awesome people just like you. I appreciate it!
Looking for a specific episode? All of the Tennis Quick Tips podcast episodes are listed on the Tennis Quick Tips Podcast page. Just click here to find what you're looking for: Tennis Quick Tips Podcast.

© Kim Selzman 2016 All Rights Reserved
Full disclosure - Some of the links in this post are affiliate links. I make a very small commission if you purchase any item using my affiliate links. Your cost is the same for these items whether or not you use these links. This does not influence my opinion of these items and I always tell the absolute truth about every item that I review. I usually do not review items that I don't like.