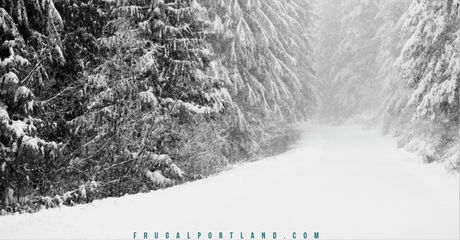 Well we've done it. We've made it through the popularly named 'snowpocalypse' of 2017. Now that everyone is able to leave their homes and go back out into the world it's becoming well understood that we still have a solid few months of this left before we start seeing that bizarre orb in the sky again.
When the days are short and the weather is temperamental It can drive some folks mad and inadvertently dry up the inside of wallets. It might seem the opposite but some research has shown that the only season we spend more money than we do in winter is the summer. Now that might have something to do with the holiday season but other factors play a role as well.
Movies, take out, home entertainment (i.e. video games, music, etc.), clothes… we seem to be driven to purchase our way out of the winter lull. So how can we get through this horrible Portland winter without breaking the bank?
If you're lucky enough to call Portland home, there's a few options for staying busy and stimulated during the winter months without shelling out your life's fortune.
Chinese New Year Festivities
Coalescing with the new moon, Portland's Chinese American community kicks off a two-week festival that celebrates Chinese tradition while welcoming Portlander's unfamiliar with the holiday. Parades, piles of food , music and lots of craft making events highlight this option. While some of the events do have a ticket price, it's reasonable for the amount you get. Plus it gets you out and about instead of watching the Hunger Games series for the 28th time. A detailed list of the extended events schedule can be found through the Lan Su Chinese Garden webpage.
ChocolateFest
Just tell people you are doing research for Valentine's Day and need to taste and test Chocolates before gifting them on February 14th. On January 20th-22nd you can mosey your way to the Oregon Convention Center to embark on an adventure through the peaks and valleys of the Chocolate world. For $15 (or $12 if you're a senior…or can convince someone you're a senior) you can find yourself among chocolate makers from all over. Your general admission will cover presentations, discussions and educational seminars as well as some tastings. However some vendors will require small tasting fees to test their product. More info can be found at the festival website.
Portland Jazz Festival
From February 16th-26th Portland welcomes Jazz groups from far and wide (and just around the corner) to celebrate Black History Month and Jazz all at once. Tickets are sold per event, so check out the Festival webpage for the lineup. The venues hosting the events are peppered all throughout the city. Now these concerts are surely going to cost you some dough, but keep in mind what you're getting for your money. It's an experience rather than the blind stimulation of a screen that winter so often perpetuates.
Throw On Your Coat and Shell a Few Bucks (To Save Even More)
These are just some of the highlights, but through the months of January, February and early March which are so dreary for some, Portland has a deep list of festivals, events and cost-effective experiences. Don't be shy to throw on a rain jacket and get out there to see where your dollar can take you through the puddles of Portland's winter. Throughout the winter months there's plenty to do that doesn't involve you running up your cable TV bill with rental after rental. Spending a few dollars to get outside and see what's going on around town can save you big in the long run.