The following guest golf blog was submitted by Danie Steyn about how kids can get the most out of summer golf camps. These summer camps, in my opinion, can provide positive reinforcement, improve upon the basics and, perhaps, even offer friendships that last a lifetime to all skill levels from golf beginners to amateur players.
Have you sent your kids to summer camp? Feel free to comment below and thanks to Danie for this informative article!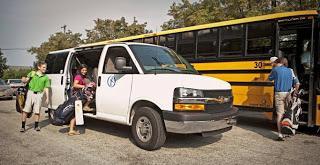 ***************

Written By Danie Steyn




When choosing a summer sports camp, it's always best to know how to prepare yourself for the activities ahead. I'm Danie Steyn, a golf pro at JKCP's

Julian Krinsky Camps; Programs Golf Camp

, and I have some golf tips to help you plan for camp.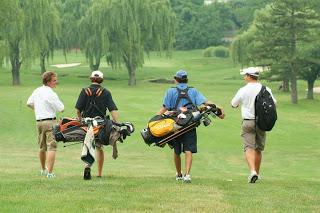 We have both beginner level students and those who consider themselves serious and dedicated golfers. For beginners, we'd encourage you to prepare by reading as much as you can about the game of golf and its etiquette. Also watch some golf on TV to visually enhance your approach before you spend your summer playing on the course with pros at a golf camp.
To fully maximize your time at any youth golf camp,
especially if you only come for one week
, one simple idea every golfer can use is to bring a notebook.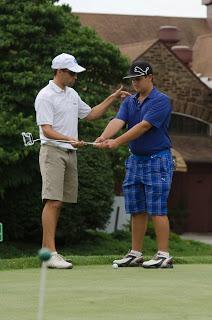 There will be a ton of learning of drills and practices that you can write down to practice over and over on your own.
If you have a smartphone, being able to record video of correct form, and audio recordings of drills and practices would put you well ahead of your peers. 
Gathering notes, visuals and audio for later use is the best way to learn, especially if you continue to practice what you've learned at camp. 
Keep in mind you'll be learning the basic fundamentals of golf: golf swing instruction (backswing, downswing, follow through), putting, chipping, driving and all the necessary skills to make you proficient on the green. 
More advanced golfers will be refining those techniques. Beyond the skills on the green, you'll be learning the rules and regulations including golf etiquette of how to play on the green, around the bunkers and more. At many camps like JKCP, golfers are paired with others at their same skill level.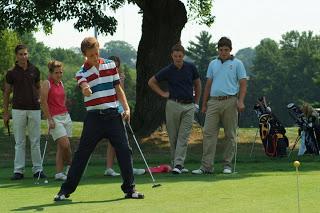 We always get questions about the specific golf gear and equipment needed. The golf courses at JKCP require certain attire that includes: collared shirt and knee high shorts with trainers or golf shoes. 

We highly suggest bringing sunscreen, a hat, golf tees, an umbrella, at least one golf glove and definitely bring golf balls. JKCP Golf can provide you some golf clubs, but if you have your own that's a huge plus! You will not need too many clubs as long as you have your Driver, Fairway Wood, Long Iron, Mid Iron, Short Iron or Wedge and Putter, you'll be fine.




Our camp has weekly tournaments on Fridays that help you to gain tournament skills. You'll have fun playing the course and meeting

golfers from all around the world

that lead to friendships that will last beyond the green. That sums up the fun and excitement of what you can expect by attending JKCP's Golf Camp.




This Summer you can learn the basics of Golf with JKCP's

Golf Programs

. You'll be able to play on several courses in the Philadelphia, PA area, which is home of the

2013 U.S. Open

. You'll leave JKCP with a more well rounded approach to golf.


Bio: Danie Steyn

Danie Steyn has competed in golf tournaments all over the world and also teaches Golf as a Pro with JKCP.

Danie Steyn is a South African born, professional golfer. Playing on the Alp and Pepsi tour. Captain of the Southern Free State provincial team. Seven holes-in-one.

Here is Danie Steyn recording a very difficult "backwards" golf shot. Enjoy!



Voice Your Opinions on Twitter @Golf4Beginners and friend us on Facebook!


Picture credits: Danie Steyn