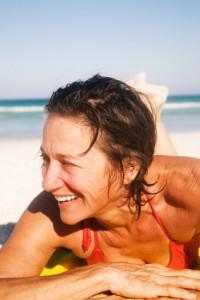 Whether you are heading to the beach for a day of relaxation in the sun or lounging poolside, you will want to be sure that you feel just as confident and beautiful as you are in your teeny bikini or one-piece. With the little time left before summer is upon us, you should make sure you are ready to greet this swimsuit season with style and poise. The following tips will get you geared up and ready to trade in those tired winter sweaters for a more attractive summer suit.
The first step to preparing yourself for summer is to replace the old swimwear for the new.  Let's face it, if you are wearing a bathing suit that looks like something your mother picked out for you when you were a kid, it might be time for an update. Mom's not here and you deserve to celebrate the new season and your body by letting your skin see the sun.
Try something fun like a belted bikini or a daring v-cut one-piece in solid citrus tones or look for geometric prints. Just be sure that your suit fits and that you feel confident and sexy wearing it. Most department stores or swimwear specific stores will have fitting room attendants who are more than happy to fit you for a suit to make sure you're getting the right size.
Next, be sure you look and feel amazing. Nothing makes bikini season more uncomfortable for you then when you are nervously trying to cover up certain parts of your body. If you have let your exercise routine go a little bit, see if you can't add in some toning exercises like crunches, lunges, and weight lifting. Start out easy and try to do a set of reps that is comfortable for you five days a week. You want to choose exercises that you can continue to do through the summer, so avoid doing something that you can't visualize keeping up long term. After a few weeks of training at a steady pace, you will feel and look beach ready.
Now that you've got the suit and you're looking fit, don't forget to pick a good sunblock. You may have noticed the vast array of chemically based ingredients present in many sunscreens. Ingredients like oxybenzone, benzophenone, and PABA are not naturally based and may actually contribute to certain health issues. Be sure to read labels and know what you are putting on your body. Many natural health food stores offer a variety of sunscreens that are mineral based, PABA free, and natural. Look for brands like Badger, Purple Prairie Botanicals, and Weleda.
Summer is a time to kick back, relax, and soak in the vitamin D. Don't spoil the fun by stressing over whether you will still look good in your old suit or trying to run a marathon to get in shape. Donate or toss the old swimwear and start doing daily toning exercises to firm up your body and you'll be ready just in time for summer.
Breana Orland writes for BluWiki where you can find Chick Fil A Coupons and Meow Mix Coupons.