This post was sponsored by the Maker of OxiClean™ through their partnership with POPSUGAR Select. While I was compensated to write a post about their Versatile Stain Remover, all opinions are my own.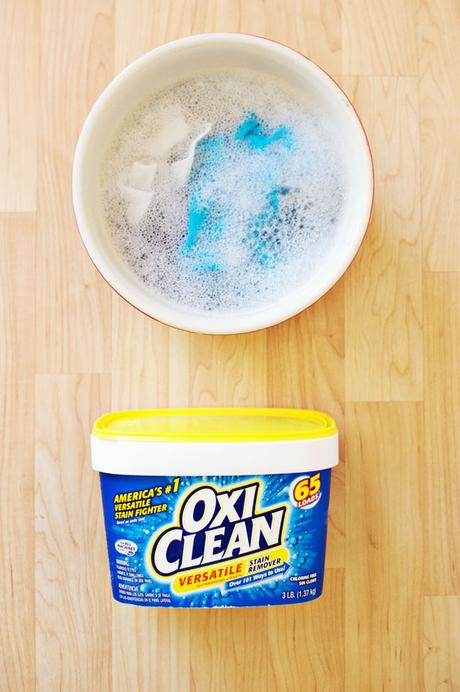 Hi, friends! How's it going? We've been busy playing and living life the past couple months, which most definitely includes eating brightly colored, juicy foods. That equals brightly colored, juicy stains in our world and on our clothes. Four-year-old and two-year-old boys are fantastic at making messes of their shirts, so I am constantly looking for good laundry products.
I was actually recently looking for an effective stain remover to get rid of some old stains on the boys' lighter tees, and then I heard about OxiClean

™

 Versatile Stain Remover. We are big fans of OxiClean

™

 in this house, so I was really excited to try it out. (You know you're old when you geek out about cleaning products, am I right?)
Have you noticed how incredibly hard it is to get watermelon juice stains out of shirts? It seems to be my nemesis, since I am awful at soaking stains immediately. I usually get around to it about two days after the initial incident, and watermelon is the devil by that point. Everything else I've tried for spot treating does not work, but this product works like a dream! Fist bump.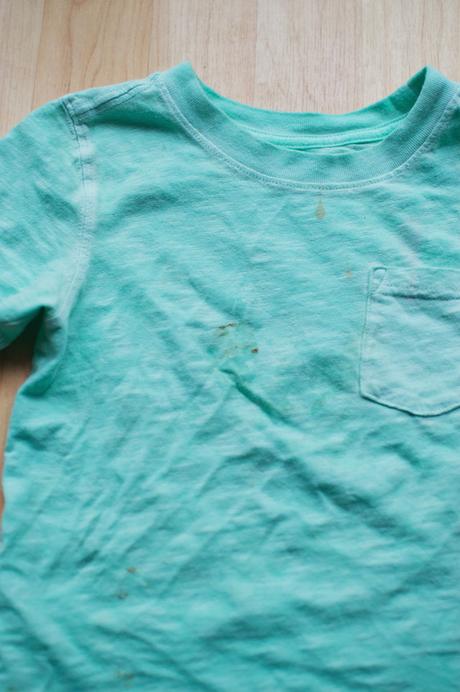 Here are the steps I use to get crazy stains out of toddler clothes:
1. Soak the stained clothing in a bowl of warm water mixed with one scoop of OxiClean

™

 Versatile Stain Remover for one hour. The packaging recommends up to six hours for tough, old stains.
2. Wash in a warm cycle with regular laundry detergent and another scoop of OxiClean

™

 Versatile Stain Remover. Make sure to double rinse! Your mom will be proud.
3. Check for stains when unloading from the wash. If there is a tough one, soak again and repeat the washing cycle. Throw in dryer.
Now, are you ready for the before and after photos? This is always my favorite part.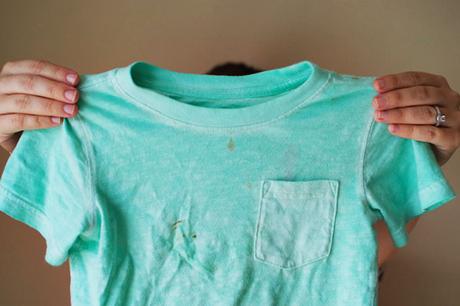 Above the pocket we have some berry juice. At the center are the watermelon drippings. At the top by the shoulders and on the chest are some gnarly dark chocolate stains. It's a disastrous masterpiece, is it not?
Now for the after. Wait for it, though. Drum roll, please...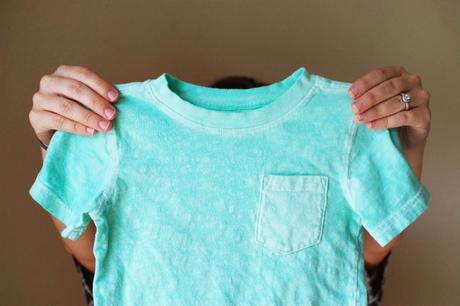 Boom! Totally, perfectly clean! Even Matt said to me, "Wow, that stuff actually works really well!" And if it has his stamp of approval, you know it's a good product.
You don't have to use it only on your clothing. It can clean up messes on carpets, upholstered furniture, and more. There are over 101 ways to use OxiClean

™

 to get tough stains out, delivering value through versatility and incredible benefits versus detergent alone. There is also a how-to video you can watch on their YouTube channel.
Hope you try out OxiClean

™

 Versatile Stain Remover! Be sure to submit your stories to Dear OxiClean if you do, so we can see how you get the junk out of your clothes. Happy laundering!