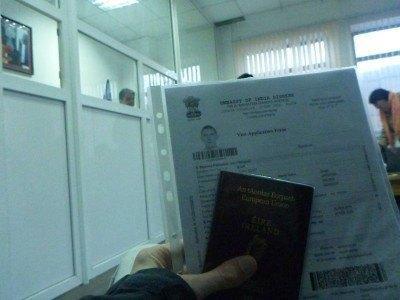 How to Get An Indian Visa in Bishkek, Kyrgyzstan
It's a funny world and I'm surprising myself with this article as I was convinced I would never ever visit India, nor want to. Before, I backpacked through Sri Lanka, Bangladesh, China and Myanmar which either border India or have some history/overlap with Indian culture in some way. Possibly due to my love for China, which was the first ever Asian country I visited, I kind of forgot India existed. India was never ever on my list but a culmination of crazy events influenced my visit there and off I went.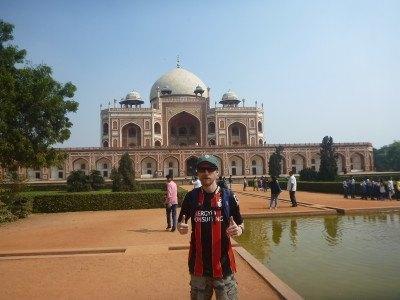 No way Pedro? Jonny Blair in India!
At one point I admitted I'd rather visit all 29 Provinces of China and never have visited India, then even just one visit to India. I also said even if I did visit over 200 real countries on this planet, I had decided that India would be on the home run, one of the last ones on the never ending list. But that has changed now, and here are some influences which changed my mind:
Being based in Central Asia for 4 months, direct flights to India, closest base I've ever had to India.
I enjoyed my visit to Bangladesh last year suddenly gave me more of a reason to visit India.
Everyday while based in Bishkek, I walked past the Indian Embassy
A few friends were heading to India
I won a blogging competition to tour the country in 2014, turning it down.
I won the same blogging competition in 2016 and also had to turn it down due to dates (conflicting with Uzbekistan and Afghanistan).
India has been backpacked to the hilt and it continues to be, it's not the niche I crave to earn my crust as a professional travel blogger.
Perhaps my reasons for visiting it will never be known, but there I am, below backpacking in India.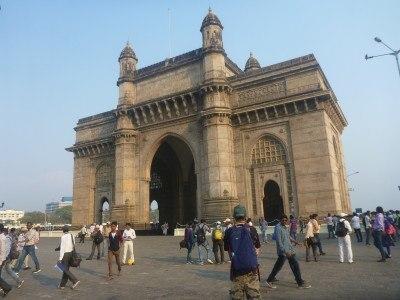 Backpacking in Mumbai, India
After touring southern Kazakhstan (Almaty , Shymkent, Turkistan and Ile Alatau), I crossed the border into Bishkek in Kyrgyzstan. It was here in Bishkek that I set about securing visas for a few countries nearby.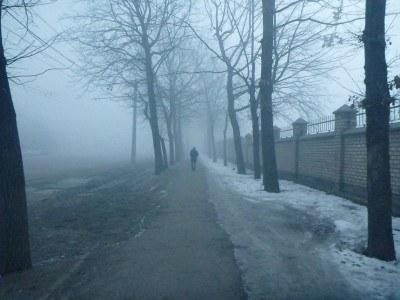 Winter walk to the Indian Embassy in Bishkek
You might have read my guide to getting a Tajikistan Visa in Bishkek, or indeed the Gorno Badakhshan permit and I managed to secure my Afghanistan Visa in Kyrgyzstan too. There were a few trickier beasts though, namely those two military dictatorships – Uzbekistan and Turkmenistan. But bide your time, have the money ready and wait your turn – you might just secure those visas. Be patient. As for Uzbekistan, getting a visa can be hit or miss and there are not many places left in the world where I can secure a visa for Uzbekistan on my own without some kind of Letter of Invitation, Hotel Booking or help from a tour company. While based in Bishkek, I sought the help of Silk Road Explore to help with my Uzbekistan visa application.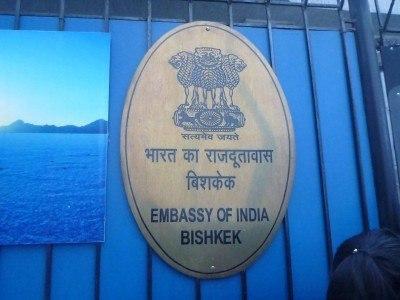 Indian Embassy, Bishkek
Where is the Indian Embassy in Bishkek?
Ridiculously it is within 6-7 minutes walk of Apple Hostel! And while a Google Search for the Indian Embassy can be confusing, with three different addresses showing up, please note that the actual Indian Embassy is now on Mahatma Gandhi Avenue. Yes, as of April 2016 – this is the new and correct address of the Indian Embassy Bishkek.
This is the official website of the Indian Embassy in Bishkek!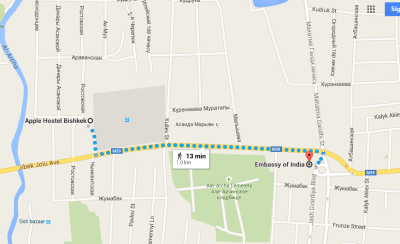 How to get to Indian Embassy Bishkek from Apple Hostel
The exact address is:
Address: Mahatma Gandhi Avenue 100-A, Jash Gvardiya Blvd, Bishkek, Kyrgyzstan
Phone:+996 312 979 256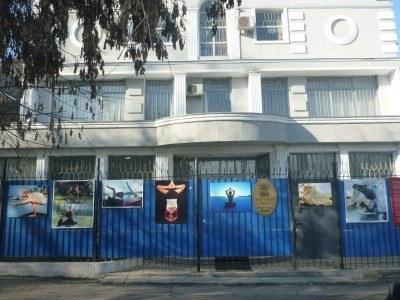 The Indian Embassy in Bishkek
Opening Hours of the Indian Embassy in Bishkek
Again it's a Monday to Friday thing, but you need to have an appointment booked in advance. So in short, the Embassy is open from 9am – 5pm on all Mondays to Fridays apart from the following holidays in Kyrgyzstan.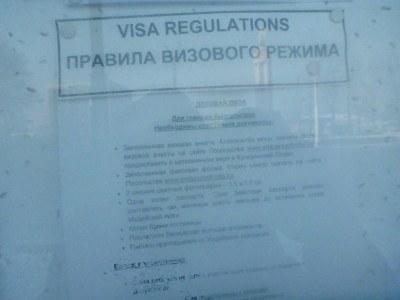 Visa regulations for the Indian Embassy, Bishkek
Booking Your Appointment for the Indian Embassy
Go to the website of the Indian Embassy and fill in the entire application form online. You need to submit a photo as part of this and write as much detail as you can – dates you will visit India, hotels you will stay in (make it up etc.). You get a choice of times and dates, I just took the next early morning one available, which was a Friday morning at 10.30 am. I was based in Bishkek for a while and flexible with dates, not in a rush etc.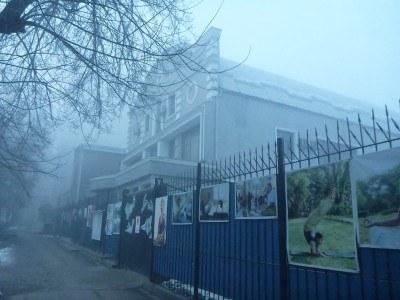 I had a 10.30 am appointment
Turning up at Your Appointment at the Indian Embassy
It was a cold and misty winter morning and my appointment was for 10.30 am on a Friday.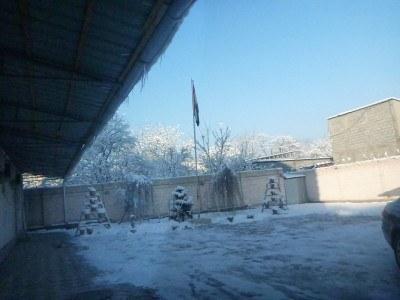 Indian Embassy in Bishkek
When I got inside the place was packed full. I had all my forms filled in, the documents and my money. I had:
– 1 completed application form
– flight details (flight in only, no flight out booked)
– 2 passport photos
– proof of a hotel booking (I printed a fake hostel email)
– payment
– your passport
– a photocopy of your passport photo page
I had US Dollars with me, but I soon learned that payment is ONLY possible in Kyrgyz Som. I had to make a dash out and get some more Kyrgyz Som.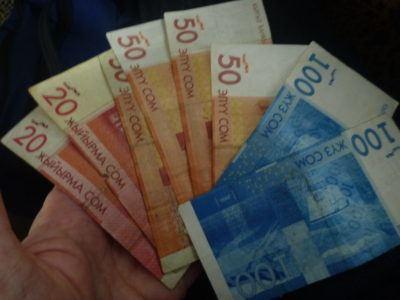 Kyrgyzs Som
Finally I got to the front of the queue and they had never dealt with an Irish Passport here before, so they had to check a few things out. At first they were only going to give me a 30 day one month visa, but I said I would stay a bit longer than that. Anyway in the end, it turns out they were going to issue me with a 3 month/90 day visa anyway. I had no intention of spending that long in India but at least the application was in. You get given a receipt and it has a collection date on it. I was due to collect mine the following Wednesday.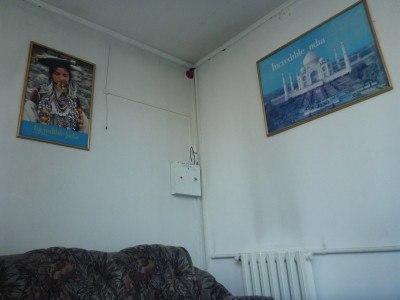 Indian Embassy
The Price of my Indian Visa
The price varies on passport, length, nationality and other factors. But in January 2016 for a three month visa on an Irish passport was 2,820 Kyrgyz Som plus a charge of 115 Som, so the total was 2,935 Kyrgyz Som, which worked out at around $38 US at the time.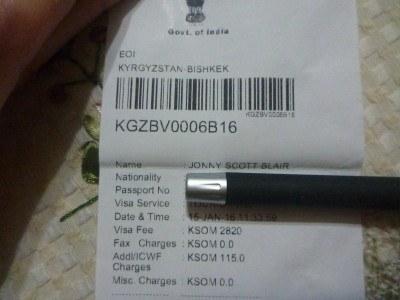 Receipt for collecting visa
Collecting my Indian Visa
Everything ran smoothly. I turned up to collect my Indian Visa and I was the only one there. The lady went away to check and then brought me my Indian Visa. I wasn't quite as excited to get this one as I was for Afghanistan or Tajikistan, but it was still nice. I now had to plan my trip to India!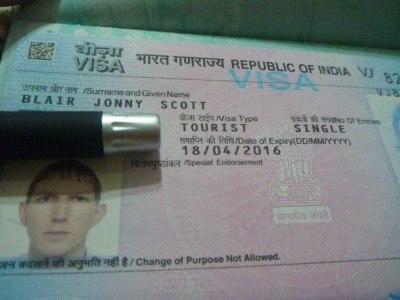 My Indian Visa
You can read some of my India stories here:
Top sights in Port Blair, Andaman Islands
Luxury at Port Blair, Andaman Islands
Beard shaving in Hampi
Hippy Goa
Ahmedabad top sights
Top Sights in Harvali, Goa
Elephanta Island, Mumbai, India
Night Train to Mumbai
Getting my Alcohol Permit in Gujarat
Best hostel in Chennai Baby
Safe travels!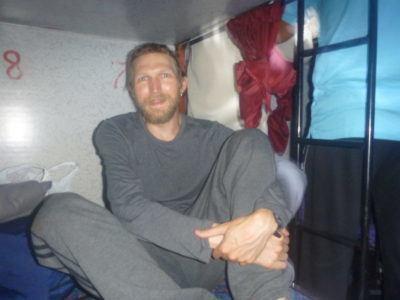 Another night bus in India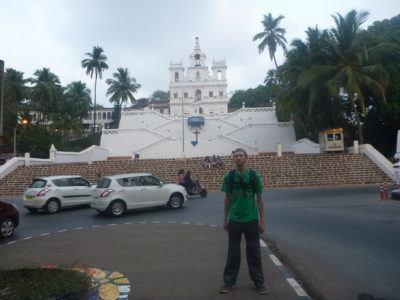 Backpacking in Panaji, India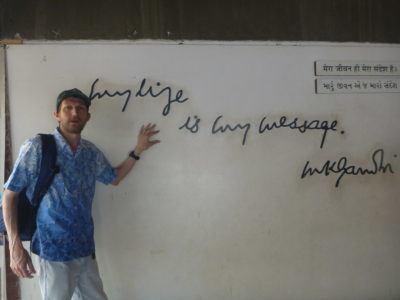 Gandhi's Town – Sabarmati Ashram
Join 15,017 Monthly Readers! If you enjoyed this article and LOVE travel and SAVING money, get e-mail updates from Don't Stop Living – a lifestyle of travel! (It's Free) 😉 Jonny