Italy is famous for it's antiques and vintage markets, and if you can figure out when they are happening, it is a wonderful way to spend the day.  Browsing through 1800s furniture, Murano glass chandeliers and artisan tools is not only fun, but it gives you a peak into Italy's history without being in a museum or church!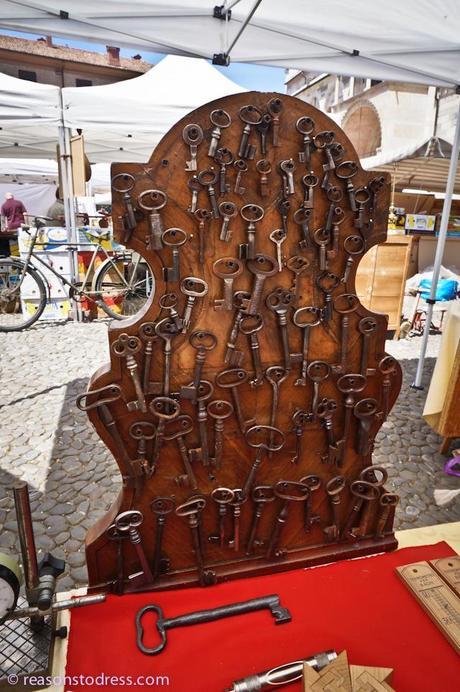 Living here, I feel like I come across an Antiques Market every second weekend! This is what I wore recently while shopping the Antiques Market in Modena! If you follow me on Instagram every so often you'll come across photos of antiques from the local markets.
In any major town vendors from all over the country travel to show off their wares.  In a country that is so rich with artisan traditions it is no wonder that the sheer AMOUNT of antiquaries available is astounding.   It is easy to get lost amounts the hundreds of sellers and find a real treasure, you just need to have the patience and love to sift through….and a little bit of expertise doesn't hurt either.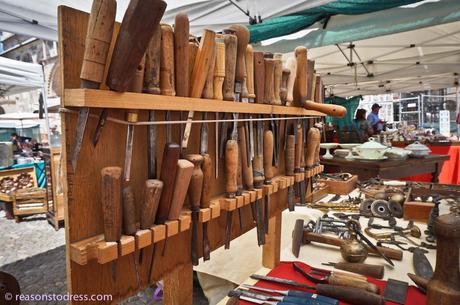 As side note once we found a REAL vintage designer alligator purse once that was being sold for around 40 euro, it would have easily cost between 7 and 800 euro in a vintage boutique.  The woman selling it thought it was just "alligator stamped cow leather"….my father in-law (who is an exotic leather artisan) could spot that it was the real deal from a mile away!
So, needless to say, antique and vintage hunting in ITALY is unlike any other place in the world.  Treasures are created here and treasures are bound to be found.

If you Can Find It!
The difficult thing about Italy's Antique Markets is that very few of them are permanent.  Each city and town in Italy usually has a calendar of when and where the  temporary antiques market will be held.  For example, it may be the second Saturday of every month, or the first Thursday etc.  Locals obviously have these dates memorized and growing up here it becomes second nature to know when all of the local temporary markets are happening  People will often memorize when the organic fruit market, flea market and vintage markets are happening and where.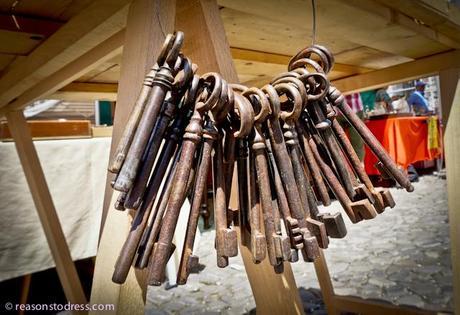 For the tourist or newcomer things are not so clear.  Aside from the fact that almost all of the info online for these markets is in Italian (not such a big deal with google translate!) , you have to know what to search for and where to search to find it!
A great resource in my opinion is the simple website : http://www.lamescolanza.com/mercatini/
It is the MOST comprehensive list of all outdoor temporary markets that I have found online and includes every region in Italy.  The list includes Antiquaries, Vintage, Christmas Markets and various miscellaneous outdoor fairs. You can search by region, or city and usually the markets listed have a contact phone number that you can call.
Italians LOVE shopping at outdoor markets, it satisfies so many of their basic needs;  being outside, wearing sunglasses (when it is sunny), being seen, going to the Piazza and finding things of "quality".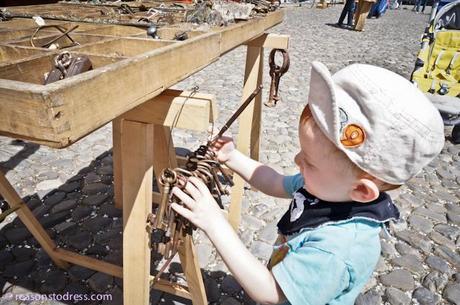 Search For It!
If you are currently a newcomer living in Italy, or you plan on visiting and you would love to visit an antiques market when you are here, try using these various search terms to help you.  The results will be in Italian, but I have found that very few small event webpages are translated in English and usually if you do your search in English your options may be limited.
 Here are some search terms that may help you find what you're looking for!
"Mercatino" meaning "small market" + the name of the city you'll be visiting in ITALIAN (not "Venice" but "Venezia")
 "Mercatini dell'antiquariato" – "Antiques Market" + Name of City
 "Mercatini dell'antiquariato" + REGION where you'll be visiting in ITALIAN eg. Lazio, Le Marche or Emilia Romagna
You can also substitute "Mercato" for "Mercatino"!
 "Mercatini Vintage" + Name of City, Town or Region
"Fiera" meaning "Fair" + Vintage or "Antiquariato"
"Fiera Antiquaria" + City, Town or Region in Italian
"Fiera del Vintage" + City, Town or Region in Italian
And if you want to search out a market with used items in general that don't necessarily have to be vintage or antique you can use the word "Usato" meaning "used"  for example
"Mercatino dell'usato" – Used Item Market
ESCLUSO
LUGLIO

E ESCLUSO

AGOSTO

!!

It is VERY COMMON when searching for something to do in Italy that you come across these words "escluso Luglio" and "escluso Agosto", meaning "excluding July" and "excluding August".

It is HOT HERE.  hot people.  I am fusing into my pleather couch as I sit here typing at 11:30 p.m. with the windows open and two fans going.   My sweat is sweating and it is only the second week of June!!

In July and August, please go to the beautiful Italian seaside and not to the cities!!!  Things will be closed, the sun will be beating and the antiques vendors will be on vacation, along with EVERYONE ELSE!!

Choose a piece of coastline,  most of it is fantastic OR somewhere in the mountains (we often go to my dad's hometown in the Avellino area), and enjoy Italy.  Visiting a city-centre during July and August is not the same type of experience as visiting in the Spring or early Fall, where you will have a much more vast cultural offering.

That being said, if you can't avoid coming in the summer, just be very aware when planning of the dates that things are happening.  Now that I think about it, there ARE things to do in the city centre, but that also requires a bit of research in Italian, and probably it's own separate post!

I hope you've enjoyed this little guide, and I really hope that I've helped someone out there get a little closer to a 40 euro real alligator designer bag!!!