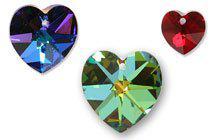 Most people receive many cards and invitations over the course of their lifetime. Many of these carefully picked out greetings are sadly forgotten and quickly end up in the dustbin. However, handmade art cards can be an exception to this rule. With a bit of creativity, some heavy card and Swarovski crystal beads, you can create your own one-of-a-kind greeting cards and invitations that will cherished by their lucky recipients.
If you are the artistic sort, you may like to create some artwork of your own to use as the basis of the cards. If you are not the arty type, don't worry! You can find patterned paper or design templates in most craft shops. Alternatively, you could go online and print off patterns or designs that you can copy from or use as templates. If you have a flair for calligraphy, you may wish to hand-letter your cards. Alternatively, you could use a computer to type out the desired message and print onto some plain or lightly patterned paper.
Once your cards are prepared, you are ready to begin to attach the beads. Swarovski crystal beads are ideal for making personalised cards and invitations because they come in various sizes and designs such as round, faceted, hearts, flowers, fish, ovals, squares and so forth. At first, it's a good idea to arrange the beads on a sample card and evaluate the results so that you can make any necessary alterations to the design. There are infinite possibilities to get creative with Swarovski crystal beads… Some ideas are to use a cluster of crystal beads for flower centres, to accentuate borders and lettering, or to provide highlighting in any area that would naturally sparkle, such as halos, snow, water, candle or firelight, precious metals or, of course, jewels. The xilion bicone white opal crystal beads from Swarovski are perfect for accentuating highlights. It is always best to use clear glue, so that the colours of the artwork show through.
Another idea is to create detachable charms and attach them to your cards with ribbon. The charms can be made by gluing Swarovski crystal beads onto ribbon or by stringing beads on wire into a pattern and then attaching the charm to the cover of the card or hanging them from the inside. Christmas cards, in particular, are especially charming when they contain a detachable charm large enough to hang from a Christmas tree. It is particularly a good idea to attach charms to wedding invitations so that the wedding guests can keep them as a reminder of the happy occasion.
Delightful hand-crafted greeting cards and invitations are perfect for cards or invitations for birthdays, new homes, congratulatory events, engagements, weddings, new babies, christenings, mother's or father's day and Christmas.
Written by Natalie Bell on behalf of Beads Direct.