Hey Friends!
Have you been doing a lot of outside entertaining this summer?
It has been very hot over here in Idaho!  At night, I love going outside to eat or just sitting down for a while to watch the sun set.
There have been some STUNNING outdoor rooms that I MUST show you guys :-)
Get ready to be inspired!
First, I LOVE this porch with the build in fireplace.  I wrote a whole article about decorating with lanterns and what the best classic accessories are to use in your home.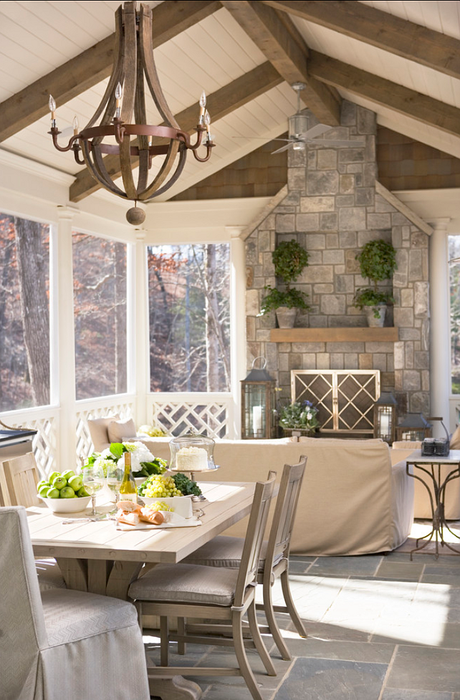 homebunch
This is such a rustic outdoor entertainment area.  Once again, a cozy fireplace makes this the perfect place for an evening drink. (oh, and I'm sure the mountain top view helps out with the relaxation effect too) :-)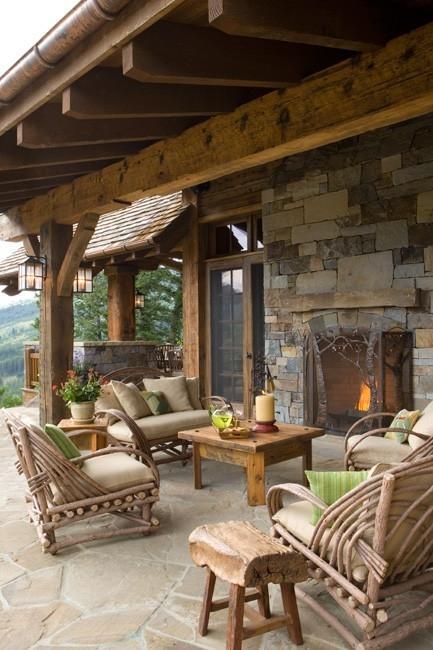 Maybe I should have titled this post Covered Patio and Porches with FIREPLACES :-) 
Mirrors always make a space appear bigger.  This is a lovely set up with dreamy pulled curtains as a bonus feature.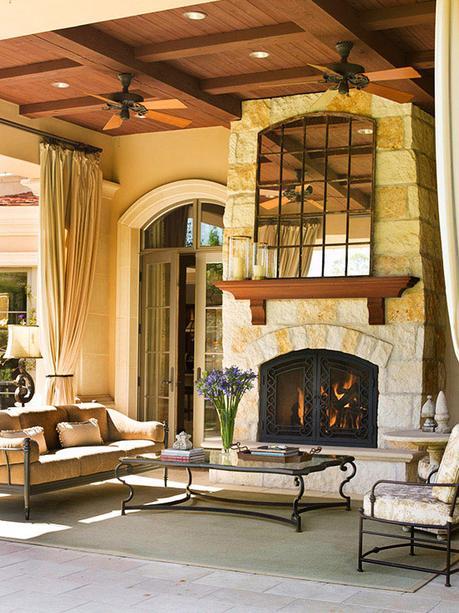 I picked this little photo because it's more "real".  Us "normal" folks could actually figure out how to do something like this with our home.  Decorating with greenery is one of my favorite design tips.  You can read one of my popular posts on how to make any space go from DRAB to FAB :-)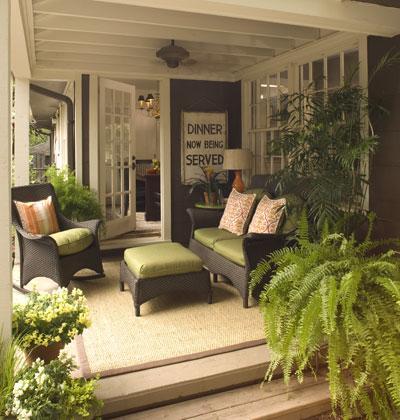 myhomeideas
The hood on this fireplace makes the space for me :-)  I love anything aged and old world style.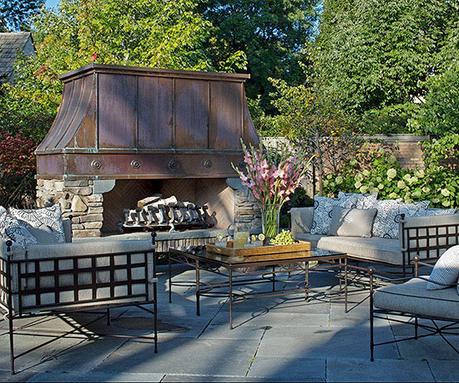 Walls covered in brick or stone is another one of my favorite features :-) You can click over on that post to see how to create stone veneer walls in your own home for not a lot of money!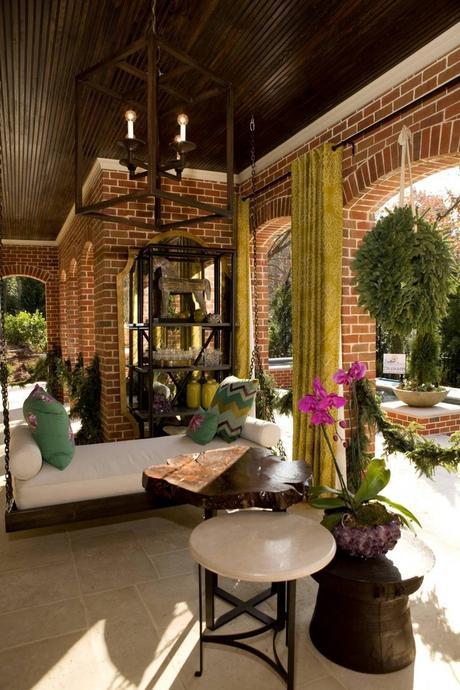 I have actually shown you guys this photo below in my post on AMAZING outdoor ideas. I guess I just have a special place in my heart for this photo LOL.  I can't wait for my own pergola to be covered in vigorous blooming vines :-)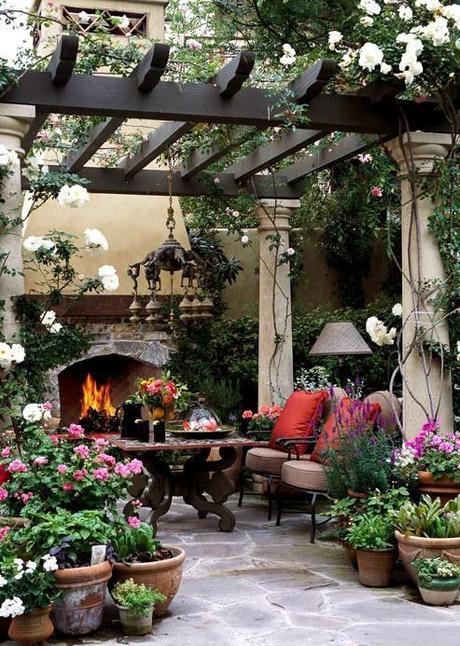 I love all the french doors opening up to this covered outdoor area.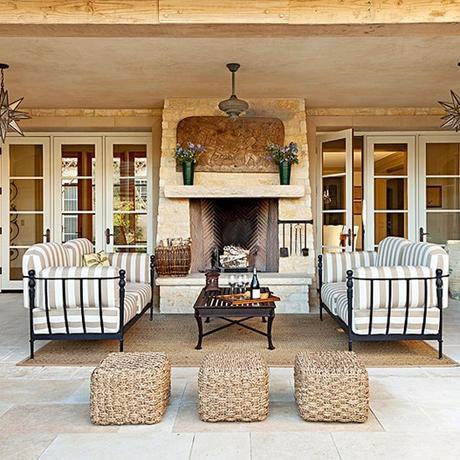 I really liked how the stone walls followed through with the same color scheme to the slate floor! I love the patio furniture too - what a great pop of color.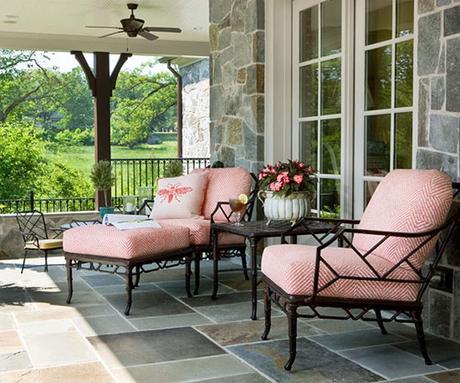 This is simply lovely :-)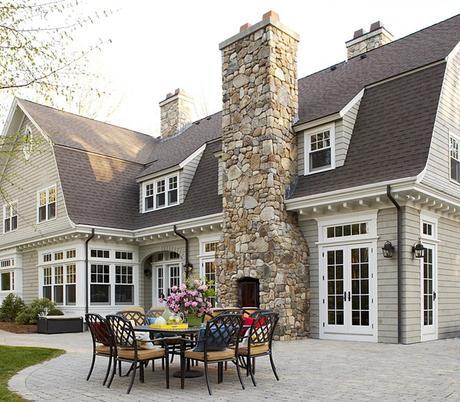 I'm not quite sure what I like more.....the room or the scenery!  What a PEACEFUL outdoor room!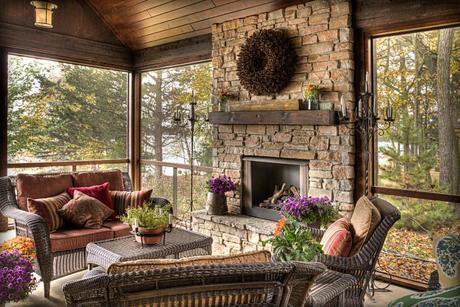 This is such a lovely addition to this home.  If you ever have the chance to build your own home having a covered porch area to entertain outside would be invaluable.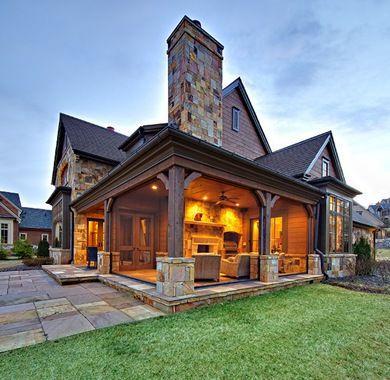 Wouldn't you agree there is something wonderful about covered porches with BREEZY curtains flowing in the wind.  I could stay in this space all afternoon.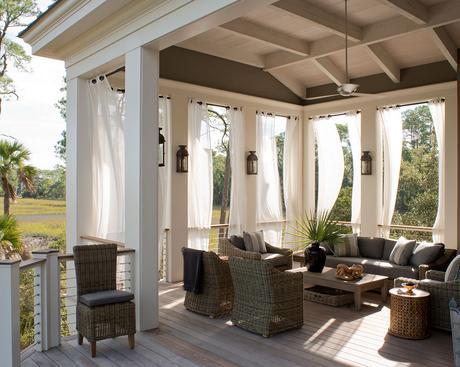 And lastly, what a GRAND back patio.  Wow :-)  I love the old wooden beams and the stone fireplace.  Simply awesome :-)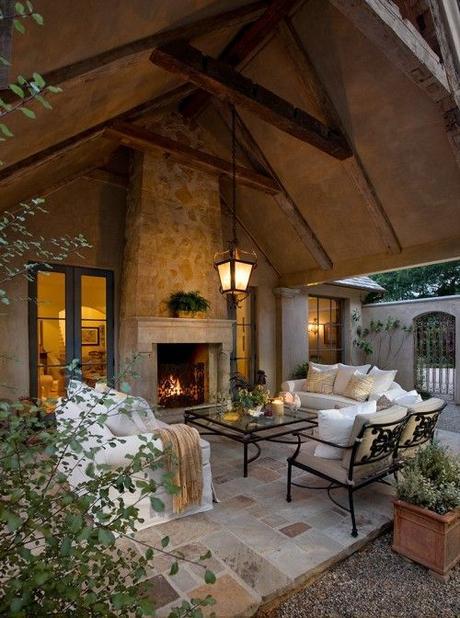 What do YOU think about outdoor patios and porches?  Did you have a favorite? 
Do you have one and use it a lot or does it seems to just "be there" but never put to good use? 
Don't miss out on Selina's home decor tips and inspirations - Sign up to receive her once a week post :-)
Enter your email address:
Delivered by
FeedBurner
If you enjoyed this post, you can click the blue SHARE TO FACEBOOK button below :-) I'd appreciate it! You can also head over to WWW.CREATIVEJUICESDECOR.COM and sit back, relax, grab your cup of coffee and check out my other DESIGNER SECRETS and FUN CRAFTS on my blog. (Thanks my friends!)