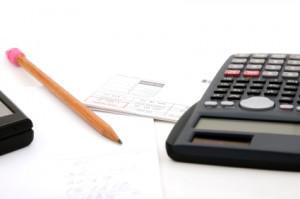 Pretty much everyone tells themselves that they need to create a budget.  Some of us even get a bee in our bonnet and sit down to write out income and expenses.  The problem is knowing what to do with that information once you have it.  Most people look at a tally that ends with them spending more than they earn and they have no idea how to address the alarming situation they find themselves in; they simply may not have anywhere to cut back.  If you find yourself facing the barrel of a gun where your expenses are concerned, don't fret.  There are more ways than you think to cut back on spending and get your budget in order.  Here are just a few ideas to help you get started.
1.   Hire help. You didn't major in finance, so you may not have all the tools you need to get your budget under control.  It couldn't hurt to have the assistance of a financial planner or accountant to help you out.  You will have to spend a bit initially for this service, but considering how much it could end up saving you in the long run, it's well worth shelling out for.  Just make sure you get someone good (ask friends and relatives for referrals).
2.   Consolidate debt. One of the best ways to cut down on monthly payments for interest-accruing accounts is to consolidate with one loan that has a low interest rate.  You will almost certainly get the best deal by refinancing your home to consolidate debt (since it will be at a lower rate than you can find elsewhere and it gets stretched over 30 years).  And once you've cleared your credit cards, cut up all but the one with the lowest interest rate (and consider locking that one in your safe for emergency use only, so that you're forced to limit your spending to what's in your bank account).
3.   Axe extras. Eating out, entertainment, and frivolous shopping are the first things to go with any budget overhaul.  You have to pay your mortgage, car payment, and utilities first (not to mention buying food for the house).  These are the things a responsible adult does.  After that, you can find little ways to cut back.  Think about getting rid of your land line and using a cell phone only.  Cancel the premium channels on your cable (the ones that cost extra each month).  Use coupons at the grocery store.  And find ways to save on energy around the house (turn off lights and electronics when not in use and get a programmable thermostat).
4.   Start saving. Most people don't even have a savings account.  Although you won't earn much money, it's a great way to get in the habit of setting aside money from every paycheck.  Set yourself a goal to reach (say, $1,000, although eventually you should have enough to pay three months' worth of bills in case of layoff, accident, injury, and so on).  Once you reach your goal and pass it, plan something fun to do with the extra money, like concert tickets or a much-needed vacation.
5.   Don't deprive yourself. The reason people can't stick to a budget is that they deny themselves everything and then end up going way overboard with spending.  So allow yourself a little fun money each week to stay in check.  And for entertainment, rent movies via Netflix instead of going to the theater, go to free summer concerts in the park, and host potluck dinners once a week to socialize while saving on the cost of eating out.
Jamie Lewis writes for Totally Money where you can browse through loans for poor credit and compare loans.