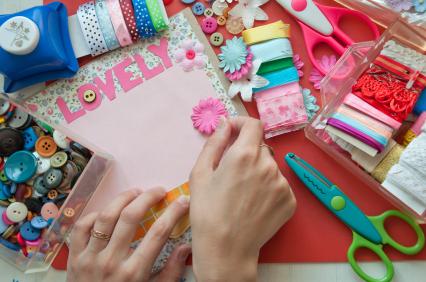 It all starts to add up. The sewing machine. The serger. The endless yardage of fabric. The drawers full of notions and buttons and scrapbook papers and ribbons. And more types of glue than you probably once knew existed.
All the craft supplies we use on a daily basis can not only start to crowd out our space, they can start to take a real toll on our pocketbooks. Have you looked at the prices on scrapbooking notions these days? It's not pretty.
Before you start trading food for beads, consider these easy ways to craft on a budget:
Use Found Objects
Why pay $4.99 for a pack of pine-scented pine cones dusted with glitter when you can probably walk right out into your back yard and find an assortment of real pine cones for free? Why pay for shiny marbles to fill a flower vase when you can search for smooth pebbles in your own neighborhood? There are plenty of items for sale in craft stores that you can find for free in your own environment if you just set out to do a little searching. Pliant sticks and small branches can easily be woven into rustic wreaths. Shells from your beach vacation can be used for all kinds of fun crafts. Feathers, stones, sand, and other objects found in nature can all be used in your crafts. If you want to make it a family affair, recruit your kids for a treasure hunt.
Reuse and Recycle
Like most families, you probably round up a collection of old clothes, toys, jewelry and other objects in your house that you no longer want or use and take them off to the local thrift store. Before you take these items in, take a second look. Most of the fabric from your own clothes can probably be used in your crafting projects. The zippers and buttons are certainly very valuable. What other items can be dismantled for their parts, or can be refurbished to create a new item?
Next, take a look in your closets. What else can be recycled for your crafts? Old magazines are perfect for scrapbooking. Old Christmas and birthday cards can be cut up to create new greeting cards, gift tags, or even special wrapping paper. Take a look at these old items with a new eye, and you'll be surprised at what you can save.
Once you've exhausted your own stash of recycled materials, check out your local thrift store and yard sales. Materials can be purchased for a fraction of the cost, if you look closely.
Freecycle
There is a growing movement known as "freecycling" in which local citizens give away items they no longer want or need — for free. The idea behind this movement is to reduce waste. Use this to your advantage and look for craft supplies (or other objects that can be repurposed). Sewing machines and other crafting tools can also be found on these e-mail lists. You can also make a "wanted" request for items that you would like to find.
If you don't have Freecycle in your area, look for a local scrap exchange. These shops allow crafters to trade supplies with one another. Have some fabric you don't need anymore? Trade it for some beautiful glass beads. You get what you need without spending more, and you help someone else in the process.
Discounts
Finally, the best way to save money is to never buy retail. There are many ways to save on your purchases, including buying wholesale or in large lots, shopping online, or using coupons. Most major retail chain craft stores have at least a weekly coupon offering 40% percent off or more. Don't ever buy something without the coupon, which can be obtained online, by signing up for a mailing list, or by asking the cashier.
Alexis Bonari is a freelance writer and researcher for College Scholarships, where recently she's been researching sickle cell scholarships as well as providing advice on selecting a college essay topic. In her spare time, she enjoys square-foot gardening, swimming, and avoiding her laptop.