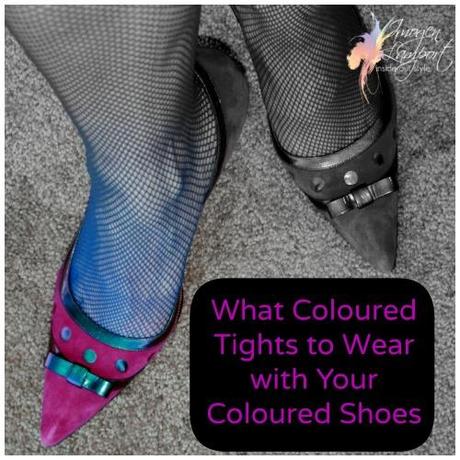 And from a style dilemma from Facebook  - Coloured shoes and… What color tights? I never seem to get it right!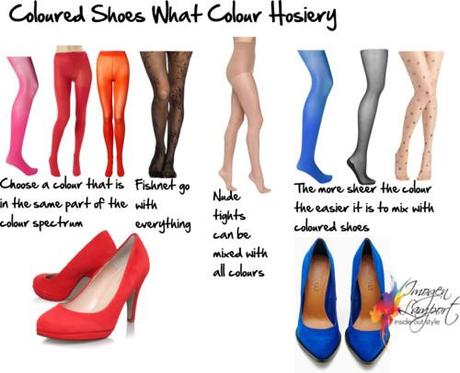 coloured shoes what color tights by
imogenl
featuring plus size tights
Well, the answer to this depends on who you are and what you want to express.
For a more conservative environment, I'd choose nude tights with color shoes.
For a more creative environment, you could wear a similar color of tights, or an alternate color of your choice.
For evening wear, if your tights are a sheer black, you can still get away with a coloured shoe.
The more sheer the tight, the easier it can work with more colours, the more opaque the tight the more if dominates and needs to be paired with either a hem or shoe of the same color.
Match your tights to either the color of your skirt/dress or the color of your shoes.  So if you're wearing a Red shoe with a Navy skirt, wear navy tights or red tights (depending how 'out there' you like to be).  If you're wearing a tan boot, either wear a nude tight (or a nude fishnet), or match the tight color to the hem of your skirt.
If you want to wear an opaque tight with a coloured shoe, sometimes it's easier to do this with a legging, rather than tights, so the color of the shoe doesn't fight with the color of your tights.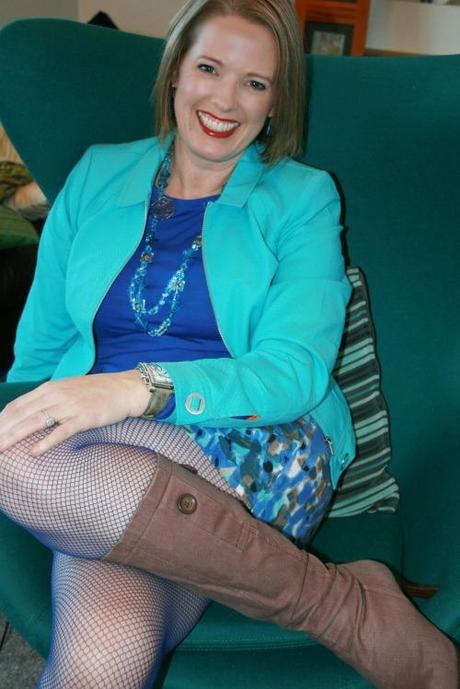 Wearing a blue fishnet tight with a light rose brown boot.
As you can see in this picture above, because the fishnet tight is quite sheer, and you can see lots of skin through it, it's easy to team with an alternate coloured shoe or boot. But if it was an opaque blue tight, I would have gone with a black boot rather than a coloured one.