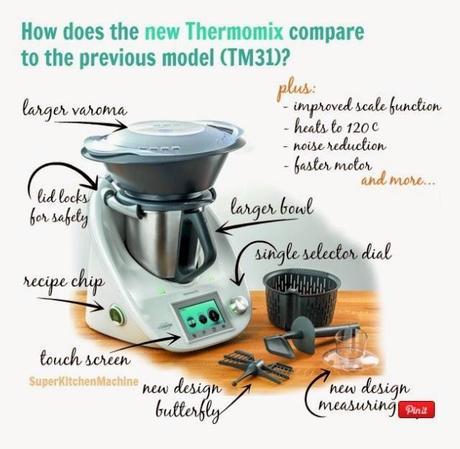 Photo courtesy of Helene at SuperKitchenMachine
There is a new Thermomix in town and it looks sleek!! The rumor mill had been turning endlessly for a few months and finally on the night of September 5th 2014 the announcement was made: the TM5 was a reality.
Here how it is looking, don't forget that in the UK you can buy through Thermomix's network of demonstrators, see website here:
- Price: £925 for 1 bowl, £1084 for package.
- Divided payments and financing will be available.
- Trade-in/upgrade programme for new clients? From Monday Thermomix Demonstrators will be contacting all their customers who recently ordered and are still waiting for delivery.
- Availability: right away, demonstrators being trained the day after the announcement.
- Bowl size: 2.2 l (200 ml bigger than the TM31's).
- Temperature increments of 5ºC.
- Touch screen.
- It weighs while cooking.
- It works with old recipes we already use for TM31 with very little modification. The speeds are not different, same revolutions per minute.
- It has recipe chips for guided cooking.
- It has a fully automated mode for a few recipes (see this video)
- It can also work in manual mode.
For those of you who have just bought a TM31 because of the fabulous August offer with the free spare bowl and a ton of books, don't forget the TM31 is a fantastic piece of kit (and you got a great deal!), with a huge amount of support and an amazing community behind it. Thermomix will keep servicing them and will have spare parts for decades to come, because this is how long these machines last. I wouldn't let go of mine even if I was to buy the TM5, I've had it for two years and bought it for life.
In fact the prices of the TM31 accessories are coming down in price as a result: you can now buy a spare bowl set (with blades, lid, etc.) for £159 plus delivery instead of £235 plus delivery (a saving of £76!). A new TM31 spatula will drop from £16.90 plus delivery to £8.00 plus delivery!
It is the nature of technology that these things are kept secret, think patent infringement and technology theft. 
By the way, it has also been announced that the Quirky Cooking book will soon be in the UK!
I have asked Thermomix UK to address all concerns and questions ASAP and the answers are slowly trickling into the
Thermomix Owners UK
group.
I hope that covers a bunch of questions you may have for now. I shall update more as I find out.