So you decided on a gift basket for your next gift.  There are countless options for purchasing a professionally made gift basket in stores or online.  There are even websites that highlight some of the best gift baskets available online; making your decision an easy one.  You can choose from themes such as wine, chocolate, coffee, gourmet snacks, cookies and candy.These are all fantastic gift options, but also ones that you can make on your own and still have them look like you spent the big bucks.
The advantages of creating your own gift basket are numerous.   The biggest advantage is that you can hand pick each item to include in your basket; right down to the basket or container you'll be putting the gifts into.  Anyone receiving such a gift will be delighted to see the thought you took in selecting gifts you know they'll love.  Another advantage is the ability to control cost.  You can splurge on one or two big ticket items and then fill in the baskets with a few less expensive gifts.  Below are some tips to ensure you'll have that professional looking gift basket every time.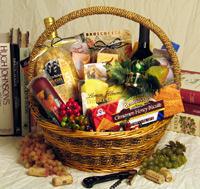 1. The Container
The basket is, of course, the natural choice for a gift basket.  However, gift baskets don't have to be limited to this one gift delivery method.  Consider the theme of your gift as you choose the container.  If your gift is an arts and crafts inspired gift basket consider a plastic bin that can be used as storage for arts and crafts materials.
If you are making a cooking themed gift basket use a colander as your container.  Also keep in mind the amount of gifts you plan on purchasing.  It's often easiest to purchase the container for your gifts last so you know what size to buy.
2. Gift Placement
Those perfectly arranged gift baskets in stores and online aren't that way by chance.  When arranging the gifts in your basket it is important to consider the placement of each individual gift.  Start with lining your container with some padding such as shredded paper or crinkled tissue paper.  You can find filler in many different colors at a craft store.  This will raise your gifts up in the basket making them more visible and creating a visually appealing gift basket.
Taller or larger items should be placed in the back so they don't hide the smaller items.  Heavier items should be anchored along the sides of the container to center the weight.  Heavy items can also be placed in the center of the basket as long as the item behind it is taller and still visible. Fill in the smaller and lighter items as you see fit, keeping in mind that you want all items to remain mostly visible.  You want your recipient to be able to see all the items without having to take the entire gift apart.
3. Final Decorations
After you've carefully arranged all of your items into your gift basket you don't want any items falling out.  The best way to secure all your gifts is with a cello bag, or a cellophane bag.  You can find these at a craft store; they come in many sizes and are large enough to accommodate most gift baskets.
Place your entire gift basket inside a cello bag, ensuring the base of the basket is centered along the base of the cello bag.  The bottom corners of the cello bag can be taped back or under the basket.  Finish off by gathering the top of the bag and tying it off with some ribbon and/or a large bow.
That's how to build your own basket.  You'll have a professional looking gift basket that anyone would be happy to receive!