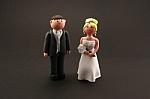 It seems you are winning a jackpot when you know that you are getting married to the one you love. It feels like you are the most beautiful lady in this world. After all you've been through, here you are, ready to walk in the isle and say "I do" to him. Isn't it fulfilling to a person that dreamed to be his wife and a partner for better and for worst? But let's just pause for a while and think for something that brides should do before her wedding.
Brides must be beautiful and well-prepared in the day of her wedding. But why there are brides look so haggard after all the preparation? What are the things that she must do to avoid from getting stressed out from lots of errands to run? Here, you can have these tips to help you prepare everything without getting pressured:
1.  Scheduling a wedding free time
To deal with wedding frenzy is to pamper one self. Relax and never panic. Everything will just be alright when your mind and body are in good condition. When you are preparing everything and you are not in calm, nothing will be accomplished in a proper way. Make time to relax yourself and purify your body. Visiting a spa and pampering yourself with a body scrub is one great way. You can join a yoga class or schedule a free time with a friend to go to a concert or watch late-night movie.
2.  Revitalize your skin
When planning a wedding, stress knocks – bigtime. Since preparing everything is exhausting, you better watch your skin from getting dry. You need to be the most beautiful bride, so your skin is important. Regain your radiance by starting to take care of your skin on a regular basis. Hydrotherapy helps or you can also visit your specialist to know what your skin needs.
3.  Have a goodnight sleep
This is the most important thing that a bride must always do- get a beauty sleep every day. A regular 8 hours of sleep is essential to make your skin glow and not to make you look pale. Sleeping in a right time will help your body in a fighting shape. You need a good sleep when you are preparing for a big day. Normally, brides and even grooms lose their precious sleep when they are having pre-wedding preparations. With all the errands to run and guest lists to attend, it is really important to make time for a good night sleep. Have a lie-on your cosy mattress and feel relaxed for the big day.
Laine Harrison, a loving wife and a writer by heart, enhances her home with contemporary hot tubs. Her house is the envy of her neighbourhood because of her hot tub.
The Real Supermum
USA
[email protected]