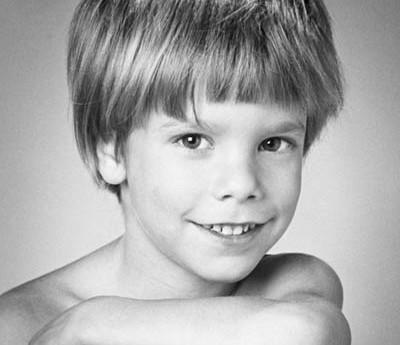 Etan Patz in 1978, just a year before he disappeared off the streets of SoHo. Photo credit: Stan Patz
The background
The New Jersey man who was arrested and charged with 1979 kidnapping and murder of Etan Patz, the first missing child whose face appeared on milk cartons, was arraigned on charges of second-degree murder in a New York court on Friday, 25 May – the 33rd anniversary of the boy's murder.
Patz, 6 years old, disappeared on his way to a school bus stop only two blocks from his SoHo apartment. It was the first time his parents had ever let him make the walk on his own. His abduction, however, wasn't known until he failed to come home from school that afternoon – the school never notified his parents that Etan hadn't made it to school that day. The widely publicised case and how it was handled drew international attention and, commentators claim, dramatically changed the way American parents thought about their children's safety.
The confession: Case closed?

The Etan Patz case remained cold until Thursday, May 24, when a New Jersey man told police that he killed Etan Patz. Pedro Hernandez, 51, confessed to luring Patz into the basement of the bodega where he worked as a stock clerk with the promise of soda, and then strangling him. He claims he wrapped the boy's body in plastic, put it in a box, and left it in a downtown Manhattan building. Hernandez was never investigated in connection with the boy's disappearance, however, and police said that there are holes in his account.
Etan Patz haunted New York City
"His specter loomed over the coziest of breakfast nooks, in the bleakest crevices of parents' minds and in the fretful warnings that tumbled from their lips: Remember the boy who disappeared," wrote Matt Flegenheimer at The New York Times. The boy's disappearance was a "turning point", residents of the neighbourhood told him, in how parents in New York raised their children – ever after, they were more suspicious, more worried. "Parental warnings became commonplace: Wait for the school bus. Never talk to strangers."
The publicity around Patz's abduction may have saved lives
Etan Patz's abduction was, CBS News claimed, a "wake-up call" for America: Before his disappearance, society expected that children were safe in their neighbourhoods. Schools didn't routinely call parents if their children hadn't shown up that day, police didn't immediately go searching for missing children. Patz's disappearance was the catalyst for the creation of a national database for missing children, and setting standards for how the police and the FBI investigate such cases. Of the 800,000 reported missing each year, 99 percent come home safely, up from only 62 percent in 1990. And of the 115 children abducted by strangers in 2011, 57 percent of them came home.
"The Etan Patz case changed the way we view childhood and parenting," said author Lenore Skenazy: It made parents more afraid than ever before.
Raising children under the shadow of fear
But Etan Patz's disappearance also ushered in an era of parental fear, the Christian Science Monitor observed, fear "that even dwindling crime statistics and low stranger-abduction rates could not assuage". Though children are less likely to be the victim of violent crime than they were 20 years ago, the fear of "stranger danger" persists. "The Etan Patz case changed the way we view childhood and parenting," Lenore Skenazy, author of Free Range Kids, a book that advocates against "fear-based" parenting. "There's this notion, because of these kinds of cases, that it's just natural to be afraid all the time, but it is actually not natural."
There will never be closure for the Patzes
For all that his disappearance changed America, the abduction of Etan Patz left his parents frozen in time: For Stan and Judith, their son will always be the 6-year-old boy who begged to be allowed to walk to the bus stop alone and who never came home, Mike Lupica wrote at the New York Daily News. "There will never be closure for these parents, there never is with the death of a child. And what possible justice is there for what was taken from them on May 25, 1979, what they can never get back, starting with Etan Patz's childhood ? All you hope for now is some peace for them, because they have suffered enough."
Is Pedro Hernandez telling the truth? ABC asks the experts

More on crime in America

 George Zimmerman charged in Trayvon Martin's death
George Zimmerman launches website
Rep. dons hoodie for Trayvon