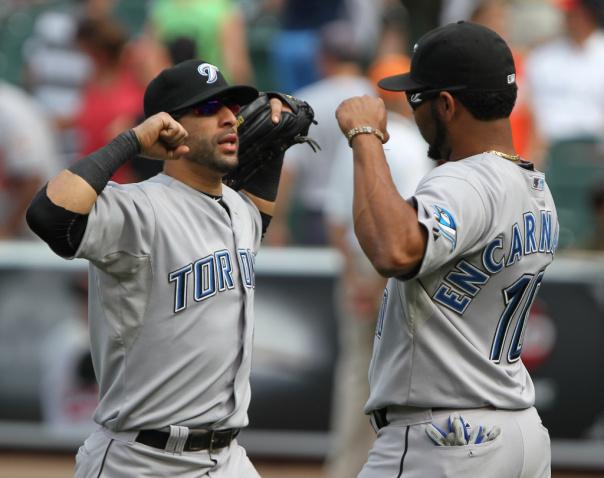 Bautista and Encarnacion (Courtesy of Keith Allison on flickr)
So much has already been written about the Blue Jays and Marlins megadeal, but what exactly does this mean for the AL East? The answer is simple. The deal makes one of the tougher divisions in baseball that much more difficult to play in. With the Orioles shocking the baseball world last year, this trade makes every team in the AL East a possible playoff contender.
The move sends Jose Reyes, Josh Johnson, Mark Buehrle, John Buck, and Emilio Bonifacio from the Marlins to the Jays. Miami receives Yunel Escoba, Jeff Mathis and a few prospects in return. The trade destroys the Marlins but gives hope to a team dying for its chance to be a contender in the AL East.
The days of the Yankees and Red Sox ruling over the division are done, at least for the time being. Now every team is a threat thanks to Miami owner Jeff Loria. Maybe John Farrell all of a sudden wishes he was back in Toronto, as the Blue Jays are arguably a bigger threat than the Sox. Here's why.
Mark Buehrle and Josh Johnson are the keys to this deal. Adding them to a rotation that already has Ricky Romero and Brandon Morrow immediately makes this team a contender next year. Buehrle has been one of the most consistent pitchers in baseball during his career with a .575 winning percentage. Johnson, when healthy, can be as dominant as any starting pitcher in the game. For a team that once lacked pitching, it now has a core four guys to count on to anchor the rotation next season.
Jose Reyes adds a new dynamic to a lineup that already has two of the games best power hitters in Edwin Encarnacion and Jose Bautista. Reyes, a four-time all star, will have his first opportunity to prove his capabilities in the American League. His speed at the top of the lineup will force opposing pitchers to pitch to him with the hope that he's not on base when facing Toronto's lethal three-four hitters.
Emilio Bonifacio and John Buck only add depth to the Blue Jays' already potent lineup. Buck had his best major league season in Toronto in 2010 when he hit .281 with 20 home runs.
The megadeal comes as a shock to most of baseball and brings an excitement to the AL East that makes the rest of the division nervous. With the Yankees getting older as each day passes and the Red Sox in a rebuilding process, the division is now wide open. Perhaps this is the year where the Blue Jays win their first division title since 1993. And perhaps this is the year where both the Red Sox and the Yankees both fail to make the playoffs for the first time since 1994.