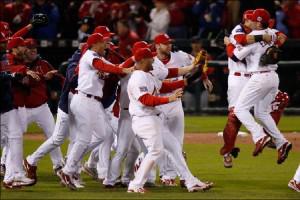 When the St. Louis Cardinals won the 2011 World Series, I had a bit of an existential crisis. In fact, it may have marked a permanent turning point for my sports fandom.
The 2011 World Series between the Cardinals and the Texas Rangers was one of the best ever, maybe even the best. Every game was full of high drama, improbable twists of fate and 11th hour (inning?) heroics. In many ways, it was a perfect fairy tale: David Freese, a guy who grew up right outside of St. Louis adoring the Cardinals, hit a game-winning home run in game six and was named both the NLCS and World Series MVP. Albert Pujols added another notch in his legacy's belt, vaulting even further into the discussion of all-time greats. Tony LaRussa, one of the game's legendary managers, retired on a soaring note. It was a euphoric, blissful ode to the Fall Classic.
But I did not care.
But it wasn't because of the laundry list of reasons that baseball purists/cantankerous fucks trot out to explain the dwindling relevance of the game that had me shrugging my shoulders. Though their points are valid. Baseball is a rapidly graying sport (look at the commercials during any given baseball game: Viagra, life insurance, Viagra, Lexus, retirement planning, Viagra), and games last way too long for a 21st century attention span. I'm a diehard aficionado of the sport, particularly its history, and I'm worried for its future. With the surging popularity of football, basketball and even European soccer, I think baseball's status as a major sport may be in real jeopardy within our lifetimes. (Though at worst, baseball will become hockey, a sport with a relatively small but wildly passionate and knowledgeable fan base. There's nothing wrong with that.)
You see, I love baseball, and I didn't care about the World Series. I didn't care because it thoroughly highlighted how arbitrary and pointless sports can be.
The Cardinals had no business being in the playoffs, let alone winning the World Series. They were 10.5 games back in September. They hit into 169 double plays this season, five short of the all-time baseball record.  They finished at a respectable 90-72, but they played in a division with the Pittsburgh Pirates, Chicago Cubs and Houston Astros. Finishing with that record in a division with those teams is a little bit like being the thinnest kid at fat camp.
But as the Atlanta Braves copiously vomited into their shoes for the month of September, the Cardinals stormed back and squeaked into the playoffs by a hairs-breadth. Despite everything, they somehow made it. This lucky-bounce, any-given-Sunday shit is why people love sports. But it's increasingly why I hate it. Once a team has momentum like the Cardinals did, it can absolutely steamroll; it happened last year with the San Francisco Giants, another team that had absolutely no business being any closer to the World Series than watching it from their TVs at home, let alone winning the fucking thing. (If I'm pissed, imagine how the Texas Rangers feel. They've lost two years in a row to scrappy who-are-these-guys NL teams. Nolan Ryan must be on suicide watch.) Ironically, as to my point above about baseball becoming the new hockey, this sort of thing happens every year in the Stanley Cup Playoffs. A goalie gets hot on a small market, eighth-seed team, pucks can't get past him, and that team wins the Stanley Cup, leaving more talented, deserving and accomplished teams empty-handed, watching a rookie reserve player on the Carolina Hurricanes hoisting the Cup as if it was his, as if he earned it.  Don't believe the empty rhetoric. Parity is utterly terrible for sports.
The Milwaukee Brewers had a storybook season. Prince Fielder and Ryan Braun were the best hitting tandem in baseball. The team had a ludicrous hip-hop swagger that was plain fun to watch. They finished with a sterling 96-66 record, six games ahead of the Red Birds. And for what? They ran into the buzz saw of history and have nothing to show for it (Besides a great clip of Nyjer Morgan repeatedly yelling "fuck yeah" live on national television). It's a completely silly thing to say about sports, but the Cardinals just didn't deserve it.
Something happened to me a few years ago in fantasy football that strongly reminded me of the Cardinals improbable win, and has a lot to say about my psychological make-up. It was week 16 of the NFL season; my fantasy football team had swept the floor all year, and I was on the fast track to a comfortable championship win. I had no opposition. I cruised in to the playoffs without breaking a sweat. In week 16, the first round of our fantasy leagues playoffs, everything changed. I was playing a so-so team populated with scrubs and also-rans, so I wasn't too concerned. But my team put up average numbers, and the other team's running back, Ron Dayne, ran for 120 yards and three touchdowns. I had lost and my season was over.
For those of you that don't know, Ron Dayne was an overweight running back who had a great career at the University of Wisconsin and did nothing in the pros. By the time my fantasy team faced him in 2006 or 2007, his career was long past its expiration date. He had no business even getting carries in the NFL at that point. But he did, and he ran wild. And my fantasy team lost. It was a heinous and cruel twist of fate, but it still happened. I haven't played fantasy football since and never will again. The injustice and randomness were too much to bear. If sheer skill won't guarantee that I win, if a wildly talented and vastly superior team can be spanked by an obese third string running back, then why the fuck am I playing?
The notion of "deserving" in sports is a thorny one. Obviously the Cardinals worked hard to get where they were. But they simply were not the best team in baseball. I don't mean to take away the fact that they won, but their World Series title objectively makes no sense. As I said, sports can be painfully arbitrary. I want it to make sense, and when it doesn't conform to my wishes I get angry. There were many teams that were a hell of a lot better than the Cardinals. Those teams did not win. The Cardinals did. I still wouldn't have watched the World Series if it was the Phillies and the Red Sox, but I would've abstained for a much different reason: because I hate those two teams. But at least with those two teams the balance of the world would've been even-keeled. That matchup would've made sense. It would've been fair. It would've been deserved.