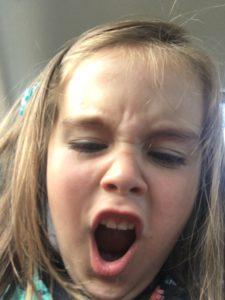 It is a crime to teach our children to "Be positive".
I'm sure you think I'm nuts.  It's totally fine.  People have literally thought that about me since I was 5.  I stand by what I say – we do ourselves and our children a disservice every time we tell them, "Hey, it could be worse!" or, "Be the change you wish to see in the world!"
In fact, you could be contributing – not causing, but contributing – to the opioid epidemic that is happening right now in our country.
Now I bet you think I'm really crazy, eh?
Let me explain a bit further.  There are positively viewed emotions like happiness, joy, silliness.  And there are negatively viewed emotions like anger, jealousy and sadness that are typically stereotyped as morally "bad" to experience.  Think about it.  Would you want to be labeled as a jealous husband who rants at his wife about where she was?  Or an angry mother who yells at her children seven times out of ten? No, of course not, because if you're emotionally abusive you're in the "bad" category.  Even though the wife most definitely played a part in his jealousy. And if you're the shouting mom, you most certainly are not as good as all those attachment mothers.
But here's the thing.  Anger and jealousy isn't good or bad.  They are simply ingenious little signs our bodies gave us to tell us where to go.   Here's a little answer key, courtesy of Pixar's "Inside Out" and Glennon Doyle:
Anger: Tells us when something is not fair.
Jealousy: Tells us when we want something someone else has.
Fear:  Keeps us safe.  Physically and emotionally.
So yeah, negative emotions aren't that negative, it turns out.   They're actually pretty fucking vital to our existence, and if you're making fun of them, you're living by an extremely outdated code.  However, in a Trump era, where pull-yourself-up-by-the bootstraps-baby-boomer-either-or attitudes exist, this can be hard to remember.  And some people can make you feel like embracing emotions means you're weak.  This, I tell you, is complete bullshit.  Humans can hustle and work 12 hours a day and still tune into their feelings.
The smartest, healthiest, most successful people I know follow their gut intuition about situations and others.
Let me get back to my point about all of us contributing to addictions.
Say your child got up and started whining about going to school. "Mama, I'm so tired.  I can't go to school today.  I hate going to school."
"Honey, you have to go.  I can't do anything about it.  You can do it!"
VERSUS:
"Mama, I'm so tired.  I can't go to school today.  I hate going to school."
"Honey, I bet you're super tired after your first week back. I can't even imagine.  I feel like that about work too."
Because the thing is, we do indeed live in a super insane world that doesn't provide for enough sleep for our children.  And it's ok to validate that for them.  It doesn't mean you still can't teach them the value of showing up for something when they don't feel like it.  They'll feel seen and they won't be taught by you that their negative feelings need to be squashed immediately.  Because what's one way addicts can start to be addicts?  By having strong emotions, and being told they're "overdramatic" or to "get over it".  Then they find tricky ways to numb their strong emotions that their community or society rejects.  Eating a whole pan of brownies.  Drinking their mother's beer.  Shooting up the next town over.  All because they were taught not to sit with themselves and their strong feelings.  I'm sure some 12 Step programs will disagree, but that's ok, I didn't fit in there either.
The truth?  We all have to feel a feeling until it's done coursing through our brain.  And the more we push it away, the bigger it will come back.
A lot of people – including my husband – accuse me of being too cynical, too pessimistic.  Nah.   I'm usually just telling the truth or calling the situation as to how I see it.  I, in turn, think they're (typically) uncomfortable with the negative emotions I point out because society has socialized them that way.
Humans are these super amazing, instinctual beings who literally know the way like Moana, if only they listened to every emotion.
And am I the perfect parent who meets her daughter where she is every minute of every day? No fucking way.  On a bad day, I push my anger away, which makes it bigger, and then makes me scream like a crazy woman at my daughter.
But I'm shooting for meeting myself where I am.