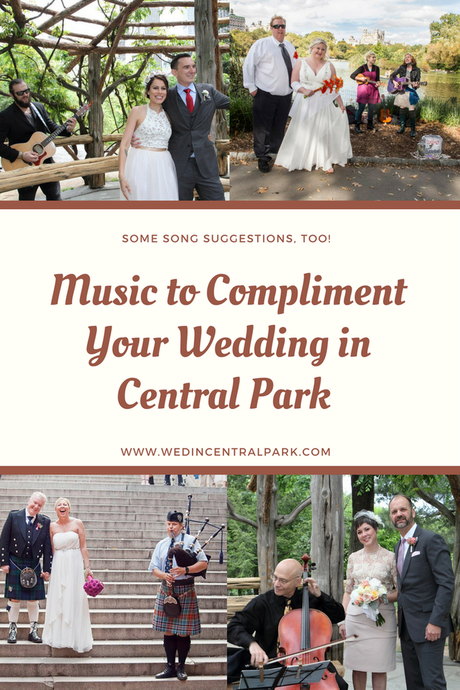 I have been planning weddings in Central Park for more than five years now, and an acoustic musician is a popular addition to a wedding ceremony there. The Central Park Conservancy do not allow amplified music, so any music we have at a ceremony must be live and acoustic.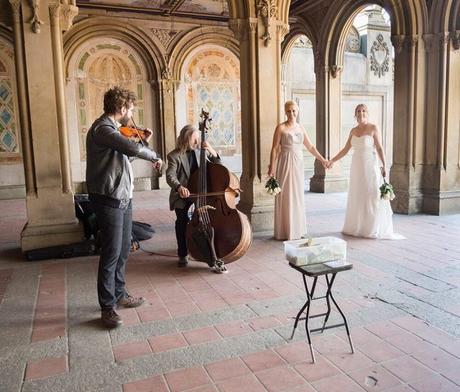 In the past, I have supplied a harpist, a bagpiper, a violinist, a cellist, string trios and quartets, a guitarist and a singer. If a couple know that they want music in their wedding, but are not sure on what type of instrument they would like, then I usually suggest choosing which pieces they want to be played, and then deciding which instrument will work best for that piece.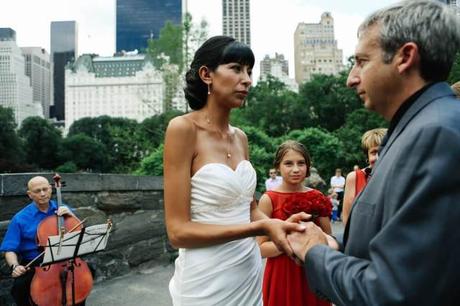 In many cases, the musician will arrive a little while before the bride or couple does, and will play for the guests while they wait for them to arrive. In some cases, the musician will meet the bride at the entrance to Central Park and walk in with her, playing as they go. This is a very popular thing to do with a bagpiper, as he can pipe as he walks.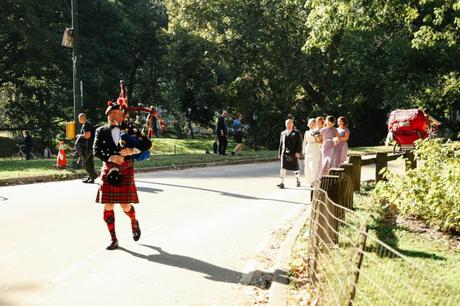 I usually suggest choosing three or four pieces for this period before the wedding. Then I suggest choosing one special piece to arrive to. In many cases this is the Wedding March, also known as the Bridal Chorus or Here Comes The Bride. We have seen couples choose a wide range of pieces, though, and modern and classic pop songs are very popular. Then, after the couple are both together, the musician usually stops playing and we have the ceremony. Sometimes we have the musician continue to play softly in the background through the ceremony if the couple want them to. At the end of the ceremony, the officiant pronounces the couple married, and then we usually have the musician start to play again. This is often an uplifting and celebratory piece, since it follows the pronouncement and applause. After this, the couple and their witnesses, and the officiant will sign their marriage license and then start to take group photos around the ceremony location. The musician can play during this time, too. After the group photos at the ceremony location the couple and their party usually move off to other locations in Central Park for photographs. Sometimes the musician comes along, too. Each couple tends to want something slightly different, and we are happy to fit in with them and their needs.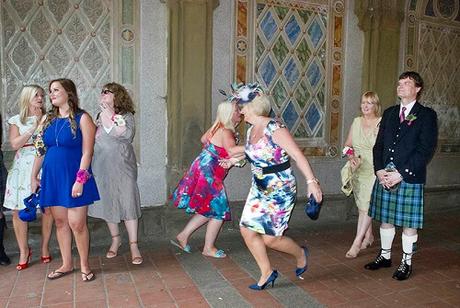 Some popular pieces for our bagpiper have been: Calendonia, Highland Cathedral, Mull of Kintyre, Loch Lomand, The Theme to Braveheart, Skye Boat Song, Flower of Scotland, and Scotland the Brave. We recently had a wedding where he played Hallelujah and Fairy Tale of New York, which he had to practice specially for this couple! He can also play the Wedding March of course. The bride will quite often request that the piper meets them at the entrance to Central Park and walks in to the ceremony location with her and her party. It makes quite the entrance, and draws a lot of attention from other people in the park. A groom can hear his bride-to-be coming this way, too.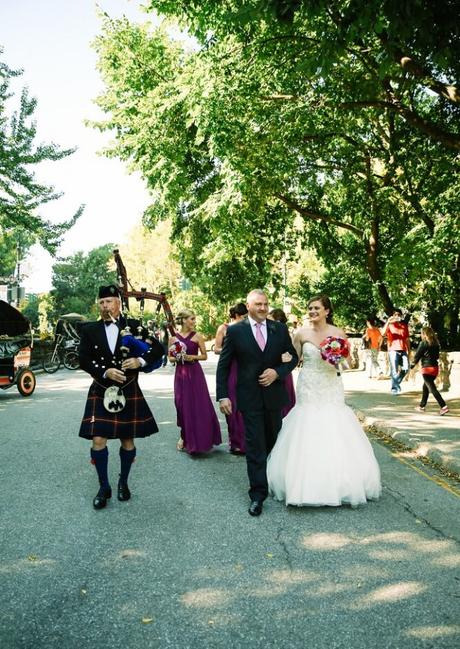 Our classical string musicians are also very popular. We can provide just one musician, or a duo, trio or quartet. Our violinists and cellists have frequently been asked to play Pachelbel's Canon, Vivaldi's Four Seasons, Dvorak's Heresque, Bach's Jesu Joy of Man's Desiring and Air on a G String, and of course the Wedding March. They have also played Alicia Keys' Empire State of Mind (a popular choice), Falling Slowly from Once, Nat King Cole's When I Fall in Love, Kings of Leon's Use Somebody, Van Morrison's Have I Told You Lately That I Love You, Elvis Presley's Can't Help Falling in Love, The Beatles' Here Comes the Sun, Journey's Don't Stop Believing, Christina Perri's A Thousand Years, and surprisingly large number of other pop songs that work very well on a string instrument. One time, our cellist played the theme tune from Forest Gump as a bride walked down the pathway to the Ladies' Pavilion. The wooden instruments must be protected from moisture, so in the event of any rain at all, they must be under cover.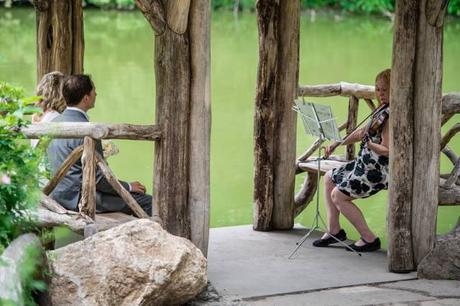 A few years ago we had a couple who were keeping to a budget, and they were locals so they knew Central Park well. They knew that there were always musicians around Central Park, playing for tips, so they asked me to go out and find one for them. There was a cellist playing at the 72nd and Central Park West entrance to Central Park, so I approached him and offered him a small fee to come along and play at the wedding. He accepted and it was lovely. He had been sitting on a bench playing, but the couple had brought along folding chair for the bride's elderly grandmother, myself (I was pregnant at the time), and anyone else who needed to sit. So, the cellist had a seat as he played next to Wagner Cove.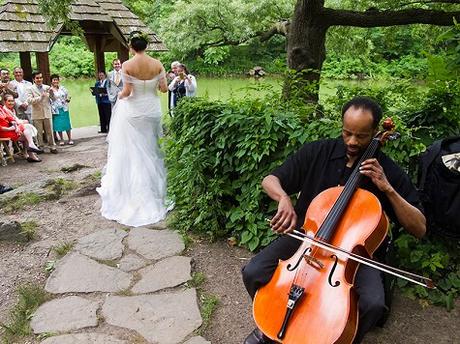 I work with a couple of harpists, and they each have several harps, of varying sizes. This means that they can get in to all the locations in Central Park with at least one of their harps, since some locations won't be suitable for larger instruments. Our harpists usually get asked for pop songs, but the harp is just as appropriate for the classical pieces I have listed above that are popular with our couple who choose violin or cello. We've been asked for A Whole New World from Aladdin, Moon River from Breakfast at Tiffany's, the theme from Beauty and the Beast, Christina Perri's A Thousand Years, Van Morrison's Have I Told You Lately that I Love You, John Legend's All Of Me, Journey's Don't Stop Believing, Alicia Keys' If I Ain't Got You, Bruno Mars' Marry You, Lionel Ritchie's Endless Love, and of course, the Bridal March. We are currently planning a wedding for this summer when the harpist will play Timber by Kesha and Pitbull, which I'm rather looking forward to! If it's very cold, a harpist cannot play outdoors, so we discourage couples from booking a harpist over the winter period.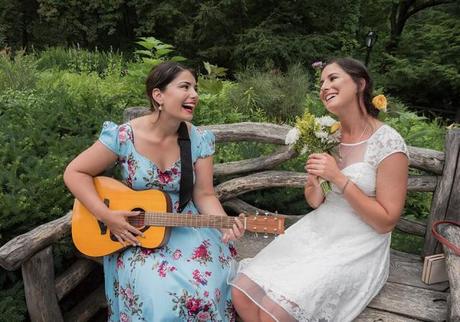 There is a guitarist who has stood in the same spot next to a footpath beside the Lake every day for what feels like forever. If a couple marry in the Ladies' Pavilion, the Shakespeare Garden or Belvedere Castle Terrace, they are very likely to pass him as they walk along the west side of the Lake to Bethesda Terrace. He will play for them as they have their very public first dance if they wish. There are always musicians underneath Bethesda Terrace, too, so if a couple marries under there then they could be serenaded.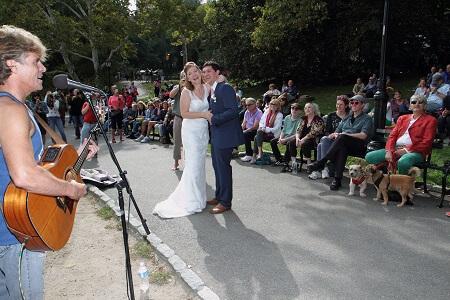 I work with a couple of guitarists, one sings and plays the guitar, and one brings a singer with him to accompany him. We have had such a huge range of requests for these guys, and it always amazes me how chill they are about each song; either they already know it, or they can learn it for the couple. Here are just a few of the requests we have had the guitarists play: Ed Sheeran – Perfect (a very popular one), The Temptations – My Girl, Elvis – Can't Help Falling in Love, Ben E. King- Stand By Me, The Beatles – In My Life, The Long and Winding Road, Bob Dylan – Blowin' In The Wind, Christina Perri – A Thousand Years, Harry Styles – Sweet Creature, The Verve – Lucky Man, Eric Clapton- Wonderful Tonight, James Arthur – Say You Won't Let Go, Lumineers – Hey Ho, The Cure – Love Song and Friday I'm in Love (they got married on a Friday), Bruno Mars – Just the Way You Are, Oasis – Wonderwall, Jack Johnson- Better Together, Al Green- Lean On Me, Stevie Wonder – Signed Sealed Delivered, Extreme – More Than Words (for at least two of our weddings so far!), José González – Heartbeats (also twice!), Madness – It Must be Love, Jason Mraz – I'm Yours, Tracy Chapman – Fast Car, John Mayor – Free Fallin', Backstreet Boys – As Long As You Love Me, Savage Garden – Truly Madly Deeply, Florence and the Machine – You've Got The Love, Kodaline – The One, Roy Orbison – Pretty Woman, John Mayer – Free Fallin', Frank Sinatra – New York New York, Pachelbel – Canon, and of course; the Bridal March! One couple asked for When You Say Nothing at All – a huge hit for Ronan Keating in Britain and Ireland, but our guitarist had to learn it for the couple, since it didn't quite make it to the US.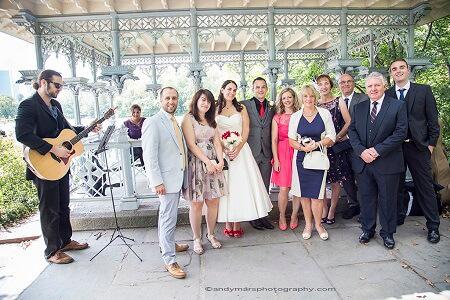 We sometimes stop the talking in the ceremony to have a musician play a special piece part way through the ceremony. Sometimes we have the officiant or a guest read out the lyrics to a song, just as many might read a poem, but sometimes it feels right to have someone sing it rather than read it, so we do that if it is what the couple wants. We have also had guests sing or play at the beginning or end of some weddings. One of the most memorable and unique pieces of music at one of our weddings was a mother of one of the brides, who was from New Zealand, sang a waiata (a traditional Maori song) at the end of the ceremony.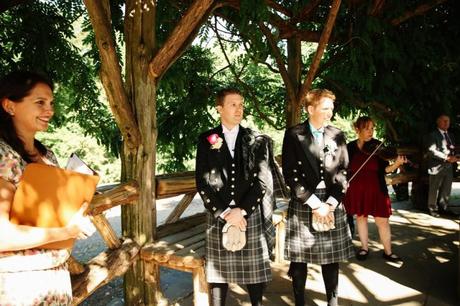 I hope this has been helpful food for thought for anyone considering having someone play music for them at the wedding in Central Park, whether it be a friend or a professional. For help with planning your own Central Park wedding, visit our website, or "like" us on Facebook, follow us on Instagram and follow us on Pinterest where you will find lots of lovely photos and many more inspiring stories of real weddings.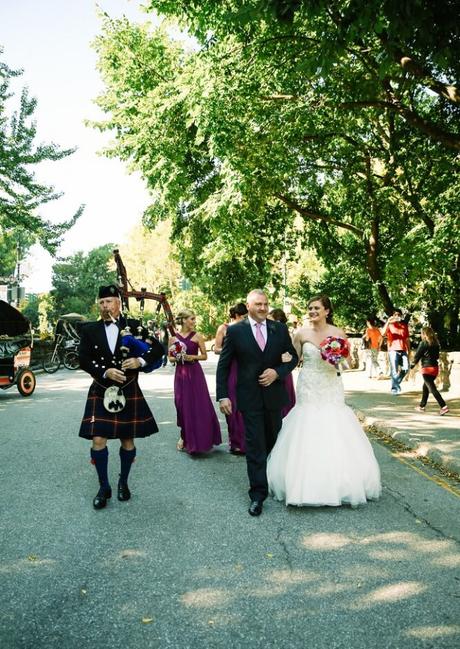 Advertisements
&b; &b;