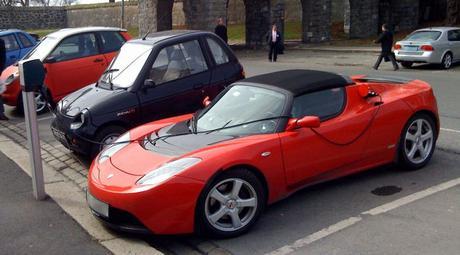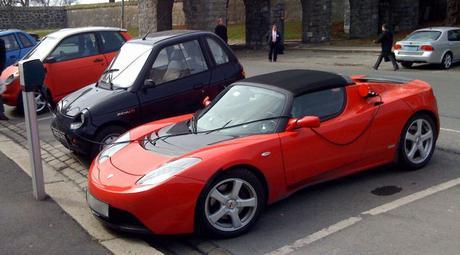 English: A Tesla Roadster, Reva i and Ford Th!nk electric cars parked at a free parking and charging station near Akershus fortress in Oslo, Norway (Photo credit: Wikipedia)
Tesla is working hard to spread around the world Supercharger network that offers free uploads owners Tesla models.
Robert Llewelyn, TV presenter Fully Charged (you may know him and the scrapheap Challenge television show), took a Tesla Model S and has his heart set on going with electric sedan from Oslo to London.
Said and done. After more than 2,000 kilometers driven, the British managed to reach the destination network using chargers Supercharger (which offers free current owners Tesla models) and those offered by hotels. At the end of the journey fuel cost was only five euros, you pay money at a hotel in Germany for using plug for electric cars.
Tesla Model S Roadtrip From Oslo to London Costs only €5 – VideoAlright, we'll say it again but we're just stating the obvious: Tesla Model S took the automotive world by storm, offering a cheaper alternative in time to traditional internal combustion engine cars. So here's one for skeptics: the all-electric sedan
…