Some people think that you can't do a European City 'justice' in just one weekend – but we beg to differ, and the beautiful city of Copenhagen is a classic example. That's not to say that it's lacking in activities – to the contrary, the place is packed a plenty with culture and cuisine to keep you going for days. But if time is limited, Copenhagen really is the perfect place to get away for a couple of days and still make it back to London for a Sunday roast.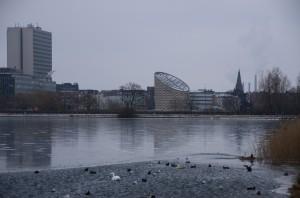 For a start, it's only about a 1.5 hr flight from Heathrow, and once you touch-down, it's a quick metro trip into the heart of Denmark's capital. We started our Saturday morning with a stroll through Ørsteds Parken, covered in snow with its pond frozen shut. We then wandered around Skant Jorgens Sø, one of several rectangular lakes in the city, which once acted as a type of fort, but now serves as the perfect track for runners and cyclists, of which there are many.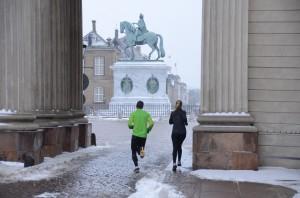 'Getting outdoors' seems to be something of a favourite pastime for the people of Copenhagen. During our stay we were amazed – and impressed – by the number of  runners, dog-walkers and cyclists out there in less than inviting temperatures, moving their limbs and taking big gasps of frosty air, all in an attempt to get their blood flowing.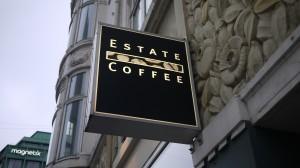 In minus 4 degrees however, my blood does not flow very well, so upon reaching the end of the lake we made a dash for a cafe, which turned out to be a hotspot for Copenhagenite coffee lovers. "How did you find out about this place?" said the woman sitting next to us. "Aaah….we were cold and we came inside." we replied a bit dumbfounded and worried we'd crashed an invite-only coffee joint. She went on to explain that it was one of the few places you could get a really good coffee in the city, and that's why locals loved it. After a mean double espresso, and a latte that would give many Kiwi cafes a run for their money, we were now sufficiently caffiened up, and my fingers had defrosted, so we carried on our tour.
Next stop was the Tivoli Gardens, famed for its nostalgia-style amusement park, however there was to be no reminiscing of fair rides from years gone by or whiffs of candy floss for us, as the park was closed. Although it was a bit of a shame not to be able to feel like a kid in a fair ground, when you stopped and thought about iced-up rollercoaster tracks, it made a lot of sense that the park wasn't operational over the wintery months.  (According to their website, they reopen in April 2013.)
The strange, winged-rhino statues adorning the Radus (Town Hall) drew us in, as they stood guard at the bottom of the large red-brick building, looking out towards the square.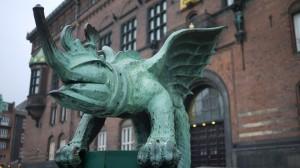 Nearby was the famous Strøget, the pedestrianised street (or series of streets), which allow you to browse without the bother of vehicles (although take care as cars do cross certain parts of the street/s). As well as clothing stores and the expected tourist shops with amber trinkets and Viking hats, there are some more quirky retail options, such as the pipe store with a huge display of smoking instruments, and a fantastic toy store, that even big kids will love.
By this stage we had lost the daylight, and had become rather thirsty, so we branched off the main shopping strip in search of refreshments. We found a great little bar called 'Retro' which had a slightly studenty, alternative, cosy-catch-up feel, with worn velvet couches, and a loft-style seating area.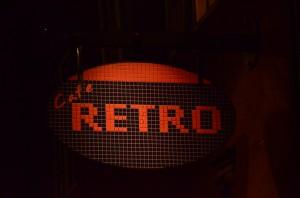 Although Carlsberg is the world-renowned Danish beer that features everywhere around the city, this place, as well as serving bottled Carlsberg, had a great selection of more boutique-style beers. We enjoyed the crisp organic pilsner named Thy Pilsner and a chocolately but light Ale called AZ Ale No. 16. It was the ideal place to people-watch and cull some of the many photos we had taken.
For dinner, we had hoped to go to 'Tight', a popular and inviting looking place which had good vegetarian options, however it was obviously very popular, as several days out we weren't able to get a reservation. We did however do our research and found a cheap and cheerful gem, just tucked off Strøget, which serves organic juices, noodle dishes and beautiful Thai curries, with mountains of rice. You sit on high stools in a small and simple, but friendly dining space, served by a happy-go-lucky chap from Naples, who might just be watching a spot of football. For a cheap and cheerful meal, we can recommend Scurryhub.
It can be hard when visiting European cities, not to get drawn into tourist-trap eateries, especially when you're tired and hungry, but on face value we saw lots of nice places that we would have happily eaten at. RizRaz for example caught our eye as it has a 'Sticks 'n' veggies' option with a healthy and fresh-looking vegetarian buffet, and a 'Steaks 'n' veggies' menu option, for those who love their vegetarian partner, but still love their meat.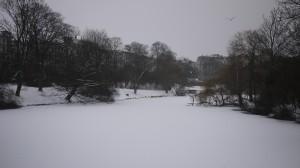 On the Sunday morning, we woke to snow, which had covered the cars and roads, and the frozen pond in Ørsteds Parken could no longer be identified as a body of solid water, as snow had rested on the ice and looked like an extension of the alabastered  ground.
We walked to the Round Tower, which dates back to 1642 and is still used as an observatory today. It is attached to a church, which forms part of the 'Trinitatas Complex', so as we walked up the spiralling ramp to the top,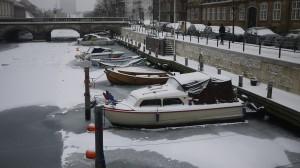 it was to a backdrop of organs and bells from the Sunday service.  The view over the city allows you to get your bearings and spot spires from nearby and distant churches. After taking in as much of the view as we could in the icy wind, we corkscrewed back down the ramp and wandered over to the Ny Carlsberg Glyptotek (art museum), passing by boats locked into frozen waterways as we went.
The Glyptotek is a beautiful building, home to an extensive collection of Egyptian artefacts, with everything from small jackal-headed statues to pottery to mummies. What I found impressive however was a very comprehensive collection of works by Paul Gauguin, including many pieces from his time in Tahiti, as well as several Brittany-based works.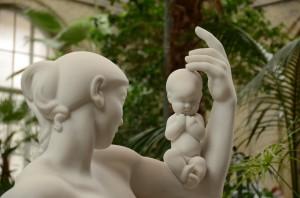 For those who fancy sculpture, there is a plethora of bronze works from Rodin including 'The Thinker', and the spectacular but brazen ballerina 'The Little 14-Year-Old dancer'  by Degas. There is even a rather unique, and somewhat bemusing bronze sculpture by Picasso, which reminds you of this Cubist Master's interest in the 3-dimensional.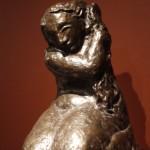 With amazing artworks, pieces of BC history, a tropical entrance gallery, and no admission charge on Sundays, what's not to love about the Ny Carlsberg Glyptotek? Even the name sounds cool. We could have spent more time soaking up the history and culture, but there was more of the city to see.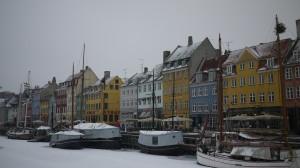 We walked on to Nyhavn, the canal lined with candy-coloured buildings, and which I'm sure, in summer, would be thriving with life and sound. On this day however, in the depths of January, it was a little more subdued, but still pretty and worthy of a stroll along the banks.
Again the cold had set in, and so we stopped at the Admiral Hotel for a coffee and hot chocolate. This is a rather grand building with an interesting interior where strangely large, low-hanging wooden beams mixed with neon lighting really works. It was the perfect respite from the conditions for a while before we returned to our search for the Little Mermaid.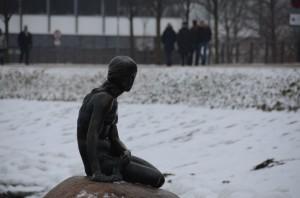 As it turns out – she's not that easy to find. Well not when the winds on the harbourfront start to whirl around you, forcing your head down – but to make things harder, signposting isn't that obvious, and she is little (as her name suggests). After instructions from several helpful locals, and a good degree of detouring through the Kastellet (star-shaped-fort), we found her, sitting small and solemn on a rock by the sea, just out of reach of the lapping tide. Some had warned us that her size might disappoint (and others have since advised that she is a replica several times over), but as well as being at the centre of Hans Christian Andersen's famous fairy tale, she is synonymous with Copenhagen, which merits a visit, even in stormy seas.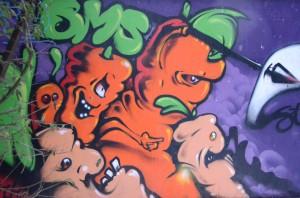 There was just one last stop on our Copenhagen list and that was a visit to Freetown Christiania. This area features the famous 'Pusher Street' which embraces communal living and has its own 'green light district'. It's had a colourful and chequered past, from its original function as an army barracks, through to a hippie commune, this place has seen it all – riots, evictions, even an occupation by a biker gang. Not exactly every tourist's cup of tea, but the acid bright murals and tongue-in-cheek graffiti do offer quite the contrast to the city's slick but safe CBD.
What we concluded from our whistle-stop tour of Copenhagen is that it's great place to spend a couple of days, cruising around, getting a good dose of culture, but without feeling overwhelmed by all those 'must-see' attractions. It would also be great for a themed weekend, for example, design junkies can visit the Danish Design Centre, there is the food festival for cuisine cravers in February (winter edition), and for those hot on history, this place is steeped in it. Whatever your culture craving, you'll be sure to find it in Copenhagen. It's over to you whether you cram it into 36 hours like we did, or opt for a more leisurely pace.
One city, one night, two days – how did we do it?

1.   Do your homework first. When time is precious, there is no point spending half a day planning what you're going to do and see. Do your prep first, so you can hit the ground running – literally.
2.   Prioritise. Let's face it – you can't do everything, so you need to make a list and be realistic about what you can achieve in a short space of time. Check out opening times (before you arrive) so you can go to the earliest opening attraction first, and you will need to keep an eye on your watch so you don't end up spending 4 hours in one exhibition.
3.   Compromise. Unless you plan on drinking copious amounts of red bull and staying awake for every possible minute you're away, you may need to 'miss out' on some things. For example, the downfall of having just one night in a new city is deciding whether you checkout the night scene or get sufficient sleep for an early start the next day. We chose the later, but for those a little younger and with more dispensable energy levels, Copenhagen seems to have a lot to keep you entertained. There are theatres dotted everywhere, and the canals are lined with bars geared up for ample late-night drinking action.
4.   Pack light. If you are planning on doing a lot of glamourous dining or attacking the shops, this won't work for you, but there is definitely something to be said for throwing a few things in a ruck sack, slinging it on your back, and off you go. Not only do you get to feel smug leaving the terminal without having to wait for checked luggage, it saves you time not having to swing past the hotel as you leave the city. Even in freezing cold weather we managed to survive with minimal stuff – perhaps because we were wearing all our clothes for warmth. Having the one pair of shoes or boots (that you wear) also saves weight and room. 
 
 5.   Eat on the run. It's important to stop and enjoy the local cuisine, but having a few emergency muesli bars in your bag can save you time, and the embarrassment of those sugar-deprived meltdowns. Always carry a snack, like a mandarin, and plenty of water.
 
References and further reading
Wikipedia
Visit Copenhagen
Top 10 Copenhagen
Did reading this travel blog remind you of a weekend city break you've done? We'd love to hear your tips for speedy but fun travel. Leave us a comment.
And if you're not following us yet, be sure to pick from one of the options above, including signing up for our RSS feed, so you can be alerted to our future travel blogs…….coming soon, another European escapade, this time Berlin.