About 68% of American households, and 85 million families, own a pet. These data are from a survey of the American Pet Products Association . In 2018, $ 62 billion was spent on pets, including more than $ 6.2 billion on services such as accommodation and grooming. Another survey from the same organization says that 37 percent of pet owners take their animals on their trips, compared to 19 percent about 10 years ago. Source: U.S. Travel Association (2).
Websites such as Burkert's or BringFido.com specialize in identifying pet-friendly hotels.
The travel industry is a big business. In the USA Travel expenses reached $ 898 billion in 2018. And an important part of travel spending is not only for people, but also for their pets. When pet owners travel by road or plane they have only two options:
These options are not only for tourism or pleasure trips but also for business or other reasons.
How Many People Travel with Pets?: The pet transport business is becoming more prosperous. In the International Pet and Animal Transportation Association , all the companies that are responsible for the transfer of pets are associated. Many of these companies offer products to meet demand.
Pet friendly companies include airlines that offer cabin travel options for $ 125 each way for dogs and small cats. Snakes, pheasants, pigs and monkeys are not allowed.
There is also the option to send pets in the cargo hold. Prices can vary from $ 60 to $ 500 depending on the route. Annually more than 2 million pets and other live animals are transported by air only in the United States. And they are more than 4 million globally. According to data from the International Association of Pet and Animal Transportation , only United transported 138,000 animals (2017 figures).
If you do not take your dog on a trip with you, you have to resort to some pet complex. To be a pet friendly place, you have to meet at least three conditions
Is there anyone on site 24/7 with physical presence? Not only with a remote camera
How long do dogs have to play? Or what is your entertainment policy ?. They don't have to be locked in a cage all day
Do you have emergency procedures? Which are?
If a pet is aggressive, fights or bites, what is the procedure to resolve that situation?
Do you have a policy to maintain order?
LA awards several prizes per year - see LA Travel Magazine 2019 Awards (6) - in more than 20 categories. They also have two categories for pets. The categories and winners are:
La Quinta Resort & Club, which is a Waldorf Astoria property, can bring two dogs up to 75 pounds each. And also a $ 100 cleaning fee is paid. Hotels like La Quinta and Red Roof Inn, accept pets free of charge. But the trend also reaches up to luxury hotels like the W and the Marriott. These hotels have incredible services for pets: pet rooms, pet sitters, pet walks.
The magazine editor (LA Travel Magazine) says she publishes at least one "Pet Friendly" article every month. Readers love edo. "Millennials tend to get married later. They have money and often spend it on their pets, says the magazine editor
A detail to keep in mind: many hotels allow pets, but they are not really dog ​​friendly. The Shorebreak Hotel in Huntington Beach, California really is, according to the editor of LA Travel. This hotel has no additional charge, regardless of size, weight or race. The hotel is steps away from Huntington Dog Beach, an unrestricted dog beach. The hotel has a pet menu. It also has its own Room service for dogs .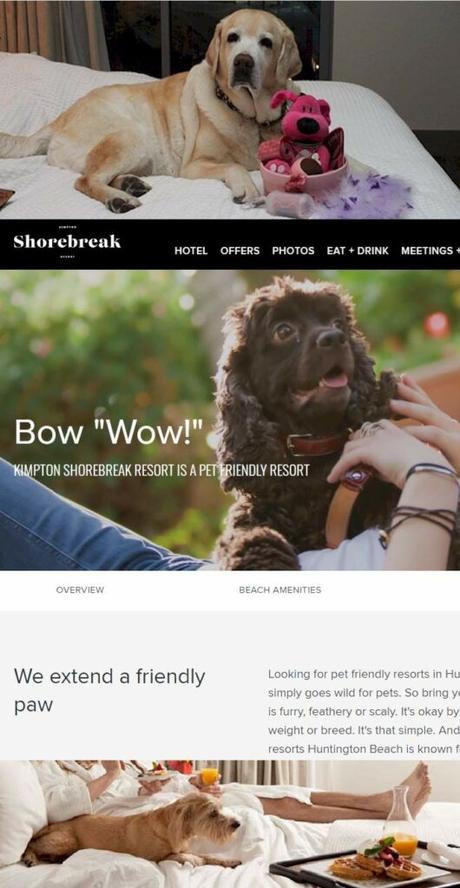 The D Pet hotels in Los Angeles (7) Encino offer accommodation, nursery, toilet and even services of Pet Chauffeur and Pet Boutique.
For your dog you can choose between:
Standard suite (4 'x 9', dog bed and TV tuned to Animal Planet.
Uber Suite (12 'x 22'; a queen bed and 42 "TV.)
sensational suite (12 'x 12' with double bed and 32 "TV)
The facility has a 5000 square foot dog park for supervised games. D-Chauffeur will pick up your dog for your hotel stay, either in a normal vehicle or in a Ferrari, Lamborghini Gallardo, Bentley, Porsche or Rolls Royce. D-Boutique will sell your dog (if you have your own credit card) food, treats, raincoats and aromatherapy candles.
Hotel staff is watching 24 hours a day.

Hotels, Airlines, trains and any transport company know that the owner of a pet will be very loyal to an airline or hotel that treats them well. They will talk with their friends, they will come back and stay longer. And also recommend the best services.
The state of New York converted the project into law. This law allows any restaurant in the state to open its outdoor space to dogs. In early 2015, a similar law entered into force in California. Also Tennessee, Maryland and Florida are among the states that have eased restaurant restrictions regarding the admission of pets. .
The Indianapolis Flat 12 Bierwerks brewery allowed dogs in its yard last summer. He also created an alcohol-free beer for dogs made with meat ornaments. California and Florida are the friendliest states with dog food, according to the dogfriendly.com ® website. (12)
By the way, the DogFriendly.com ® website has published pet travel guides worldwide for people with dogs of all sizes and breeds. There are hotel search engines that allow pets. Tourist sites, shops and historical sites, camps, parks. Also strapless parks, beaches, skiing and more. It is a website with a lot of pet friendly information especially in the United States.
Until 2014 Amtrak not allowed pets (with the exception of service animals) to travel on their trains since the 1970s. He then tested the launch of a pilot program in Illinois. Amtrak decided it was time to try being pet friendly and chose only a few routes. On those routes Amtrak would charge $ 25 for a dog or cat that weighed up to 20 pounds and fit in a carrier under the seat of a pet owner.
According to Amtrak, "about 200 animals have accompanied passengers without a single complaint or incident." Then the program became permanent a year later. In late 2015, Amtrak announced that pets could also travel with owners on certain routes in the northeast. In February 2016, he announced that pets could travel on most of their long-distance trains for up to seven hours.
Amtrak is now considering transporting larger animals as seasonally checked luggage. This had not been done by Amtrak since 1970.
Infography U.S. Travel Industry
2019 Los Angeles Travel Readers' Choice Award Winners: (6)
Post Curated by Giancarlo Bonfiglio. References and Souces:
Related Post
<a name="01″></a>