February is the month of loved ones and everyone propose to their beloved in many ways - surprise dinner date, going on a long-drive, giving chocolates, teddy bear, flowers, etc. If your heart beats start pumping blood a bit fast by listening the name of Valentine then believe me you are in love. Someone has rightly said "Nothing is simple in love, Love is all about spending your whole life without thinking of some reward with the love of your life."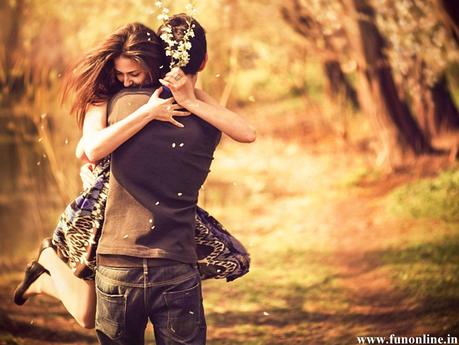 Image Source
Valentine Week List -
♥ February 7, 2014: Rose Day

♥ February 8, 2014: Propose Day

♥ February 9, 2014: Chocolate Day

♥ February 10, 2014: Teddy Day

♥ February 11, 2014: Promise Day

♥ February 12, 2014: Hug Day

♥ February 13, 2014: Kiss Day

♥ February 14, 2014: Valentine Day
My way of proposing
I met
Mr.X
(let's keep the name secret) when I was doing my graduation from Bhubaneswar, Odisha. I was in the first year and he had completed his graduation and joined Reliance Communications as a Senior Network Engineer. We met; he guided me on my projects, became friends and all of a sudden fall in love. 
During this phase the most difficult part was proposing him in a funny yet memorable way before he did. Yes, you heard it right! I'm not a shy girl who wants the BOY to take the first step - Why can't I? When I'm equally in love with him - deeply and madly :p I was jotting down my plans on the paper and could not think of anything - else than wasting papers. All of a sudden I remembered something - he loves Tom & Jerry! Funny right? Well it isn't, because cartoon takes us back to our childhood days where we used to enjoy life completely without any worries. 
So, I had got my plan - now was the time of executing it, which means - how to use the uber cute Tom & Jerry in a proposal? Pop! came a idea in my mind and I called him and asked him to meet me the next day, i.e. on the 14th of Feb 2013 Thursday, which means I need to bunk my classes. 
Next day, I reached his place early morning and took with me some DVDs of Tom & Jerry series. For the very first time, he made breakfast for me, bought my favorite orchids and some ferrero rocher. I was stunned and excited to get a treat from him - because till that day he was very practical and straight forward in life - never did anything to express his feelings ever but that day was different and I was super nervous - the reason, I WANT TO PROPOSE HIM FIRST! 
He made faces seeing Tom & Jerry DVDs with me and asked me -
"Do you want to watch this today?"
I nodded my head with a big smile and with a confused face he agreed too. We finished our breakfast while watching the clever mouse, Jerry torturing the confused cat, Tom. Ha-ha! We were laughing our heart loud and suddenly I paused the video and told him,
"I'm not feeling well, could you please bring a random medicine from the store, I have to take it just now"
. He agreed and rushed outside immediately and then I just had 15-20 mins to get dressed up immediately as the super cute Jerry (I made the tailor stitch mouse cloth for me), light the candles, played soft music and dim the light as quickly as possible and waited eagerly for him. He came inside and was wonder-struck seeing me as his favorite cartoon :p
I knelt down and asked him, "Would you mind being my Tom for the rest of the life", and as usual he was again confused with my sudden proposal and was continuously staring at me - of course romantically and nodded, "Yes always!" and we both hugged. Since then, we have fought, our ideas may have differed sometimes, we are in a long distance relationship but still we are ONE. From the time we have met - it's been 4 years now and still it seems it was just yesterday when I saw my confused Tom for the very first time. 
I Love you and always do, no matter how old we become I will propose you every year, every day, every time, every second till my last breath. Thank you for being in my life. 
This post is written as an entry for Indi-Happy Hours Campaign, "Cupid Games 2015", in association with CloseUp and Indiblogger.in