This is my 150th post!  I hope that you've enjoyed my first 150 posts and that you'll stick with me for the next 150 posts and beyond!  As a "Thank You!" to all my readers, be sure to check out my current giveaway found here.
It's been a little while since I've posted something strictly "Food Storage" related, and I thought it was about time to return to my purpose for this blog: talking about food storage (why you need it, how much you need, and how to build it without going broke).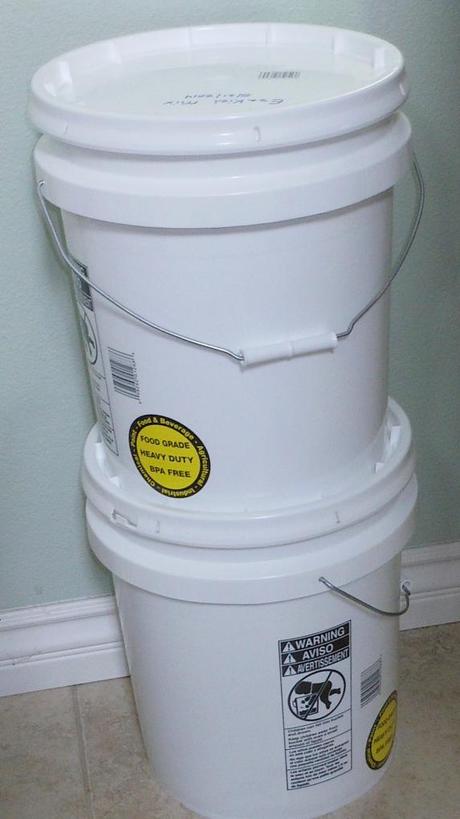 Filled 2 buckets and mylar bags with yummy food for long term storage.
Today, I started packaging food for long term storage.  I bought several different kinds of grain (in bulk), so I can expand my repertoire, but I know I won't use it all within the next year, so I need to repackage it for long term storage.  How does one do that at home?  I think one of the easiest ways is to use a mylar bag and an oxygen absorber.  While not every food can be stored in mylar bags long term, most grains and beans do very well.  In fact, some can have a shelf life of 30 years or more if properly packaged and stored.  I'm not planning on keeping all of this food for 30 years, but I like knowing that I have a good amount of time to use it.
So how did I do it?  I started with fresh, high quality ingredients: Ezekiel Mix and Popcorn.  Popcorn is pretty self-explanatory.  Most people know what that is, but many people have never heard of Ezekiel mix, which is used to make Ezekiel bread (see it here).  Ezekiel Bread is made from a mixture of grains and legumes that form a complete protein.  The recipe is from an Old Testament scripture (Ezekiel 4:9) which reads: "Take thou also unto thee wheat, and barley, and beans, and lentiles [lentils], and millet, and fitches [spelt], and put them in one vessel, and make thee bread thereof… three hundred and ninety days shalt thou eat thereof."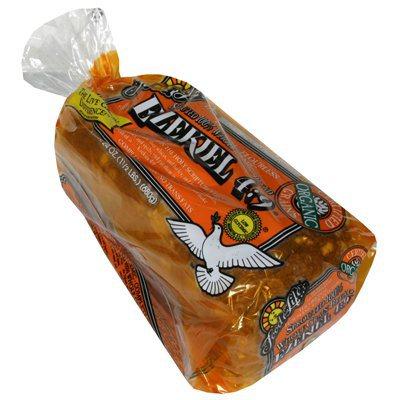 Ezekiel Bread.  Photo courtesy of Amazon.com
I have bought Ezekiel bread before, and I like it, but it's pretty pricy around here at $6 a loaf.  As one who can make bread (see my favorite sandwich bread recipe here), I believed I could make my own, and I've wanted to make my own Ezekiel bread for some time.  I was able to find most of the ingredients pretty easily, except for spelt.  So, I decided to buy a pre-mixed Ezekiel mix.  And there I was with 50 pounds of Ezekiel mix, buckets, 5-gallon mylar bags, and oxygen absorbers.  Here's how I packaged it for long term storage.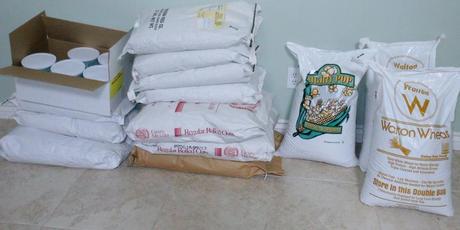 I started by purchasing the grains I wanted to repackage.

I also purchased Food Grade Buckets and 5-gallon Mylar Bags. I had oxygen absorbers ready to go as well.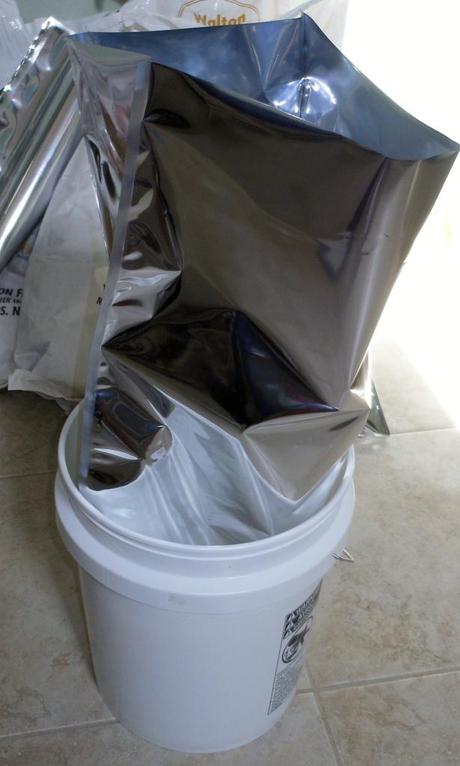 Before I started doing any food handling of any sort, I washed my hands well with warm, soapy water. Then I followed up with a hand sanitizer for good measure. Next, I set up my 5 gallon food grade bucket and my 5 gallon mylar bag.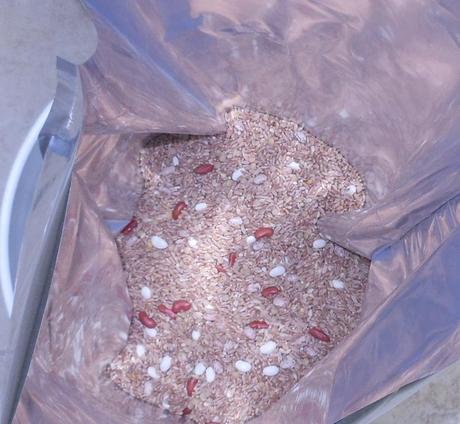 To fill the mylar bags, I simply poured the Ezekiel mix from the factory packaging into the clean, new mylar bag.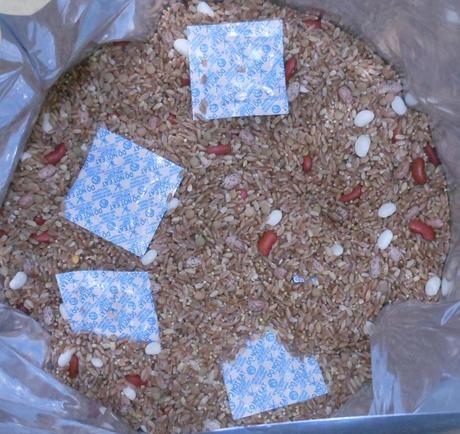 I topped it with my oxygen absorbers. A 5 gallon bag needs at least 2000cc oxygen absorbers. I opted to use 5 – 500cc oxygen absorbers which I had on hand rather than buy 2000cc ones.  When handling your oxygen absorbers, keep in mind that they must be sealed in  your mylar bag as soon as possible after opening the bag containing them, otherwise, they absorb the oxygen in the air and lose their effectiveness.

I removed as much of the excess air from the bag as I could, then I sealed the bag with my iron.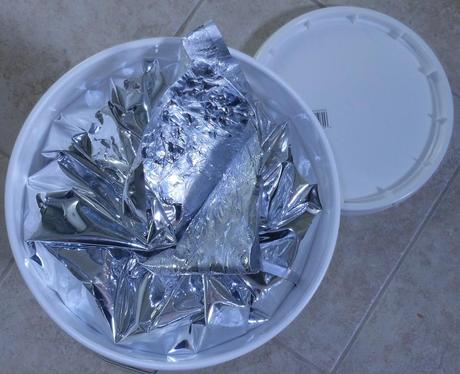 I folded the bag down into the bucket. (I made sure to leave enough room that the lid could easily fit on the bucket with the excess mylar bag.
Using a rubber mallet, I put the lid on my bucket.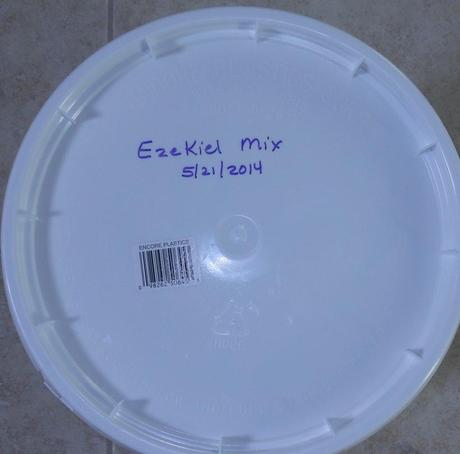 Then I labeled the bucket with the contents and date.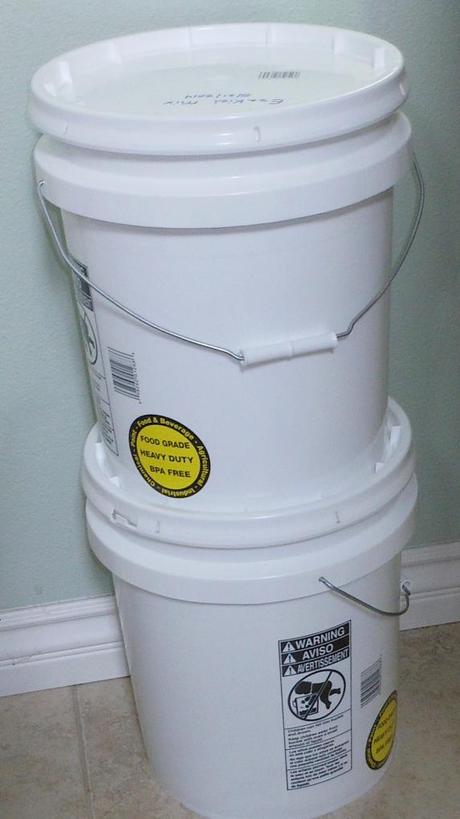 I repeated the process with my popcorn, and I had two buckets done within 10 minutes. It was quite fast and easy.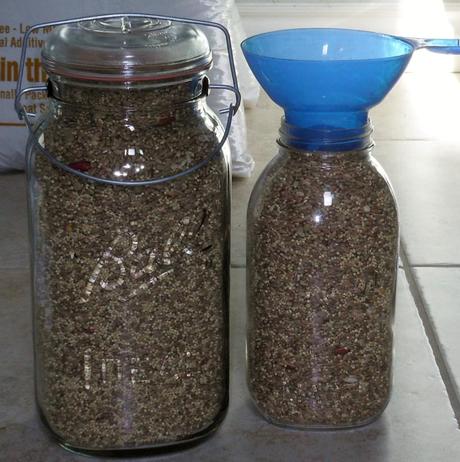 Of course, I wanted to keep some Ezekiel mix out for me to play with, so I poured some into my 1 gallon and 1/2 gallon mason jars.  The rest of the Ezekiel mix was ground into flour (which I'll show you tomorrow).
Repackaging food is not for everyone.  I don't do it for everything I buy.  In fact, I often buy them already packaged in buckets with mylar bags.  (Emergency Essentials, my giveaway sponsor, has a HUGE selection of food packaged for long term storage.)  But this time I wanted to try some of the new grains I purchased (kamut, amaranth, spelt, and more), so I opted to buy the grains in short-term packaging knowing I would put most of it in mylar bags and buckets for long term storage.
Have you ever used mylar bags and oxygen absorbers to repackage your food? 
If so, do you have any tips for me or my readers?
If not, do you think you will try it now that you've seen me do it?
* * * This post contains affiliate links.  For more information about affiliate links, please visit my about page. * * *